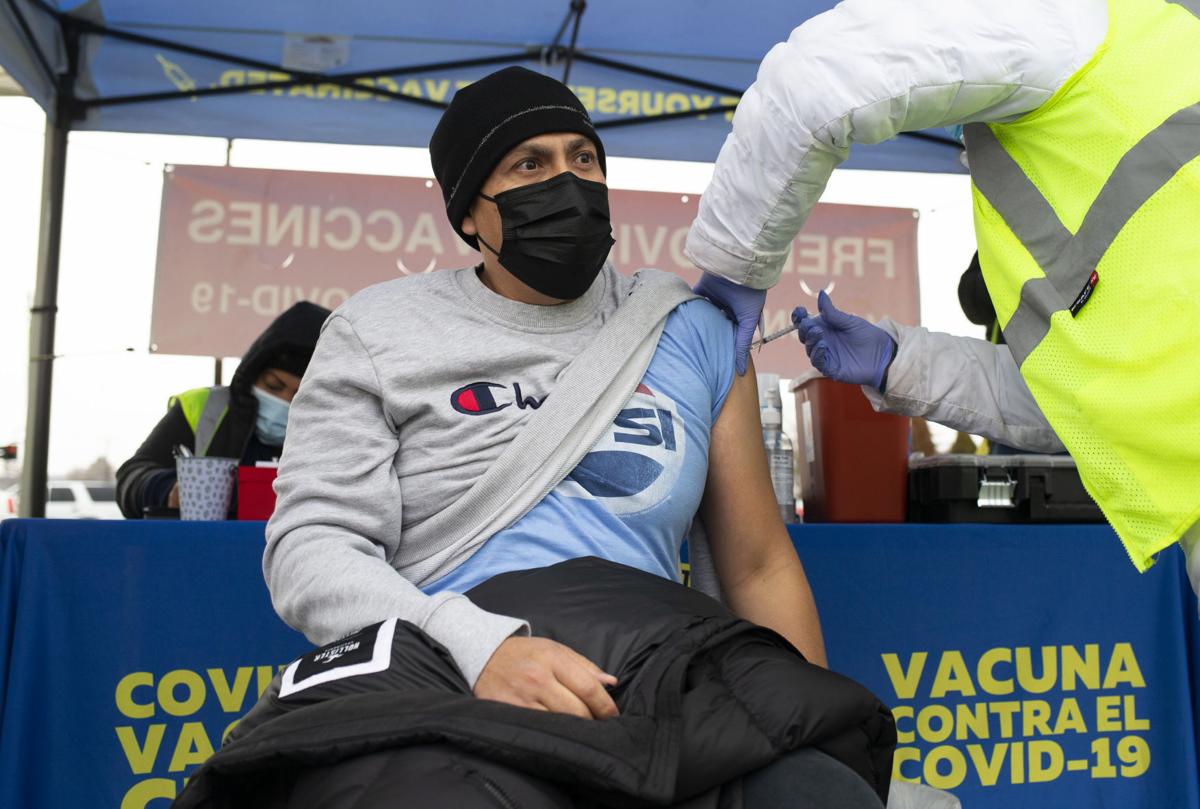 State reports: COVID hit communities of color harder; Yakima Valley groups press outreach efforts
It's been a stubborn data set during the pandemic: Rates of COVID-19 cases, hospitalizations and deaths are generally higher in communities of color than among white Washingtonians, according to the state Department of Health. Advocates say outreach efforts remain important, and vaccination rates among Latinos in Washington are improving. The state has looked at discrepancies in the age-adjusted rates of COVID cases, hospitalizations and deaths based on racial and ethnic groups since the start of the pandemic, with reports issued twice a month. Continue reading at The Yakima Herald-Republic. (Evan Abell)
---
How to make Washington State Ferries shipshape again
Unless leaders at Washington State Ferries can generate a tidal wave of new money and staffing ideas, the fleet could remain in dire straits through 2022 and beyond. The nation's largest ferry system, which traditionally completes 99% of scheduled sailings, slid to 90% this summer and 70% by early October, mainly because of crew shortages. WSF then retreated to what it calls an "alternative schedule," which removed one vessel from most routes, slashing capacity one-third. Continue reading at The Seattle Times. (Steve Ringman)
---
Vaccine mandate for federal workers goes into effect Monday
Monday marks a key deadline for part of President Joe Biden's federal COVID-19 vaccine mandate. Back in September, Biden signed Executive Order 14043, requiring 3.5 million federal employees to show they are fully vaccinated by Nov. 22, in order to be considered compliant. According to one U.S. official, "more than 90% of federal workers" have had at least one shot by today's deadline. Continue reading at The Associated Press.
---
Print
Associated Press
Washington gets another positive state revenue forecast
Republican answers 'call of duty' with Biden election job
Interior secretary seeks to rid US of derogatory place names
Vaccine mandate for federal workers goes into effect Monday
Auburn Reporter
What the history of homelessness in our region can teach us about our current crisis
Bellingham Herald
With the help of a donor, Whatcom Hospice makes this significant land purchase
What toll did recent flooding take on Whatcom's salmon?
Flood damage inspectors coming to Whatcom Monday; county opens debris collection site
Recent flooding isolated Lummi Nation. Here's how the Tribe continued to provide services
'It feels like a family, not just a place you live' Whatcom resident says after flood aid
Cleanup, assessing damage begins in Whatcom cities hit hard by flooding
 
Capital Press
Inslee waives driver rule to get feed to dairies
Washington plots war on invasive Japanese beetle
EPA ditches Navigable Waters Protection Rule
Legislation would halt imports of Brazilian beef
Columbian
Wylie, Hoff support Washington redistricting process (Wylie)
Proposed legislative maps call for big changes for Clark County
State Supreme Court orders redistricting panel chair to detail actions (Billig)
Opinion: In Our View: State redistricting commission disappoints (Wylie)
Opinion: In Our View: Cheers & Jeers: New Cougs; avoiding the flu (anti-vaxxers)
Everett Herald
'I definitely don't feel safe': Monroe High family pushes for action
Where should Everett Link light rail line and stations go?
Everett considers red light cameras, mostly south of 41st
After county redistricting, you might have a new councilmember
Port of Everett to get $350K for its costs in soil clean-up
What we know: Washington coronavirus outbreak at a glance
Financial audit urges training at Snohomish Health District
New construction fee approved to help fund Everett parks
At former Everett landfill, mudslide stalls housing project, briefly
Comment: Plan with dams' removal provides best hope for salmon
Comment: Costly dam removal won't fix Puget Sound salmon needs
Comment: What got done in Glasgow? 5 things to track in 2022
Bloomberg Comment: Democrats' plan to tax rich will miss wealth of most
WaPo Comment: Inconsistent mask policies aren't helping anyone
WaPo Comment: Exceptions may be key to kids' covid vaccine mandate
Editorial: Finish state's redistricting work out in the open
High Country News
How heat waves warp ecosystems
The Inlander
11 reasons the Washington State Redistricting Commission turned into a deadline-botching fiasco
News Tribune
New Gig Harbor food bank to cost $7.5 million. Here's what's needed, when it opens
New York Times
As Thanksgiving Approaches, U.S. Virus Cases Tick Upward Once More
Rittenhouse Case Highlights the Nation's Deep Division Over Gun Rights
As Gerrymanders Get Worse, Legal Options to Overturn Them Dwindle
Everything in the House Democrats' Budget Bill
North American Post
Bellevue College Japan Week Post-Event Report
Olympian
Applicant behind Up Castle proposal in south Thurston County will appeal need for EIS
Nisqually Land Trust acquires more property along Ohop Creek for restoration efforts
Puget Sound Business Journal
Seattle area sees slight uptick in Q3 tech job postings
Here's how to head off customer tantrums over Covid measures, expert says
Op-Ed: Viewpoint: Reflections on becoming a U.S. citizen
Opinion: Seattle is still progressive — but voters demand results
Opinion: Seattle voters have spoken. Now it's time to get to work.
Opinion: Our decarbonization efforts are being compromised, but that can change
Seattle Times
It's shaping up to be a very busy Thanksgiving travel week in the Greater Seattle area
2 Seattle School Board members violated policy on harassment and bullying, investigation finds
As Seattle's homeless budget grew, officials knew of financial issues years before fraud hit
How to make Washington State Ferries shipshape again (Lovelett, Ramel, Lekanoff, Fey, Hobbs, Saldana, Paul)
How to protect your mental health during the stressful holiday season
UW to pay nearly $100K to The Seattle Times in public records settlement
King County Prosecutor Dan Satterberg's office cut deal to head off ethics probe into nepotism claims
Verdict in Kyle Rittenhouse case pulls back curtain on racial bias in our legal system
Opinion: Insurance industry should listen to seniors and abolish use of credit scores
South Seattle Emerald
Youth activists demand Amazon do more to combat climate change
Virtual town hall highlights legal efforts to further protect survivors of domestic violence
Weekend Long Reads: COVID-19 and the flu
In reversal, council keeps Durkan's expanded police budget mostly intact
Opinion: Could a Rittenhouse happen in Seattle?
Opinion: Washington's punitive system of fines and fees must be dismantled
South Whidbey Record
Wharf, other structures damaged in Monday's windstorm
Tribal Tribune
Colville Tribe works with group leaders to relocate Lynx from Canada
Tri-City Herald
More changes on the COVID vaccine mandate for 11,000 Hanford workers
Homeless Pasco man dies after being found unconscious in his Franklin jail cell
Columbia River shoreline finally clear of toxic algae in Tri-Cities. But will it return?
Here are the latest Tri-Cities COVID deaths, new cases and vaccine news
1 Tri-Cities school to keep its Native American mascot for now. Another school must change
Free Thanksgiving dinner and turkeys in Tri-Cities. Where to find them and how to help
Walla Walla Union Bulletin
Free Thanksgiving meals available for Walla Walla area residents in need
Illegal horse racing investigation in Walla Walla County continues, as many as six face potential felony charges
Supply shortages strike Walla Walla Valley wineries
Washington Post
U.S. listed as a 'backsliding' democracy for first time in report by European think tank
Americans should get vaccine boosters ahead of possibly 'dangerous' winter spike, Fauci says
Closing arguments underway in trial for Ahmaud Arbery's killing
You asked: How should I handle holiday visits to unvaccinated households?
Biden to nominate Jerome Powell for second term as Fed chair, signaling continuity amid heavy economic head winds
Cloud seeding gains steam as West faces worsening droughts
More Americans say they're not planning to have a child, new poll says, as U.S. birthrate declines
Yakima Herald-Republic
State reports: COVID hit communities of color harder; Yakima Valley groups press outreach efforts
More changes on the COVID vaccine mandate for 11,000 Hanford workers
Selah giving police, union a chance to block release of report on harassment within department
Sales tax revenue largely remained strong through pandemic in Yakima County, area cities
Opinion: Calls for book-burning a logical next step in the right's classroom hysteria
Column: Paul Gosar's anime video of killing AOC is not a joke. It displays the new GOP's violent extremist turn
Broadcast
KING 5 TV (NBC)
Your paycheck will be smaller in January due to the Washington Cares Fund (Macri)
Snohomish County teen uses TikTok fame to advocate for Black, trans rights
KIRO 7 TV (CBS)
Federal employee vaccine mandate takes effect Monday
Possible removal of South Sound homeless encampment after crimes found linked to it
Hundreds volunteer to help clean up once-flooded Everson
Crews take next step in testing East Link light rail extension
'Vigilantes will be emboldened,' Seattle attorney says after Rittenhouse verdict
Students walk out of class, protest school leaders in Bellevue
KOMO 4 TV (ABC)
TSA employees face vaccine mandate Monday during busy Thanksgiving travel week
Western State Workgroup recommends COVID-19 boosters for all adults
Ballard residents frustrated city is not enforcing 72-hour parking rule
Swastika etched on park sculpture on Bainbridge Island
NW Public Radio
More Than 600 Days And Counting. When Will Inslee's State Of Emergency End?
Web
Crosscut
Measuring the toll of a broken child care system
MyNorthwest
Inslee updates severe weather emergency proclamation as cleanup continues
Sound Transit kicks off early phase of testing for East Link light rail
State lawmaker ill with COVID in El Salvador now in Florida
Students walk out of class, protest school leaders in Bellevue
Court orders state commission to explain chaotic events leading up to missed redistricting deadline
Local leaders agree to terms on turning troubled City Hall Park over to King County
Seattle council rejects proposal that sought to cut 101 unfilled SPD positions
State Sec. of Health: 'Slight increase' in breakthrough cases shows need for boosters
Limited number of vaccinated state House members allowed in chamber
La Raza del Noroeste
El Programa "Aprender a Volver"
La vacuna contra el COVID-19 de laboratorios Pfizer está autorizada para niños mayores de 5 años de edad
The Stranger
Washington Supreme Court Orders Redistricting Commission to Please Say What the Fuck They Did This Week
---