States divided on gun controls, even as mass shootings rise
Washington Gov. Jay Inslee was quick to react to this week's carnage at a Texas elementary school, sending a tweet listing the gun control measures the Democratic-controlled state has taken. He finished with: "Your turn Congress." But gun control measures are likely going nowhere in Congress, and they also have become increasingly scarce in most states. Aside from several Democratic-controlled states, the majority have taken no action on gun control in recent years or have moved aggressively to expand gun rights. Continue reading at The Associated Press. (Ted S. Warren)
---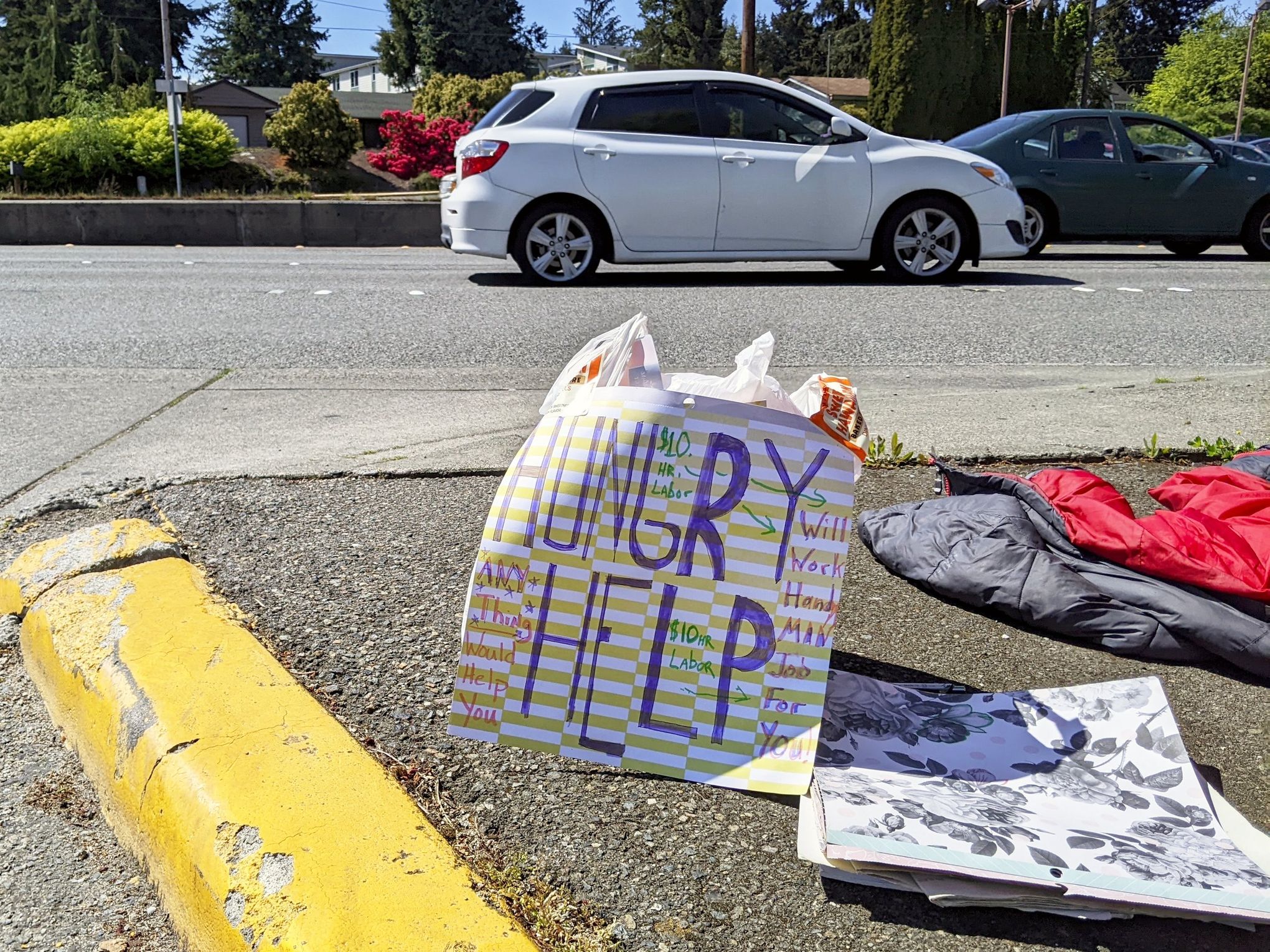 Edmonds passes law criminalizing camping in public spaces — but lacks local homeless shelter options
People living on Edmonds' streets may soon be given a choice: bus to a shelter up to 35 miles away or risk a fine of up to $1,000 with a possibility of jail time. The Edmonds City Council passed an ordinance last Tuesday making it illegal to occupy or store belongings in public places overnight, part of both a regional and national trend of local governments criminalizing visible homelessness. Edmonds' ordinance is unusual in that its enforcement requires relying on social services outside city limits. Continue reading at The Seattle Times. (Greg Kim)
---
As COVID trends up again, officials 'strongly recommend' masks
State health officials are again asking Washingtonians to mask up and think twice about crowds as COVID-19 cases and hospitalizations trend upward. "We are not returning to any broad mask requirement at this time," Deputy Secretary for COVID Response Lacy Fehrenbach said Wednesday. "But we are strongly recommending that masks be worn in crowded or confined indoor spaces, or in areas where there may be poor ventilation or air quality." Continue reading at The Everett Herald.
---
Print
Associated Press
Biden signs policing order on 2-year anniversary of George Floyd's death
Gov. Inslee, Lt. Gov. Heck test positive for COVID
Police face questions over delays in storming Texas school
States divided on gun controls, even as mass shootings rise
Bellingham Herald
This gathering, space dedication at Bellingham park honors lives lost to systematic racism
Census shows Bellingham back among state's 12 most-populated cities. Here are the numbers
Blaine Schools main campus locked down due to threat. No school Thursday
Whatcom looking to hire with nearly 17% of budgeted corrections deputy positions vacant
Capital Press
WDFW rejects lethal control against wolf pack
Easterday sentencing moved to September
Lawsuits target Northwest farms over H-2A regulations
The Daily News
Port of Longview commissioners OK equipment purchase, update meeting attendance options
Cowlitz County, Longview look to rework Community House proposal to run homeless encampment
Port of Longview sees record income in 2022, as commissioners weigh cutting port tax rate
Substance-use facility to be built in Chehalis
Cowlitz County commissioners approve contract for sheriff's office mental health unit
Everett Herald
As COVID trends up again, officials 'strongly recommend' masks
Brace for Memorial Day weekend traffic and long ferry lines
School leaders in Everett, Mukilteo districts receive raises
Marysville superintendent could start a month early
What we know: Washington coronavirus outbreak at a glance
Editorial: A Terrace creek puts infrastructure plan to work
Letter: Edmonds expects other cities to solve its homelessness?
Letter: Not just moms scrambling for baby formula; dads worried, too
Letter: Some limits to Second Amendment are necessary
Letter: What will it take to end mass shootings?
Indian Country Today
'Greenwashing' gets new look from regulators
Senate committee holds confirmation hearing for IHS nominee
Kitsap Sun
State works through permitting to finally build boat launch at Lake Tahuyeh
News Tribune
In the wake of Texas school shooting, America's sick infatuation with guns says it all
Tacoma city manager gets another pay raise, and some people are not happy about it
New display at Sea-Tac Airport aims to educate travelers about wildlife trafficking
US Census Bureau: Big city losses early in COVID pandemic
Olympian
Both Washington Gov. Inslee and Lt. Gov. Denny Heck have tested positive for COVID
Mask up, Washington: Health officials say it's time to play it safe as COVID cases rise
Peninsula Daily News
Outdoor classroom to introduce students to environmental studies
Seattle Medium
City Implements No Shelter, No Sweep Policy
Seattle Times
Seattle's population dropped, but another King County city saw fastest growth in WA
Best and worst times to travel in WA this Memorial Day weekend
Edmonds passes law criminalizing homelessness in public spaces — but lacks local shelter options
Seattle residents painted their own crosswalk. The city scraped it off
Crystal Mountain again extends ski season
WA Gov. Inslee, Lt. Gov. Heck test positive for coronavirus, with mild symptoms
Fairfax Behavioral Health in Kirkland closes youth unit, shortly after state cites safety violation
Opinion: Getting 'back to normal' is not an inspiring message to people of color
Skagit Valley Herald
Salmon habitat project will also bring improvements to county road
Rise in COVID-19 cases has health leaders urging masking
Tri-City Herald
Kennewick considers $500 fine for illegal July 4 fireworks. Others want to ease restrictions
Vancouver Business Journal
New program in Washington state created by Equitable Access to Credit Act
Walla Walla Union Bulletin
Class action lawsuit names Providence St. Mary and former neurosurgeons Dr. Daniel Elskens and Dr. Jason Dreyer
Washington Post
Scrutiny mounts over police response in Texas school shooting
Weakened gun laws put Texas Gov. Greg Abbott on the defensive
Texas NRA summit after Uvalde shooting echoes Columbine aftermath
On 2nd anniversary of Floyd's death, fading momentum for police reform
Broadcast
KING 5 TV (NBC)
Blaine School District cancels classes Thursday after student received threats through text message
Two years later: Black leaders say racial reckoning didn't go far enough after George Floyd's death
George Floyd played a 'huge role' in getting police reform bills passed in Washington, advocate says
Seattle teacher holds moment of silence in honor of Uvalde, Texas
Alaska Airlines pilots vote 'overwhelmingly' to authorize strike if three-year-long contract talks continue to fail
Gov. Inslee tests positive for COVID-19
KIRO 7 TV (CBS)
Parents discuss school safety concerns in wake of Texas shooting
Texas school shooting: Bystanders shouted at police to enter Robb Elementary
Debate over local school resource officers reignited
Blaine schools declared safe after student receives threats prompting lockdown
Parents could face difficulty finding formula despite shipments from Europe, increased production
Patty Murray calls for gun safety legislation following Texas school shooting
Vigil held in Seattle on 2-year anniversary of George Floyd's death
Washington 'not returning to broad mask requirements' amid uptick in COVID-19 cases
Gov. Inslee, lieutenant governor test positive for COVID-19 in 'unrelated cases'
Biden signs policing order on anniversary of Floyd's death
Alaska Airlines pilots vote to authorize strike
Bird flu detected in King County
Washington recovers $6.6 million stolen in pandemic unemployment scam
KOMO 4 TV (ABC)
One day after Texas school massacre, campus safety top of mind in Washington state
Washington Gov. Jay Inslee, Lt. Gov. Denny Heck both test positive for COVID-19
Mass shooting in Texas classroom: Ways to help kids cope with tragedy from psychologist
Blaine School District cancels Thursday classes after threat, lockdown 
New Tacoma fund will help local firms pay for safety, security upgrades amid rise in crime
Tacoma convenes meeting to discuss new shelter, plan to tackle homelessness
KNKX Public Radio
Nearly extinct 30 years ago, Washington's western pond turtles are slowly recovering
Washington's elected leaders react to Texas school shooting
KXLY (ABC)
How Washington and Idaho gun laws compare to Texas'
Washington gun safety advocacy groups demand change after Uvalde shooting
Governor Jay Inslee tests positive for COVID-19
'It's unimaginable': WA Superintendent asks people to reconsider gun possession, talks school safety
NW Public Radio
First Latina Judge For Benton Franklin Counties Norma Rodriguez Talks Diversity On The Bench
Visitation Reinstated At Detention Center In Tacoma
Q13 TV (FOX)
'Is this happening because of what happened in Texas?': 2 schools threatened in Western Washington
City mayors seek change in state law preventing localized gun control
Washington Governor Jay Inslee tests positive for COVID-19; officials urge masking
Web
MyNorthwest
Alaska Airlines pilots overwhelmingly vote in favor of strike authorization
Gov. Inslee tests positive for COVID-19
Pierce County adopts safe parking pilot program
Texas elementary shooting prompts tough conversations with children about school-violence
Seattle City Council passes ordinance offering incentives for hard-to-fill jobs, including police
Biden says 'we have to act' after Texas school shooting
State officials speak out on gun control amid aftermath of Texas school shooting
Concrete strike's impact on West Seattle Bridge timeline unclear as SDOT makes final pours
The Stranger
Councilmember Andrew Lewis Guts His Own Policy, Excluding Thousands of App-Based Workers from a Minimum Wage
---