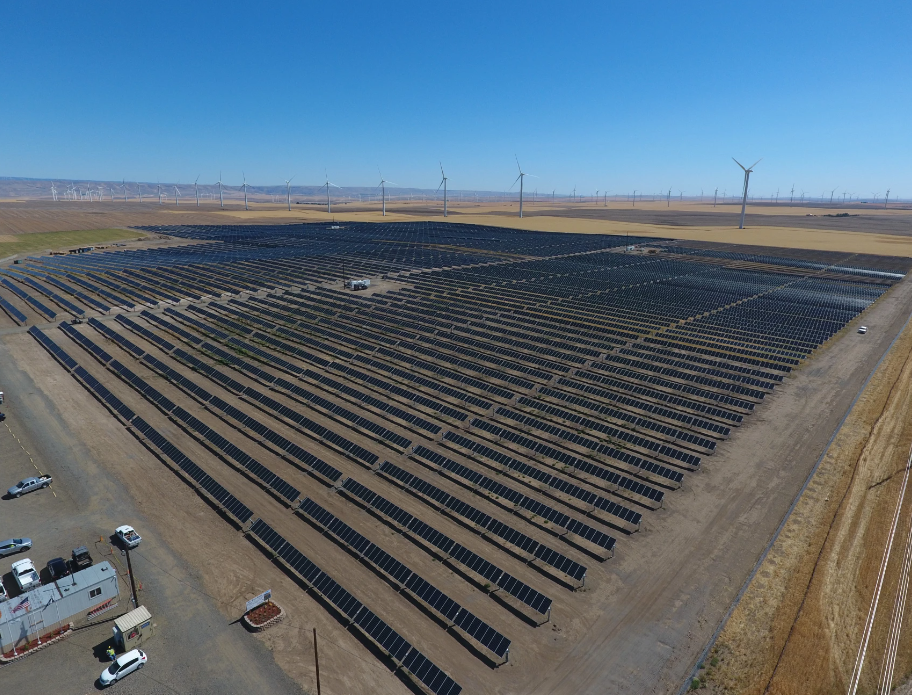 WA bill could help ease renewable energy development tensions
In the Pacific Northwest, conversations about renewable energy can get pretty heated. Residents often raise concerns about fragmented wildlife habitats, disturbed cultural resources, and cluttered viewsheds. But a bill winding through the Washington legislature could help ease some of those tensions. House Bill 1216 would set up a formal process for "least conflict siting" which would help identify the least controversial places to build – and avoid common issues with renewable developments. The bill was requested by Gov. Jay Inslee. After passing the Washington House earlier this month, the Senate Committee on Environment, Energy and Technology Committee held a public hearing on Wednesday on the bill. Continue reading at KNKX. (Avangrid Renewables)
---
Lawmaker shares personal story of being stalked by ex-boyfriend in hopes of passing domestic violence bill
In public hearings on legislative proposals, lawmakers are used to hearing from those who say the system is broken. But rarely does that criticism come from their peers. Rep. Lauren Davis (D-Shoreline) told state senators that getting state protection from a stalker was difficult. Her bill would offer legal aid to low-income domestic violence survivors, establish a statewide domestic violence prosecutor to help smaller counties prosecute domestic violence and stalking cases, and would expand the Tiffany Hill Act. That 2020 law, named after a Clark County mother who was killed by her estranged husband, requires someone identified as a stalker to have to wear a GPS device that alerts a victim and police if the stalker is closer to the victim than they are allowed to be. Continue reading at KING5.
---
House passes Ortiz-Self's bill to regulate conditions in private detention facilities
The Washington House of Representatives has passed, with a bipartisan majority, a bill regulating conditions in private detention facilities in Washington. House Bill 1470, sponsored by Rep. Lillian Ortiz-Self (D-Mukilteo), mandates that conditions at private detention facilities are up to the same standards as public facilities. It tasks the Department of Health with regulating and inspecting these facilities, and it allows the attorney general to enforce violations of these rules. The bill also creates a private right of action and civil penalties for violations and subjects these facilities to the Public Records Act. "This bill is about sending a message to private detention facilities that, if they are going to make money off of people in our state, they must abide by the same standards as our public facilities," said Ortiz-Self. Continue reading at Mukilteo Beacon.
---
Print
Axios
Mount Rainier park rangers priced out of nearby housing
Columbian
Liquor, cannabis compliance checks in Vancouver set to return to pre-pandemic levels
More than 26,000 in Clark County could lose Medicaid as COVID emergency ends
Everett Herald
Supreme Court says sheriff's deputy improperly detained bus rider
Letter: Back state legislation to tax companies for plastic packaging
International Examiner
Sound Transit tables CID light rail decision; neighborhood divided over station location
News Tribune
New police chief starts in Lakewood. Here's his experience and goals for the department
'Our best days are ahead of us.' Mayor Woodards relays optimism in State of the City
Opinion: Sunshine Week: What would James Madison think of government transparency today?
Olympian
Reproductive 'shield law' moves forward in WA state Legislature, but not without opposition (Hansen)
Safe staffing for hospitals bill makes its way through Legislature. Does it go far enough? (Robinson)
Puget Sound Business Journal
Comment: Protecting all bank depositors will cost almost everyone
Seattle Medium
Downtown Seattle Jail May Close
Seattle Times
Why WA leaders say U.S. should change its race, ethnicity categories (Farivar)
Opinion: Misguided Legislature keeps chipping away at Public Records Act
Opinion: Legislature builds a fortress of secrecy
Skagit Valley Herald
State delivers funding to keep First Step Center open through June
State responds to train derailment, diesel fuel spill on Swinomish reservation
Spokesman Review
Spokane and Washington state have a history of failed attempts to regulate oil trains (Billig)
Airway Heights moving forward with new well plans as federal regulators target PFAS in drinking water
More than 100 students apply to Eastern's new nursing program as demand for health workers soars
Opinion: Medicaid funding key to health care access
Walla Walla Union Bulletin
Gov. Jay Inslee urges bold action on affordable housing during Walla Walla visit
Broadcast
KING 5 TV (NBC)
Lawmaker shares personal story of being stalked by ex-boyfriend in hopes of passing domestic violence bill (Davis)
Those with drug arrests will get priority for cannabis retail licenses under LCB guidelines (Saldaña)
KIRO 7 TV (CBS)
Train derailment in Anacortes spills fuel on Swinomish Reservation
KOMO 4 TV (ABC)
State launches 'Health Equity Zones' initiative to address community health challenges
KNKX Public Radio
The dust settles in Olympia after another legislative deadline
WA bill could help ease renewable energy development tensions (Fitzgibbon)
KUOW Public Radio
WA Supreme Court preserves transit fare checks but cites privacy concerns
KXLY (ABC)
Bill advancing in Washington legislature to cap insulin costs at $35 (Keiser)
Spokane County, Airport Board to provide $30 million toward airport expansion
NW Public Radio
New grant to help people with developmental disabilities find housing
Washington bill could help ease renewable energy development tensions
WA lawmakers pass housing, firearm bills ahead of cutoff, leave rent control, recycling bills behind (Jinkins)
Web
Mukilteo Beacon
House passes Ortiz-Self's bill to regulate conditions in private detention facilities  (Ortiz-Self)
MyNorthwest
Redmond police chief calls for stronger stalking laws
Sound Transit making changes to Link Light Rail to 'increase safety'
---