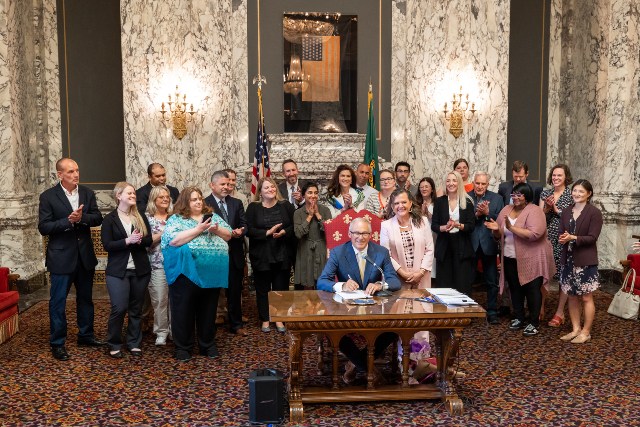 OLYMPIA—Yesterday, in the state reception room, Governor Jay Inslee signed House Bill 1169, a bill to eliminate mandatory Legal Financial Obligations (LFOs), with State Supreme Court Justices  looking on. Sponsored by Rep. Tarra Simmons, D-Bremerton, the first formerly incarcerated legislator in Washington history, the bill eliminates the DNA collection fee and the crime victim penalty assessment for minors and indigent defendants. To establish a stable source of funding for crime victims' assistance and DNA collection, the bill creates general fund accounts for these programs. The bill also requires a court to waive previously imposed DNA fees for people unable to pay, allowing people with LFO debt to vacate their conviction. The House concurred with Senate amendments on April 19th.
"This bill is a win-win-win. Not only does it free up our county clerks from spending dollars to collect dimes, but it ensures that crime victim's programs are adequately funded and gives low-income formerly incarcerated people a chance to rebuild their lives," said Simmons. "Right now, when a person cannot pay an LFO, it traps them in a cycle of debt that prevents them from moving on with their life. A criminal conviction already comes with significant collateral consequences in housing and employment. We do not need to continue forcing people who cannot pay into debt in order to fund our court system."
LFOs are fees and fines that a court may impose as part of a criminal sentence. They can include victim restitution, court costs, costs associated with prosecution and defense, fines, and other penalties. Currently, only two LFOs are mandatory, the crime victim penalty assessment and the DNA database fee. The crime victim penalty assessment is imposed on adults and juvenile offenders and is used to encourage and facilitate victims and witnesses to testify. Judges are not allowed to waive mandatory LFOs, even if a person is unable to pay. The bill would eliminate these two mandatory fees and replace them with dedicated funding from the state ensuring that both accounts have a stable source of funding.
"In 2015, I came to Olympia to testify about LFOs. I was 20 months out of prison and struggling to pay mine. At that time, the state imposed a 12% interest on LFOs and the amount I owed had increased dramatically while I was incarcerated. I testified about how the state was garnishing my $9.19 an-hour paycheck from Burger King despite not owing any victim restitution. I shared how committed I was to living a lawful life and never leaving my children again, and how hard it was to provide for my children while living in severe poverty," said Simmons. "Ever since then, I have advocated on LFOs. A person cannot vacate their conviction until all their LFOs are paid. This creates a debt trap where a person cannot pay off their LFOs because they don't have a good enough job, and they can't get a good enough job because they can't pay off their LFOs. This drives people deeper into poverty and often back into crime. This bill will eliminate the final mandatory LFOs, creating more efficient government, allowing court clerks to focus on collecting victim restitution, and preventing recidivism by getting people out of a cycle of debt and poverty."
This is the latest in a string of bills to reform the LFO system. In 2018, HB 1783 eliminated interest on LFOs as well as ending the practice of jailing those unable to pay them. Last year, Simmons passed HB 1412, which set some limits on the interest paid on restitution, the LFO paid directly to the victim of a crime. That bill also set a time of 10 years after release from confinement for enforcing LFOs.
HB 1169 passed the House on with a vote of 56-41 on February 28th and the Senate with a bipartisan vote of 30-19 on April 12th. It will go into effect on July 1, 2023.
---