Dear friends and neighbors,
I hope you and your loved ones are doing well during this pandemic. We are nearing a year since COVID-19 disrupted our lives, our businesses, and our communities. My 24th Legislative District seatmates, Rep. Steve Tharinger and Sen. Kevin Van De Wege, and I share your frustration on where our district stands in the Roadmap to Recovery map.
I feel that, while well-intended, the excessively vague measures chosen to preserve public health do not account for our local conditions that make reopening not only healthy but fair. Gov. Inslee's proposal to restructure local health districts would give Kitsap County's health officers more authority, whose logistics have almost nothing in common with ours. To keep that authority in the care of our elected officials, clinics, tribes, and county health facilities who know our neighborhoods personally, we need to do exactly the opposite.
Please know, we are working tirelessly to move into Phase Two, so our lives can begin to return to normalcy. Stay optimistic. The light is at the end of the tunnel.
Now, for some good news.
I see events that could accelerate our turnaround at the state and national levels. The current White House administration shows a sense of urgency for research needed to regulate vaccine deliveries. There's no doubt in my mind that we'd be much closer to reopening if we would have had this kind of federal response for the past 11 months.
Legislature sends UI relief bill to the governor
Last week, SB 5061 passed the Senate on a heavy bipartisan vote and the House on an equally bipartisan 89 to 8 vote, provides much-needed relief for employers across the state whose tax bills skyrocketed due to COVID-19 layoffs last year. The legislation also helps the lowest-wage hardest-hit workers by raising their minimum benefit.
Click here for more info.
24th District Telephone Town Hall
Join your 24th District representatives for a live telephone town hall on Monday, February 15 at 6:00 pm. Rep. Steve Tharinger, Sen. Kevin Van De Wege and I will share our legislative priorities and answer your questions on the issues you care about.
Sign up to receive a call at vekeo.com/whdc24 or dial in to 877-229-8493 (PIN 116281).
We look forward to seeing you there!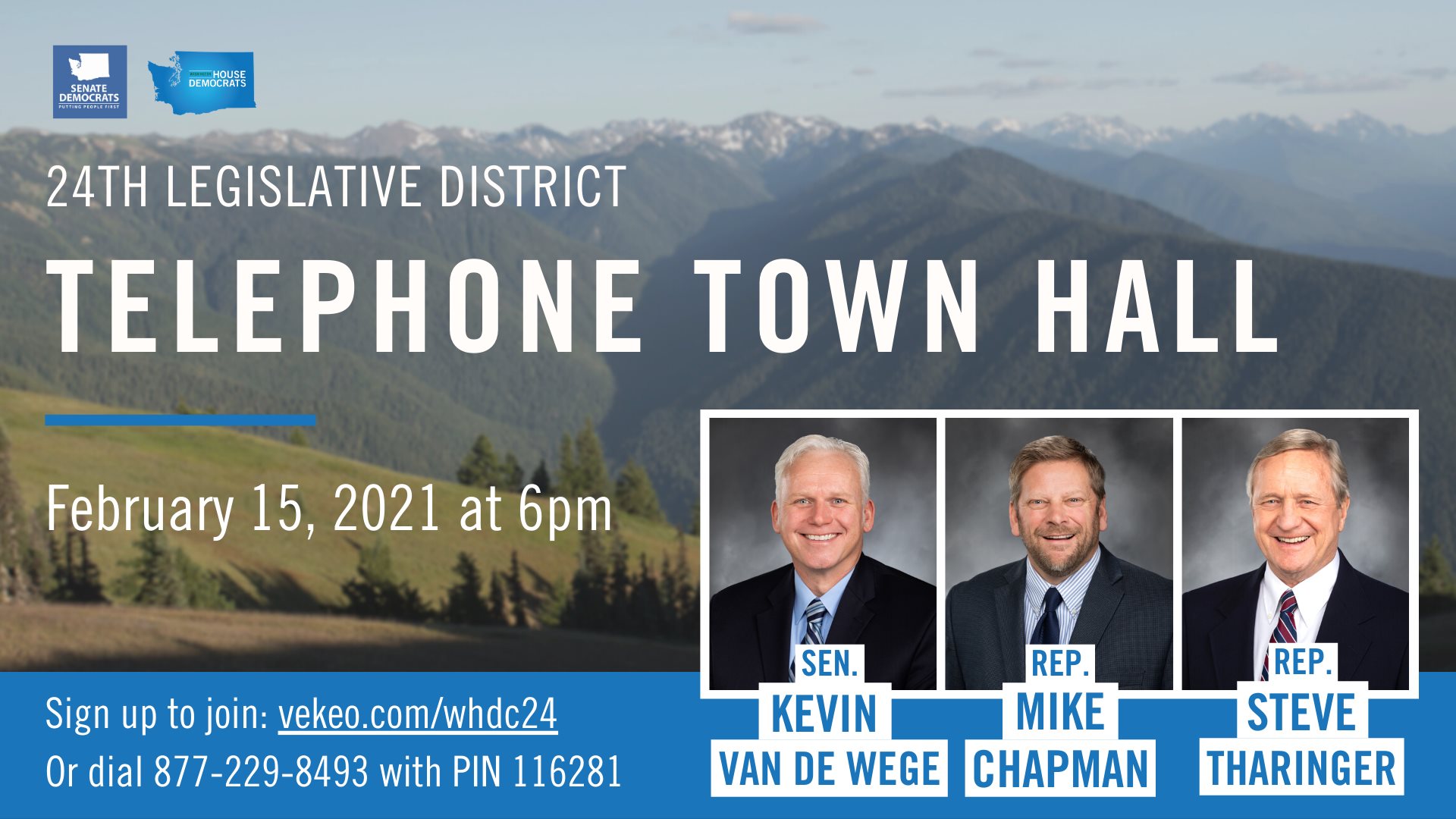 Securing $2.2 Billion in COVID Relief Funds
This week, my colleagues and I voted to allocate $2.2 billion in COVID relief funds to aid Washington families and businesses who have been most impacted by the COVID-19 pandemic.
These funds will ease the financial hardship of struggling renters and landlords, small restaurants and neighborhood businesses, school districts, uninsured and underinsured individuals, and underserved communities, which have been disproportionately hurt during the pandemic.
Here is what's included in the package:
BOOSTING PUBLIC HEALTH: $618 million for a state Department of Health fund for vaccine administration, contact tracing and testing.
KEEPING PEOPLE IN THEIR HOMES AND FED: $365 million for rental assistance and foreclosure assistance, and for small landlords to stay on top of their mortgages. The plan also includes $52 million for food and cash assistance, and TANF extension.
INVESTING IN SMALL BUSINESSES: $240 million for grants for small businesses and non-profits to maintain operations and help with reopening.
GETTING STUDENTS CAUGHT UP: $714 million for schools to address learning loss, keep teachers on the payroll and get ready to bring kids back to the classroom when it's safe to do so. The plan also includes $50 million for grants for childcare providers.
SUPPORTING ALL WASHINGTONIANS: $70 million for long-term care and developmental disabilities programs and $6 million for health care for those who are underinsured and uninsured. The plan also includes $65 million for immigrant relief assistance and $5 million for grants to provide emergency financial aid for undocumented college students.
As we continue to navigate this virtual environment, I would love to hear from you on the issues that matter to you most. Please, do not hesitate to email me with your questions or concerns.
To learn more about issues I'm working on, visit my legislative website or follow me on Facebook!
Warm Regards,


---