Dear neighbors,
Things are happening fast this week in Olympia, with the House and Senate both unveiling their proposals for the three state budgets: operating, capital, and transportation.
This week, we'll debate on all three budgets, then vote in committee and on the floor of the House.
We are also considering all of the legislation that the Senate passed, just as the House is taking on bills passed by the Senate.
This newsletter includes highlights of the three budgets along with important updates about small business aid and better broadband access.
The House proposals work together to three things: beat this COVID pandemic, give people the help they need, and rebuild our economy.
---
24th District highlights
Here are a few highlights of the local projects funded in the House capital budget: 
$5.85 million for school modernization at the Lake Quinault School District

 

$4.8 million for clean energy research and development at the Coastal Research Lab in Sequim

 

$2 million for the North Olympic Library System

 

$2 million for the Port Angeles Waterfront Center Field Arts & Events Hall

 

$2 million for capital improvements at the North Olympic Library in Sequim

 

$1.7 million for the Port Townsend affordable housing utilities infrastructure

 

$1.5 million for the Port Angeles food bank

 

$1.2 million for the Clallam County Joint Emergency Operations Center

 

$875,000 for cleanup at the Rayonier Mill & western Port Angeles Harbor

 

$500,000 for the Northwest Kidney Centers Clinic in Port Angeles

 

$350,000 for Olympic Stadium repair and preservation

 

$285,000 in capital improvements for the Jefferson County Rural Library District in Port Hadlock

 
---
A budget that puts people first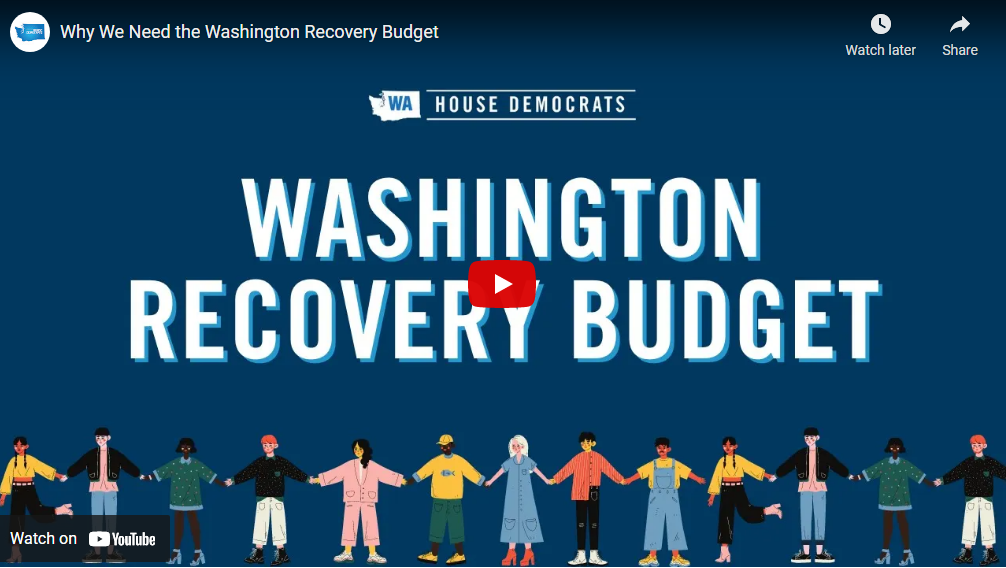 During the Great Recession, austerity was the standard strategy. Leading economists were afraid of heating the economy up too fast.
Except we simmered and suffered on low heat for years before the recovery truly took hold. Our state endured massive budget cuts, including furloughs and layoffs for teachers, professors, state troopers, and other public servants along with cuts in services to our communities. It took years for working families to recover, though the wealthy did better than ever.
Today, economists say we didn't need to go through so much pain and misery, because austerity budgets only lead to more cuts and suffering. The right way to bounce back from a recession, such as the one caused by the COVID pandemic, is to give people the immediate help they need and to stimulate the economy.
That's the approach we're taking with our proposed Washington Recovery Budget, which is designed to help people quickly and get our economy back on track. This approach prioritizes families, small businesses, and those who have suffered disproportionate harm from the pandemic.
A few highlights of the budget:
Economic recovery
$1.07 billion for rental assistance to continue the goal of paying the back rent accrued during the Governor's eviction moratorium. This is in addition to the $325 million allocated in the Step One for Community and Economic Recovery bill (HB 1368) passed by the Legislature in February.
$600 million for unemployment insurance tax rate cuts to lessen that burden on businesses and $250 million in small business grants to help get cash out to those businesses who kept their doors closed to protect others.
$166.6 million in mortgage assistance through the ARPA Homeowner Assistance Fund to help prevent foreclosures and delinquencies.
$140.8 million in food assistance programs so that families will not go hungry and to maintain our food security network.
$121.6 million in state housing/homelessness assistance.
$37.63 million to increase TANF grants and $26 million to extend TANF benefits.
A $26.5 million increase to the Housing and Essential Needs Program. We know there are about 1700 people who are homeless, with disabilities, who are eligible for this program but there haven't been enough funds to serve them, so this funding will get those 1700 people into the program.
$26.2 million increase for the Emergency Cash Assistance program for families who need one-time funds to maintain safe housing and utilities or have an unexpected emergency.
$13 million for state foreclosure assistance.
COVID response and health care
$1.185 billion for COVID vaccines, contact tracing, and testing.
$94 million for primary care provider rate increases.
$35 million for uninsured and underinsured care through federally qualified health centers, rural health centers, and free clinics.
$11 million for school nurses so that children have access to immediate care when they're at school.
K-12 Education and Higher Education
$53 million for additional special education funding.
$52.5 million for additional counselors in high-poverty schools.
$8.9 million to cover school lunch copays so students aren't turned away or shamed for not having money for their meals.
Continuing our historic investments with the Workforce Education Investment Act, fully funding the Washington College Grant, and maintaining support for higher education institutions.
$15.9 million for Guided Pathways, which helps community college students finish their programs.
$14 million in higher education emergency assistance grants that help college students maintain stability so they can finish their programs.
---
A capital budget that builds a better Washington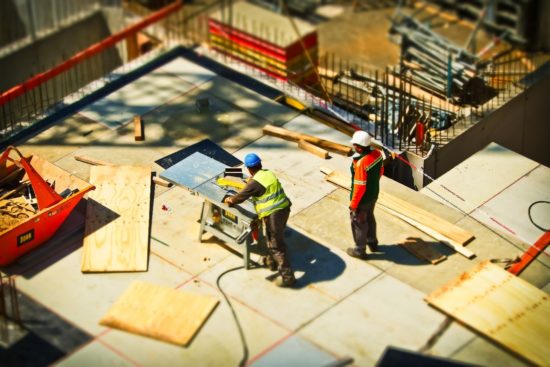 The 2021-23 capital budget proposed by House Democrats would break our records for total investments while putting tens of thousands of people to work rebuilding the economy.
Our proposed budget (House Bill 1080) includes $400 million in federal funding for investments in water, sewer, and broadband service along with $189 million for critical capital budget projects enabling work, education, health monitoring, and other items related to responding to the pandemic.
Public schools would receive $969.9 million, while community colleges get $299.8 million and public universities are set for $678.9 million in construction funding. The largest project is the construction of the Behavioral Health Teaching Facility at the University of Washington ($191.3 million).
This proposal also sets new House records for investments in housing ($240 million), early learning ($48 million), and broadband internet access ($155 million).
By comparison, the 2015-17 budget included $75 million for housing, $15.5 million for early learning facilities, and $10 million for broadband.
Full details about the budget are available here and you can also look at district project lists and maps.
---
A transportation budget that keeps Washington moving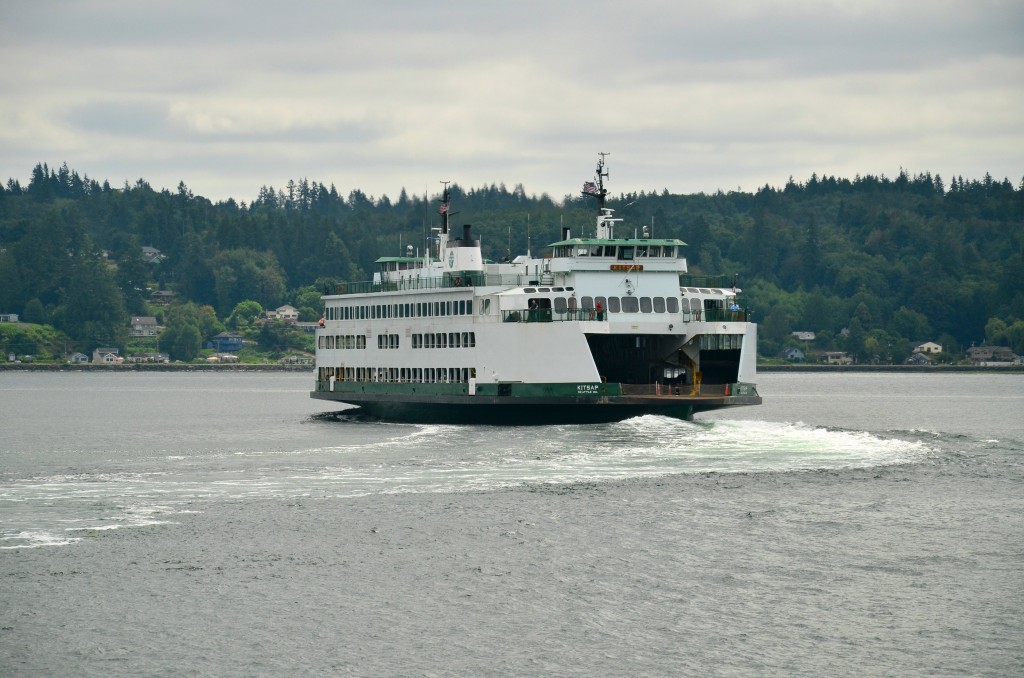 Transportation took huge financial hits in 2020 from three different directions: the assumed loss of revenue due to Initiative 976, the massive cost to construct fish passages to meet our treaty obligations, and reduced gas tax revenues due to the pandemic.
The combination of revenue losses and safety measures also put "shovel-ready" projects—ones that were already funded and ready to go—on pause.
We are happy to report that things look much better today with nearly $800 million in federal funding for transportation and the state Supreme Court's rejection of I-976.
The 2021-23 budget proposed by House Democrats takes projects off pause and continues the work of building a transportation system for the future. We need a system that's cleaner, more sustainable, and gives people more options to get where they need to go.
Our budget invests in green transportation, mass transit, fish passages, and critical projects such as the I-5 bridge between Washington and Oregon.
The proposed transportation budget includes $152.5 million to continue work on the state's first hybrid-electric ferry, an Olympus-class vessel with construction beginning the spring of 2022 along with funding for the material needed to build the second such vessel.
There's also $12 million for electric vehicle charging grants and alternative fuel refueling infrastructure and $15 million for green transportation capital grants to help transit agencies fund the projects needed to reduce carbon emissions and switch to electric vehicles or other zero-emission options.
A more in-depth look at the transportation budget proposal can be found here.
---
Small business grants are now open again!
If you're a small business owner, please visit commercegrants.com to apply for a new round of aid.
Here are the details:
Businesses must apply the grant award toward expenses incurred between March 1, 2020 through June 30, 2021.
Commerce will take into account previous Working Washington awards distributed by the agency or affiliated partners. This means grant awards will vary. The maximum grant award will be $25,000.
Grants must be equitably distributed statewide and to historically underserved and disadvantaged populations.
These grants are aimed at for-profit small businesses in industries that have hard costs associated with their operations and faced the most significant challenges to paying those hard costs because they were required to close. Hard costs include but are not limited to rent, utilities, payroll, or personal protective equipment.
---
Better broadband access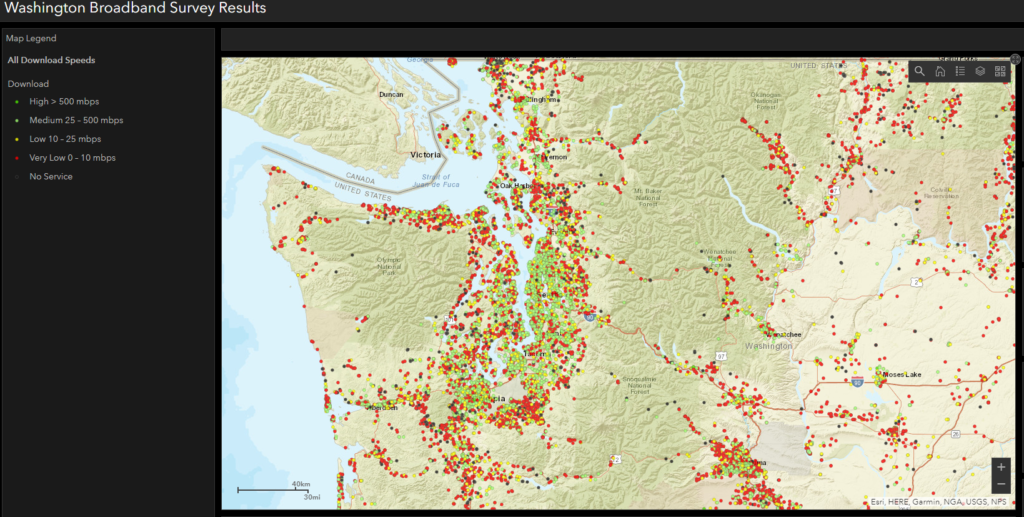 Broadband internet has always been an issue here in the 24th District, with so many people and small businesses hobbled by lack of access.
This pandemic proved how important fast internet is to life today, with so many parents working from home while their children tried to make remote school work.
If all you can get is slow internet, it's hard to do your job, attend school, or take part in the modern economy.
Thankfully, there's a way to do something about it. This is Broadband Access Week, and you can help improve our state's internet coverage by taking our state's speed test.
You can see a sample map of our state's internet speed test above. Red is slowest, green is fastest, and yellow is in between. There are far too many red and yellow dots in the 24th District. The investments we're making in the capital and operating budgets will help improve your ability to connect–and we can make the case for change by having everyone take a second and click on the speed test.
---
Finishing the job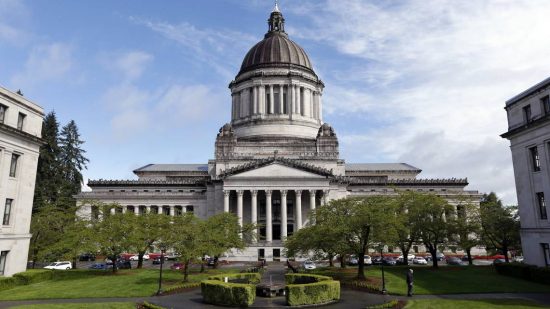 From this day forward, votes will happen quickly. This week, the House and Senate are both voting on our proposals for all three budgets in committee and on the floor.
The Senate is considering the 200-plus bills that the House passed, while we are considering a slightly smaller number of senate bills.
Our hope is to pass all three budgets before the last scheduled day of session, April 25.
We will keep you updated as news happens. Thank you for taking the time to read this–we hope to see you soon, back home in the 24th District, after the session ends and this COVID pandemic is behind us!
---