Dear Friends and Neighbors,
The first three weeks of our 60-day legislative session are now behind us. It's been fast and furious, and my days have been packed with constituent and advocate meetings to ensure we're addressing the important priorities of our community.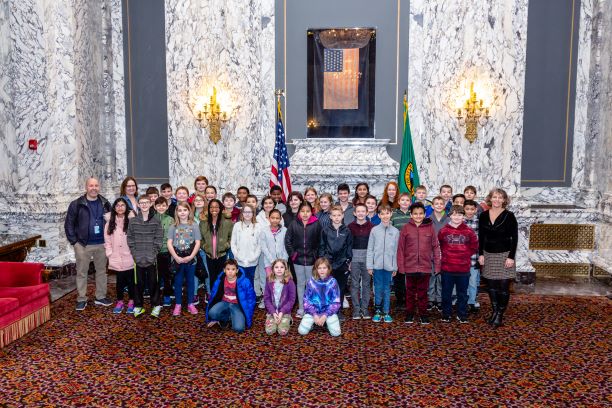 Keep reading for a quick update on a few policies that have moved forward so far.
Thank you,

---
---
As I reported in my previous e-newsletter, passing a Clean Fuel Standard is one of this year's top environment and clean energy priorities.
I'm happy to share that, after a grueling debate on the House floor spent refuting inaccuracies about science and pressing hard to emphasize the economic benefits of a clean energy economy, House Democrats passed our proposal for the second year in a row. I'm hopeful that the State Senate will take swift action to pass the bill and send it to Governor Inslee for his signature.
I'm also proud to share that my legislation to remove exemptions that still allow the use of dangerous perfluoroalkyl and polyfluoroalkyl firefighting foam (PFAS) is one step closer to passing after being unanimously advanced by the Environment and Energy Committee. PFAS foams pose a grave threat to drinking water and pose cancer risks for firefighters. Alternative firefighting foams are available that will reduce liability and costs, and save lives without threatening other lives, so it's time to finally close exemptions that still allow the use of PFAS.
It's an honor to stand with our firefighters to make our communities safer.
Read more about our work here.
---
Child care is more expensive than college these days. It's costing our kids, families and businesses. Last week, the Human Services & Early Learning Committee heard from over forty parents, child care providers and companies about just how much it's costing them in a public hearing on the Fair Start for Kids Act. I'm a cosponsor of the bill because I've also heard from so many parents about the skyrocketing cost of childcare. This week the Committee passed the bill, and it will now go to the Appropriations Committee for consideration.
---
Here are some of the stories the Human Services & Early Learning Committee heard:
Jennie, a foster and biological mom, recounted that she called twenty child care centers the week she found out she was pregnant so she could get her unborn child on wait lists. She was told the wait lists were 18, 24 and 36 months long.
Dru, a leader in his regional chamber of commerce, recalled conversations with HR departments of local companies that saw prospective employees decline jobs due to lack of access and affordability of child care, especially in rural Washington.
Bethany, a child care provider specializing in mental health, spoke of the need to build more training and support for providers so they can use trauma-informed practices to set children on a trajectory for educational success and lifelong health.
These stories demonstrate the severity of our child care crisis. So do the facts:
Nearly half of Washington parents have a hard time finding affordable child care, directly affecting their employment.
Washington businesses lose $2.08 billion a year due to lack of child care.
Ninety-percent of a child's brain develops by age five, yet more than half of Washington children enter kindergarten already behind.
Forty-three percent of child care providers turn over every year because they aren't earning a living wage.
---