That's right, the legislative session has ended on time and we're thrilled to get back to our "normal" lives in the 34th District. While we'll continue to meet with you regularly and develop policy goals for the 2015 session, we'll no longer be living and breathing the Washington State Legislature.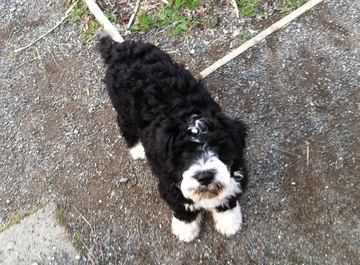 Eileen will return to her job as a nurse at Group Health and more importantly, to enjoying her new puppy, Humphrey.
After his first year as chair of the Environment committee, Joe plans on spending the interim continuing to learn about the environmental challenges facing our state and exploring options for moving forward on oil spill safety, climate change, and smart land use.
The 2014 session ended with several great accomplishments. We finished our work within the 60-day timeline—the first time the legislature has managed to meet this deadline since 2009. The budget we negotiated and legislation we passed include some important victories for progressive causes.
We made a landmark investment in mental health care that adds capacity in our communities.
The budget reinvests in our safety net, which has undergone drastic cuts throughout the economic recession.
The Dream Act was signed into law by Governor Inslee, giving every child who grows up in Washington the opportunity to pursue their dreams through higher education.
We stopped a large number of troubling attacks on the environment, women, and hard-working families in their tracks.
And specifically for the 34th District, we:
Saved King County $500,000 that will be redirected to vital ferry service for West Seattle and Vashon.
Passed a bill to allow senior centers to serve liquor at special events. The idea for this bill was brought to us several years ago by the West Seattle Senior Center who, due to a hiccup in state law, were limited in their ability to serve wine and beer at fundraisers, dinners and bingo nights. As Baby Boomers enter retirement, it's important to make sure our senior centers have the opportunity to fundraise to keep up with this growth.
There's still more work to do, and many of our priority bills met heartbreaking deaths in the Republican-controlled Senate. This interim we'll continue pushing for common sense legislation that builds a better Washington for our children, and we'll be eager to return to Olympia in January.
This will be the last e-newsletter we send until next session. Until then, please continue to keep in touch!
Best,

Eileen and Joe
---