Dear Friends and Neighbors,
A Fair Start for Kids: Addressing the child care crisis and economic recovery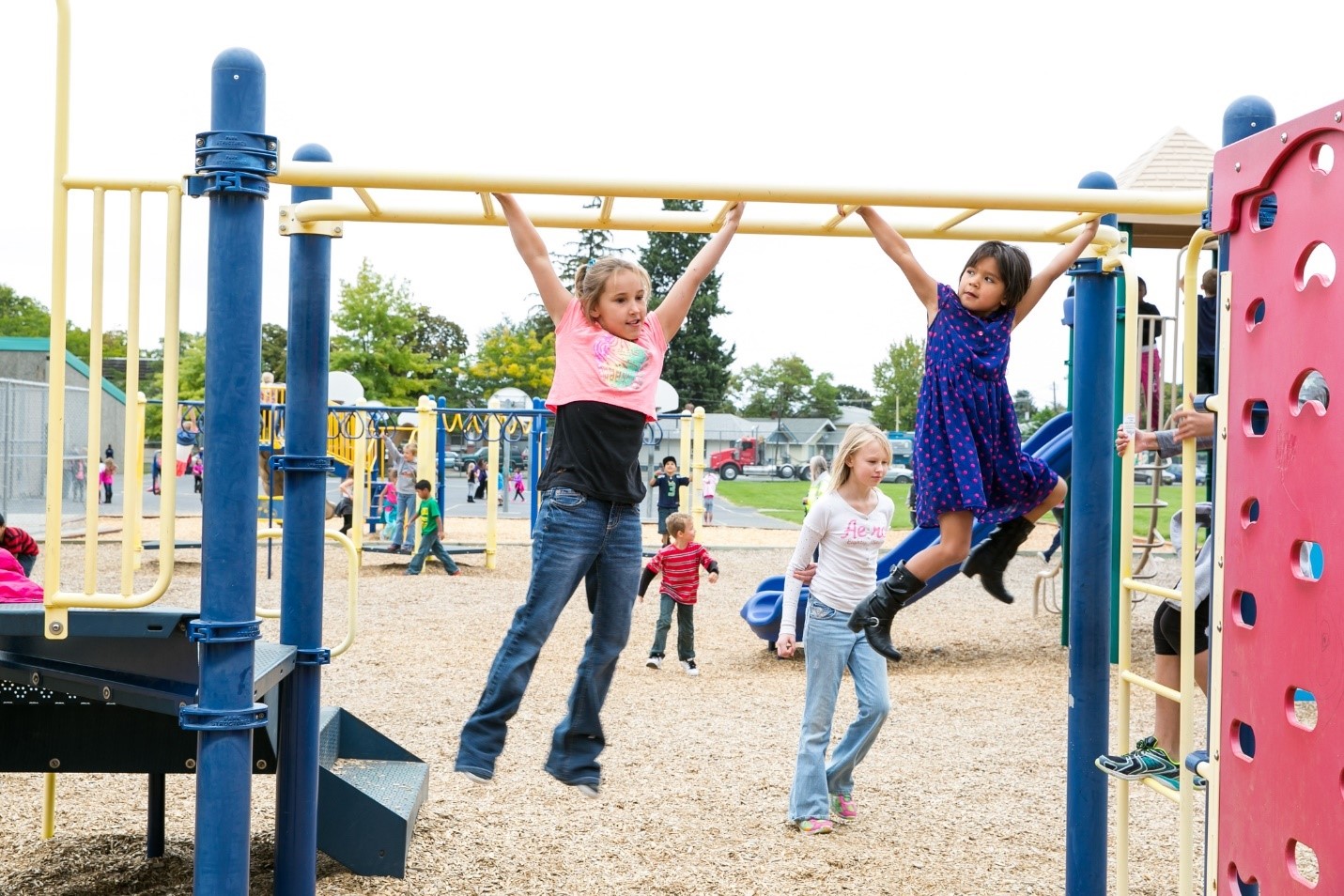 Child care was in crisis before the COVID-19 pandemic, and now it's on the brink of collapse. The child care crisis already costs Washington businesses $2.08 billion a year and working parents here forgo $14 billion a year in lost wages due to the lack of child care access. In the wake of the pandemic, the problem has become even worse, with huge numbers of parents leaving the workforce or reducing hours and take-home pay, because of the reduced access to child care.
Washington's child care market is broken and too many children and families are bearing the consequences. But we know how to fix it! The Fair Start for Kids Act, sponsored by House Children, Youth & Families Committee Chair Rep. Tana Senn, myself, and every other Democrat on the committee, is a multi-faceted approach to solving the child care crisis, addressing racial equity and helping the economy. The bill aims to make child care more affordable for families, stabilize and expand the diverse child care workforce, support the expansion of child care, and strengthen prevention and intervention services. Through measures such as increasing child care subsidy rates, reducing families' copays, and offering business and mental health supports, the Fair Start for Kids Act will aid in getting parents back to work, getting our economy up and running, and giving more kids a fair start in life.
'988' could be a lifeline for suicide prevention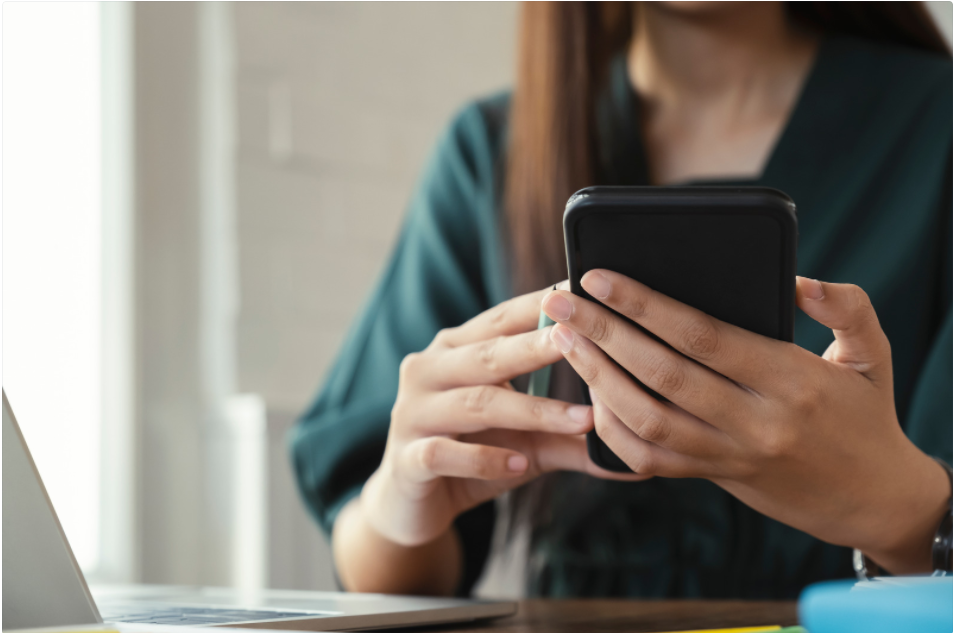 During the past decade, deaths by suicide have increased by 36 percent in our state. It is the single leading cause of death for Washingtonians ages 10 through 24, and suicide rates are higher than the general population among veterans, American Indians/Alaska Natives, LGBTQ youth, and people living in rural areas.
I'm cosponsoring legislation that will help ensure suicide prevention and behavioral health crisis services are accessible to everyone statewide. House Bill 1182 calls for investments to create a high-tech crisis call center system, mobile rapid response crisis teams and crisis stabilization units, short-term respite facilities, peer-operated respite services, and behavioral health urgent care walk-in centers across the state and in collaboration with Native American tribes.
The bill also implements the bipartisan National Suicide Hotline Designation Act, which designated 988 as the new national suicide prevention and mental health crisis hotline number, paving the way for states to develop improved crisis response systems.
Implementation of the new 988 National Crisis Line and related crisis services will reduce reliance on emergency room services, as well as the use of law enforcement. The goal is to ensure that all Washington residents receive a rapid, consistent and effective level of crisis services no matter where they live, work, or travel in the state.
Protecting the rights of sexual assault survivors
This week, the House Public Safety Committee passed a new set of rights for sexual assault survivors. Introduced by Rep. Tina Orwall (D-Des Moines), a champion for sexual assault survivors and author of the bill that mandated that all backlogged Sexual Assault Kits in Washington are tested, this new legislation adds a number of rights that will make sure sexual assault survivors have a voice throughout the legal process.
Some of the new rights that this bill enumerated were:
The right to consult with a survivor's advocate throughout the investigatory process and prosecution of the case.
The right to receive written notice of benefits under the Crime Victim Compensation Program
The right to receive a referral to an accredited community sexual assault program or, if the case involves a minor, a children's advocacy center.
The right to receive timely notifications as to the status of the investigation or prosecution of the survivor's case.
The right to be informed as to the expected and appropriate time frames for responses to inquiries into the status of the investigation or prosecution of the survivor's case.
The right to access interpreter services when necessary.
The right for minor survivors of sexual assault to request remote video testimony and other accommodations during the prosecution of their case.
Sexual assault survivors have historically had a much more difficult time obtaining justice in our criminal legal system. These changes will provide needed support and make the system easier to navigate. Survivors of sexual assault should not feel like they are also fighting the system.
A faster way to stop the spread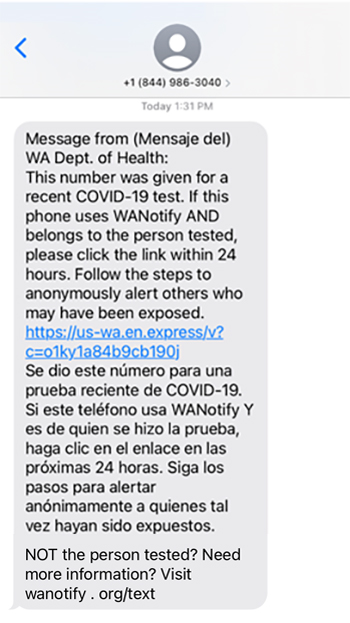 Last week, the Washington State Department of Health (DOH) started a text message program to alert you quickly if you test positive for COVID-19. This text will include a verification code and a link to activate WANotify so you can anonymously alert users if they may have been exposed. The screenshot included here shows exactly what this text from DOH text will look like.
If you test positive for COVID-19, you'll still receive the standard notification from your healthcare provider or testing facility. This texting program is an added measure. Many of us are inundated with e-mails and spam calls, so texting is a way to cut through the noise and get us the information we need to know now. The faster we have the facts, the faster we can stop the spread.
If you haven't already enabled WANotify, check out this video to see how it promotes public health while protecting your privacy. It's available in 29 languages, doesn't collect personal data, and has already been enabled by 1.66 million Washingtonians. Signing up takes less than 30 seconds! Do it today.
As always, please reach out if you have questions, comments, or ideas.
All best wishes,

Roger Goodman
Representative, 45th District
Washington State Legislature
---