Dear Friends and Neighbors,
The Legislature has now adjourned for the 2021-22 biennium. In addition to passing the supplemental operating, transportation, and capital budgets, we enacted a transformative new transportation package, Move Ahead Washington, which funds the next generation of transportation investments without raising the regressive gas tax! See below to learn more about the transportation package, as well as some of the bills I passed this year.
2022 Session in Review
In this week's GoodMinute, I summarize some of the main legislative accomplishments from this session in four main areas: housing and homelessness, education, environmental protection, and public safety:
---
Protecting Survivors of Coercive Control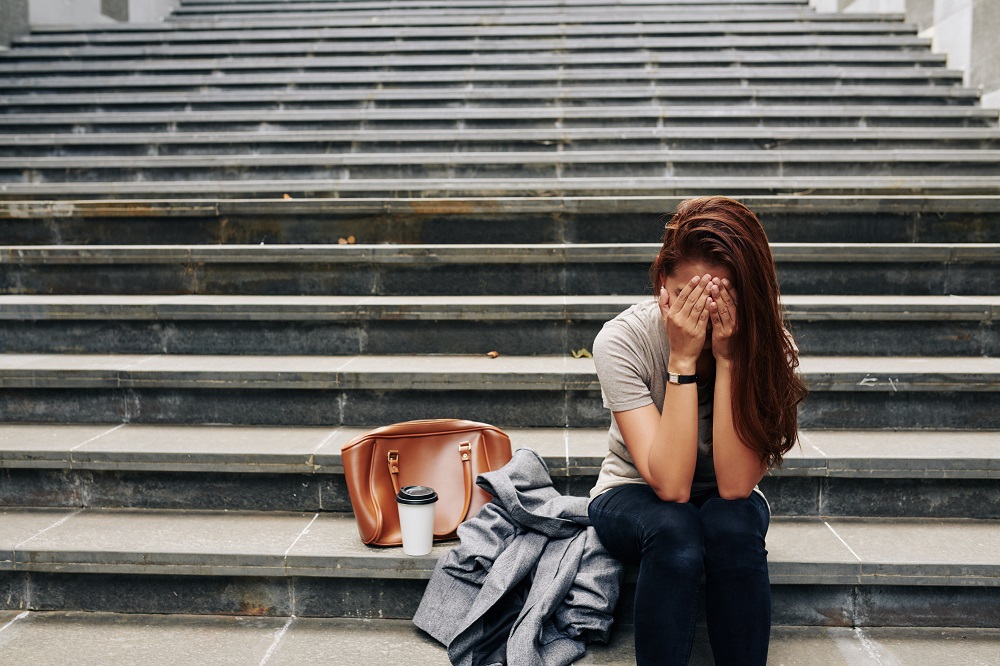 "Coercive control" is an abuser's pattern of behavior that causes a victim to suffer physical, emotional, or psychological harm and is used by an abuser to control their victim. Examples of coercive control include intimidation or threats of harm against the victim, children, family members, or pets; destroying or threatening to damage property; abusing technology through cyberstalking, surveillance, distributing intimate images and commandeering social media accounts; brandishing firearms to intimidate; financial exploitation; abusive litigation; and several other forms of harassment. Research shows that coercive control is a widespread form of domestic violence that too often goes unrecognized.
This year I sponsored House Bill 1901, which passed both the House and Senate and was just signed into law by the Governor. This new law adds coercive control to the definition of domestic violence, allowing a survivor to obtain a protection order. It's time for our culture and laws to catch up with the research – domestic abuse is not just physical, but also emotional and psychological. With this important change in the law, survivors will have greater protection from abusers whose pattern of coercive control can cause even more trauma than physical harm, and it will give survivors the tools and knowledge they need to protect themselves.
Striking the Right Balance on Police Reform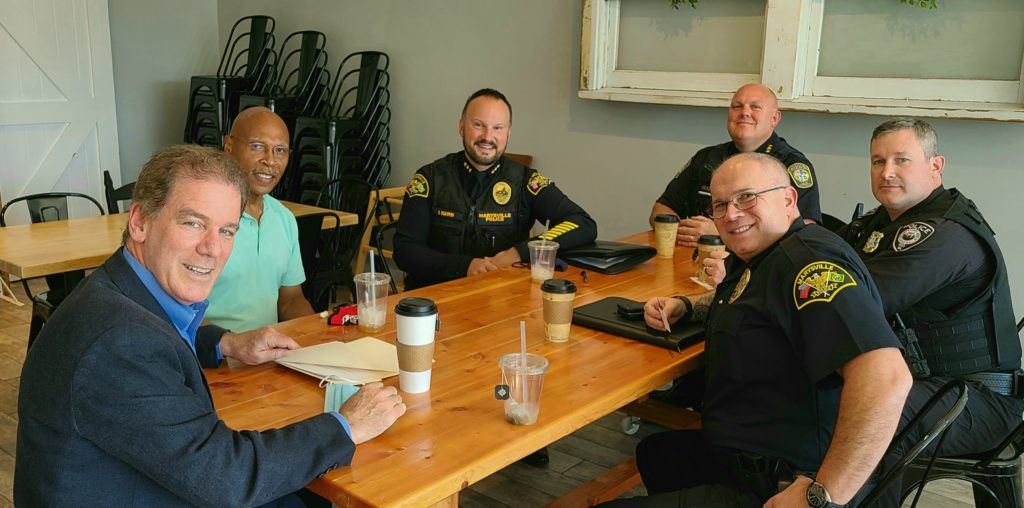 Last year, in my capacity as Chair of the House Public Safety Committee, I steered through the Legislature a broad package of legislation designed to reduce needless uses of force by police, to improve trust between police and the community and to uphold the policing profession. These laws work together to establish clear expectations for the behavior of police officers, to regulate what tactics and equipment are permitted and to hold police accountable for misconduct.
A centerpiece of last year's police reforms was a uniform, statewide standard for police use of force that prioritizes de-escalation techniques and restricts when physical force may be used. When the new law went into effect, police expressed concern and confusion over the lack of a clear, legal definition of "physical force" and also that we limited police ability to detain criminal suspects who attempt to flee a crime scene.
In response to these concerns, I went on the road for months, meeting in person with and listening to dozens of police chiefs, sheriffs, city mayors, police officers, mental health workers, 911 dispatchers and other first responders. This session I followed up by sponsoring and passing House Bill 2037, which allows police to use force – although only to the extent that it is reasonable and necessary – to prevent criminal suspects from fleeing a temporary investigative detention, and only after police have informed suspects that they are not free to leave. HB 2037 also defines "physical force" so that officers can have the certainty they need to do their jobs.
I believe that this measure strikes the right balance between the need to protect the safety of the community and police officers alike, and the right of people not to be subject to unreasonable searches and seizures and needless police violence. I am now working closely with law enforcement agencies in our area to help them rise to the challenge of prioritizing de-escalation and limiting their use of force while providing all communities with the public safety they expect and deserve.
Move Ahead Washington Transportation Package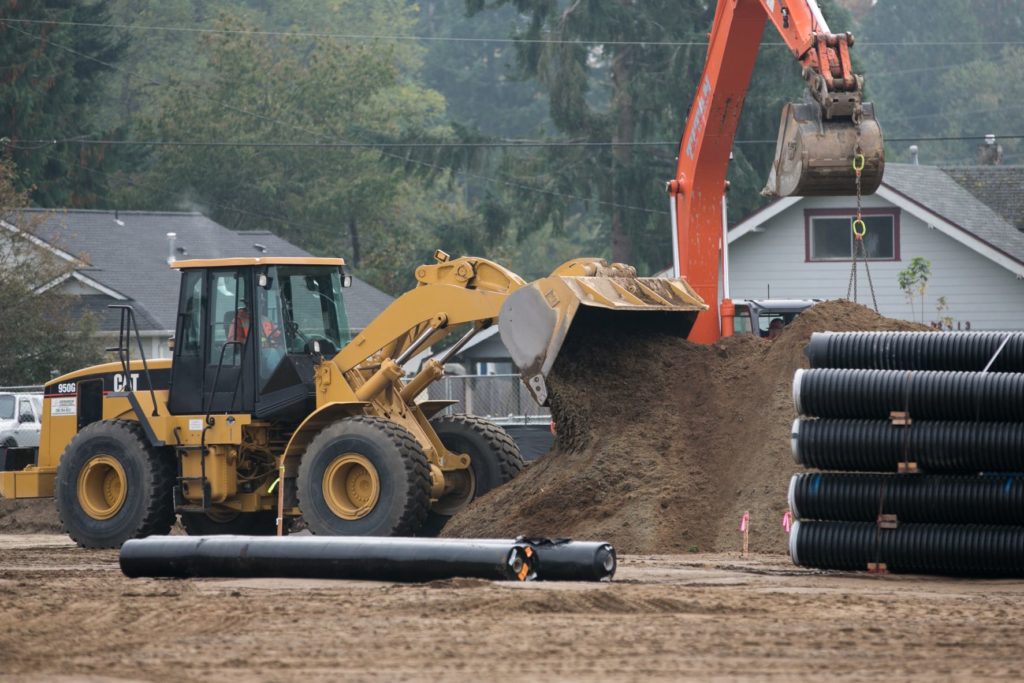 This session the Legislature passed a new 16-year, $17 billion transportation package, Move Ahead Washington. It delivers historic investments to preserve our roads, reduce carbon emissions, and provide safe, accessible, and affordable options to get around.
House Democrats hosted over 90 listening sessions to hear the top transportation priorities from communities across the state. Preserving and maintaining existing infrastructure and finishing projects that have already been started were two of the top priorities that emerged from those listening sessions. To that end, this package invests an unprecedented $3 billion into preserving our existing infrastructure and completing projects already in the works.
Importantly, this package does not raise the gas tax. This is a people-oriented proposal that doesn't pass costs onto working families, especially considering the economic hardships of the pandemic.
Fighting Climate Change and Inequality for a Brighter Future
Tomorrow's generations are counting on us to take meaningful action to address climate change. Today, communities of color, low-income, and rural communities bear the brunt of traffic, pollution and displacement caused by previous transportation policies. Communities of color have also been historically excluded from the family-wage jobs associated with transportation construction.
The Move Ahead Washington package takes decisive action against climate change with unprecedented new investments of more than $5 billion in sustainable and climate-friendly projects such as zero-emission ferry technology, electric vehicle charging stations, a massive public transit expansion and bicycle and pedestrian infrastructure. Our community deserves diverse choices so we can use what works for us – whether walking, rolling, driving, or riding – while reducing our carbon footprint.
Move Ahead Washington re-prioritizes neglected neighborhoods and renews our moral obligation to do better for rural, low-income and other marginalized communities. We're funding projects that expand reliable transit services, create bike and pedestrian routes, and increase opportunities for good jobs in the transportation sector. The transportation package also directs 35% of funds from the Climate Commitment Act into projects serving neglected neighborhoods and communities often left out of the policymaking process.
Save the Date: 45 District In-Person Town Hall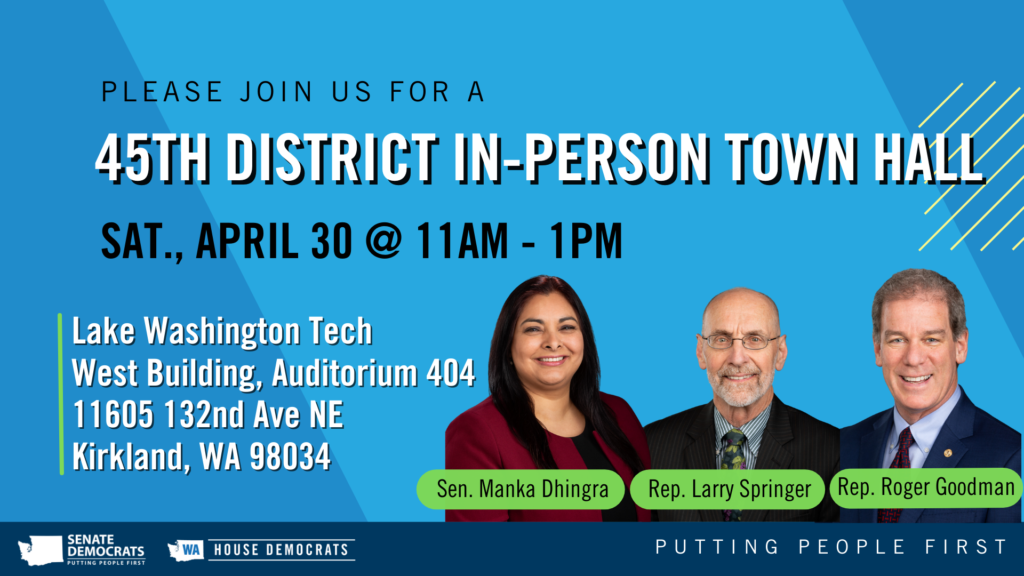 Please join me, Rep. Larry Springer, and Sen. Manka Dhingra on Saturday, April 30 from 11:00 AM-1:00 PM, for a 45th District in-person town hall. This will be our first in-person town hall since 2019!
WHO: The 45th District delegation: Sen. Manka Dhingra and Reps. Larry Springer and Roger Goodman
WHAT: Town Hall with 45th District residents
WHEN: Saturday, April 30 from 11:00 AM-1:00 PM
WHERE: Lake Washington Institute of Technology, 11605 132nd Ave NE, Kirkland, WA 98034. West Building, Auditorium 404. Driving direction can be found here and a campus map can be seen here.
COVID Protocols: Please note that Lake Washington Institute of Technology requires unvaccinated community members to wear a mask while on campus.
Now that the legislative session has wrapped up, I'm able to spend more time in our community, so perhaps we will cross paths! It is an honor to represent you at the Capitol, and I ask that you reach out to me with questions, comments or ideas so I can serve you better.
All best wishes,

Roger Goodman
Representative, 45th District
Washington State Legislature
---