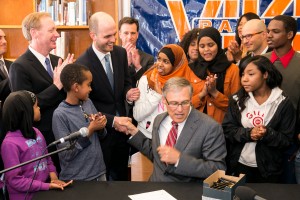 Flanked by students, teachers and high-tech execs at Rainier Beach High School in Seattle, Gov. Inslee signed a bill by Rep. Drew Hansen this week that boosts computer-science education in Washington state to prepare ambitious teens for the 21st-century economy.
"This bill will help students train for high-paying jobs in the technology industry and start addressing our state's computer programmer shortage," Hansen said.
House bill 1472 calls for school boards to approve an Advanced Placement (AP) computer-science course as equivalent to a math or science course, including for purposes of meeting math or science graduation requirements for high school, rather than as an elective. States that have treated AP computer science as a math or science course rather than an elective have seen more students enroll in AP computer science.
The signing drew representatives from Microsoft and code.org, a nonprofit group that promotes computer-science education.
Gov. Inslee posted a news release about the event on his Web site.
---