On a sunny day last month, Rep. Drew Hansen joined Sen. Christine Rolfes, other public officials and a contingent of the media on a tour of woodlands recently purchased by Kitsap County as the first step toward creation of a public park on nearly 7,000 shoreline acres near Port Gamble.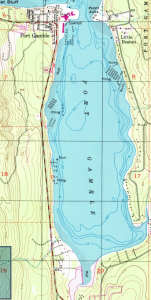 The way to the realization of the Kitsap Forest & Bay Project was significantly eased by the passage of House Bill 2502 in 2012 – one of the first bills sponsored by Rep. Hansen to win legislative approval and to be signed into law. The measure, co-sponsored by Rep. Sherry Appleton, broadened a tax break for timberland sales to include transactions in Kitsap County.  The land for the project has long been owned by Pope Resources, a timber company.
Rep. Hansen and other supporters of the project envision it as a magnet for ecotourism and recreation, lying just 30 minutes by ferry from downtown Seattle, and a boon to the Kitsap County economy.
Click here to see a video of Rep. Hansen's speech on the House floor in favor of his bill. Read newspaper articles about the project here and here (subscription may be required).
---