We passed a bill of mine with overwhelming bipartisan support to protect your internet privacy.
Background: a few weeks ago, Congress blocked FCC rules that would have prevented Internet Service Providers (ISPs) from using your private information – like your browsing and search history – to market to you without your consent.  And wow, did that make people angry.  I heard from many of you, and immediately started working on a bill to give us the protections in Washington state that Congress refused to allow to go into effect nationwide.
I started working with some of my Republican colleagues with a deep background in privacy law, and before long we had a bill—with 74 cosponsors, roughly evenly split between Republicans and Democrats, well more than a majority of the House of Representatives.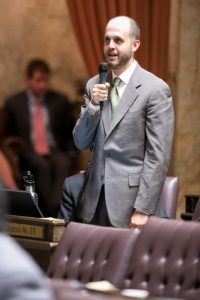 In a very short time, we got the bill through committee and off the House floor.  This demonstrates public engagement in action – the bill didn't happen because some well-funded interest group (on either the left or the right) pushed it; it started because a constituent in Kitsap County wrote to me, and I worked with Republican colleagues to write a bill, and before long we got the bill off the House floor with a solid bipartisan majority.
Those of you who read these newsletters know that I focus almost entirely on jobs issues – helping protect our jobs (particularly in the marine and recreation industries that are so important to us in Kitsap County), helping expand job opportunities, and (as the chair of the House Higher Education Committee) helping people get degrees so they can get decent jobs and support their families.  But sometimes I work on an issue that's not directly related to jobs because the people in our district are demanding action, and it's my job to represent you.  That's what happened here, and I wanted to share it with all of you because it shows the power of all of us, working together, across party lines, to do something practical to protect our privacy.
Thanks for reading.
---