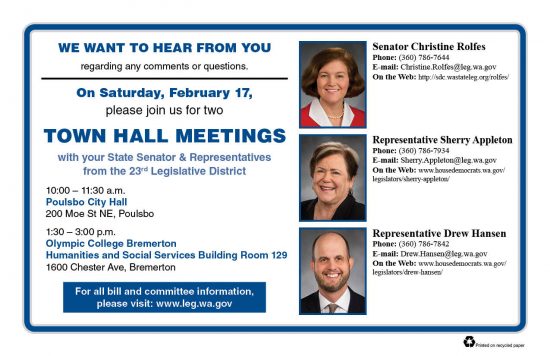 Who: Rep. Sherry Appleton, Rep. Drew Hansen, and Sen. Christine Rolfes, the legislators from the 23rd Legislative District representing part of Kitsap County, including Bainbridge Island, Poulsbo, Kingston, Silverdale, and East Bremerton.
What: Town Hall meetings with 23rd District constituents.
When: Saturday, February 17, 2018 (see times below)
Where: From 10:00 to 11:30 a.m. at Poulsbo City Hall, 200 Moe St NE, Poulsbo, and from 1:30 to 3:00 p.m. at Olympic College Bremerton, Humanities and Social Services Building Room 129, 1600 Chester Ave, Bremerton
Why: The 23rd LD legislators will provide an update on the 2018 session and answer questions from constituents about issues currently under consideration in the Legislature.
---