Frank Chopp
During an election year, there are certain restrictions on my communications to prevent the use of state resources for election purposes. One of these restrictions is a freeze on this website, meaning no new content can be added beginning May 14, 2018 until after the general election in November. If you have questions or comments about legislative issues, please feel free to
email me
, and I'll get back to you as soon as possible.
Home
Welcome to my website!
I hope you find it's a useful resource to learn more about your state government. Visit our Press Releases Page and be sure to also check out our Values Page to see how we're creating a better future for Washington.
If you want to stay up to date on what's happening in our state and the nation, sign up here for the Daily E-Clips, an electronic round-up of daily news.
You may have received an end of session report that my seatmates and I mailed out recently, detailing some of the great policy we passed this year. If you didn't get it, or you want to take another look at it, the electronic copy of my section is posted here, or by clicking on the image below.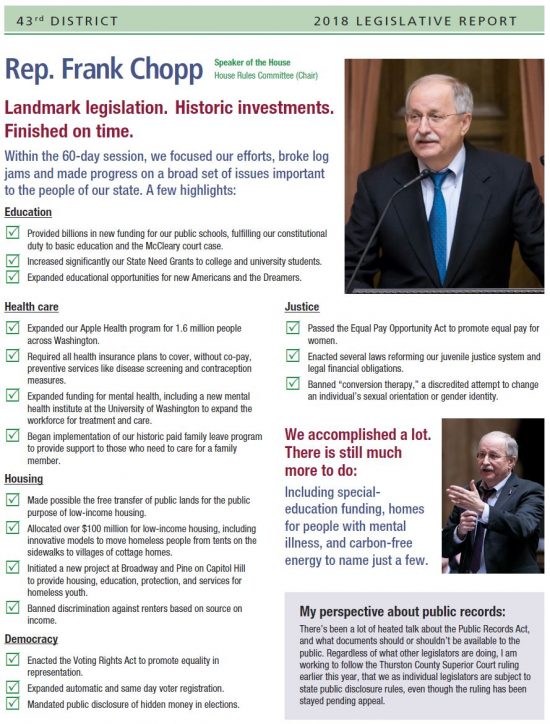 Biography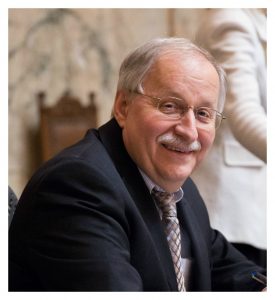 Frank was born and raised in Bremerton; his father worked in the shipyard and his mom worked in the school cafeteria. He graduated with honors from the University of Washington in 1975, and started his career as a community organizer with a passion for social justice.
He worked as a director for the Cascade Community Center, the Pike Market Senior Center, and the North Community Service Center before becoming the Executive Director of the Fremont Public Association. Now known as Solid Ground, the FPA provided one of Seattle's then most economically-devastated neighborhoods with an emergency food bank, a clothing bank, and an employment program. It has since relocated to the Wallingford area and offers 30 different programs and services that help more than 60,000 households each year.
Frank was elected to the House of Representatives in 1994 and became co-Speaker of the House in 1999. He began serving as the only Speaker in 2002. As Speaker, Frank has committed himself to policies that reflect his community-organizer values – a strong public education system, health care for every child, good-paying jobs, and protecting the safety net.
News
Contact
Email me at Frank.Chopp@leg.wa.gov or call my office at (360) 786-7920. You can also send mail to my Olympia office at:
LEG 339C
PO Box 40600
Olympia, WA
98504-0600
Legislative Assistant:
Nora Burnes
Email: Nora.Burnes@leg.wa.gov
Toll-free Hotline:
1-800-562-6000
1-800-635-9993 (TTY)
For Press Inquiries:
Jim Richards, Communications Director
(360) 786-7206
Jim.Richards@leg.wa.gov
---