My new legislative Facebook page is up and running!
My colleagues and I are proud that our legislature is one of the most accessible in the country. There are countless ways to get in touch with me, and I strive to be responsive and attentive to the questions and concerns you send me. The 43rd Legislative District is extremely active, so while I can't always provide you instant responses to your outreach, I want to make sure it's as easy as possible for you to share your thoughts, concerns, and questions with me.
My team and I are making great efforts to be more accessible to you on social media, and I invite you to 'like,' follow, and interact with me on my new legislative Facebook page. Check it out here!
I'm excited to host a Facebook Live event Monday evening at 6pm with Senator Emily Randall on universal health care and legislation to improve patient care, access, and affordability. Be sure to tune in!
Town Hall announcement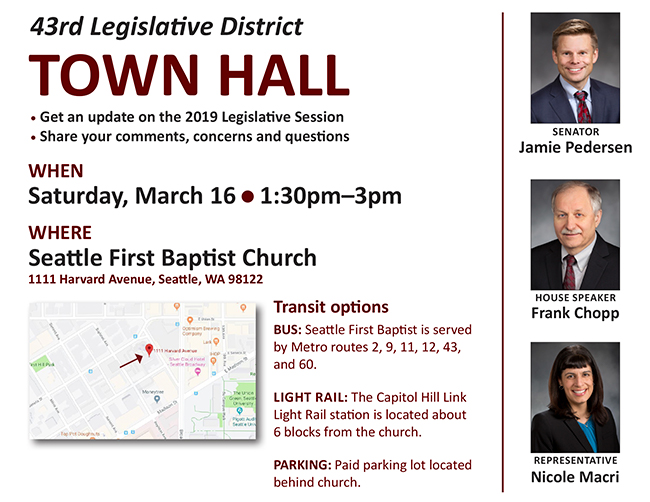 Secure Scheduling for Washington Workers
Our lives are run by schedules, from daycare centers and schools, to doctor's offices and work meetings, schedules help bring order to our lives. For those who don't know what shifts they are going to work in advance, life is unpredictable and chaotic. It also results in income irregularity, since workers without fixed schedules often don't know how much money they will make in any given week.
I am proud to be the prime sponsor of HB 1491, modeled after a standard recently approved by the Seattle City Council. This statewide secure scheduling proposal would ensure that people who work for large fast food, coffee, restaurant, and retail chains in Washington get schedules that are more predictable and balanced. I'm working closely with business and labor representatives to find the best way forward to support workers and ease impacts on businesses. The bill would require:
Two weeks' notice of shift schedules.
Access to additional hours for current employees before new jobs are posted.
Input into work schedules, and more flexibility to accommodate care-giving, schooling, and other major life needs.
No mandatory clopening shifts (working the closing shift one night and then an opening shift the next morning).
Our bill was passed out of the Labor and Workplace Standards Committee on February 21.
'Inside Olympia' segment on eviction reform
I was pleased to appear on TVW's Inside Olympia program this week to discuss my efforts to support tenants by reforming our broken eviction system. I spoke about my experience as a low income housing provider and provided an update on our eviction reform legislation ahead of the first major legislative deadline. Watch it here!
---