Thanks again to everyone who was able to join our 43rd District town hall a few weeks ago. We talked about many issues that are important to our communities, and I want to continue updating you on our progress in Olympia. In this e-newsletter, I'll provide an update on our work related to health care access and affordability, behavioral health, and LGBTQ rights.
Major health care bills advancing through legislature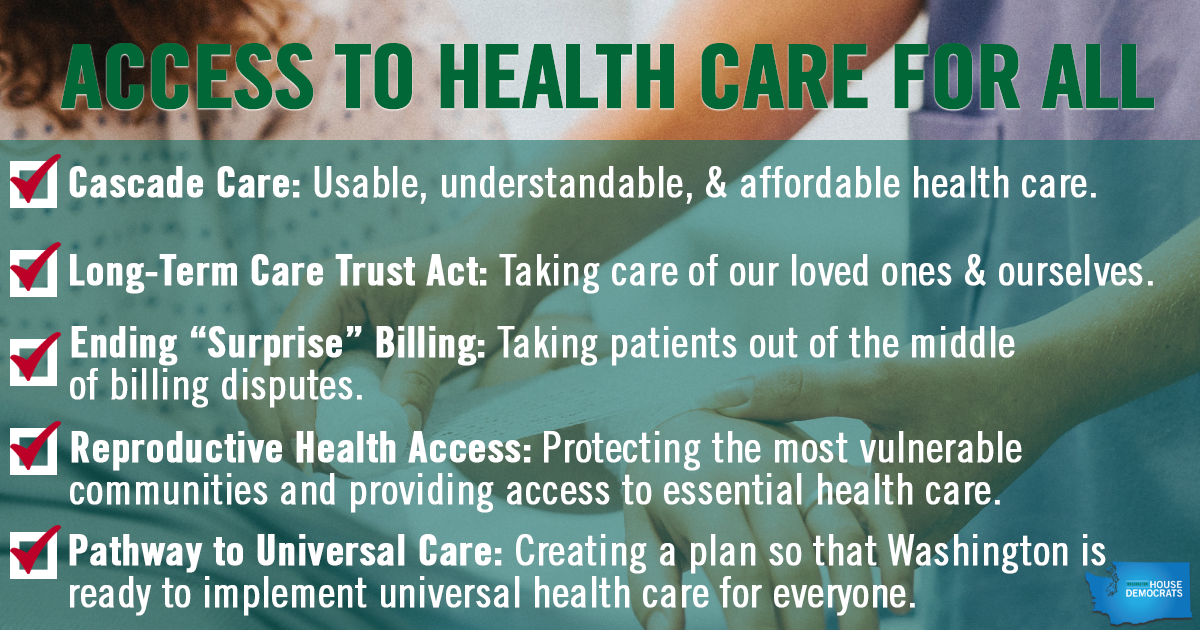 I voted to pass five great health care bills to improve access to health care for everyone in Washington state, protect consumers, and create a new social security program for long-term care services.
Cascade Care is a new series of plans on the health exchange for those who purchase their own health care rather than receive insurance from their employer. There are 70,000 people who buy plans on the exchange with a deductible of $9,000 or more. That's simply unacceptable. Cascade Care offers cheaper plans with lower deductibles and a simple, easy to understand list of comprehensive services.
Surprise billing, happens to far too many people. It happens when you go to a hospital that is in-network and covered by your insurance, but one of the medical providers (like an anesthesiologist) is out-of-network. Most of the time the patient does not even know about this and weeks or months later they receive a bill in the mail saying they owe. That's unfair, and puts consumers in the middle of a billing dispute. The House voted on legislation to protect consumers from this unfair practice.
The Long-Term Care Trust Act creates a brand new social security program to provide long-term care services. Most people do not save for long-term care, but most people end up needing some form of help as they age. With more people than ever moving into the 65+ age bracket, we need to start planning for the need for these services.
Senate Bill 5822 will provide a pathway to universal health care in Washington. Our state has been a leader in expanding health care, but there are still over 400,000 Washingtonians without health insurance. This bill would convene a group of stakeholders to make a plan that would set us up to get that support when there's a change of administration. We can't afford to wait around—we need to start preparing now.
This year we are continuing to lead the nation in protecting reproductive freedom by removing barriers that immigrants and transgender people face when seeking family planning and related services. We are addressing those issues with Senate Bill 5602, which I was honored to introduce in the House. The bill ensures family planning and related services for undocumented people who would qualify for Medicaid, except for their undocumented status.  It also prohibits health plans, the Health Care Authority, and Medicaid managed care plans from automatically denying coverage for reproductive health care services to transgender people. It has already passed the Senate and I hope to soon vote to pass the bill in the House.
All of these policies continue to move through the legislature this session.
Helping communities address behavioral health
For so many in our community, substance use disorder is a daily struggle. Whether affected themselves, or watching a friend, family member, or neighbor struggle, most people have some experience with the growing opioid epidemic. We have to take action.
It was an honor to help craft and vote on legislation to make treatment more accessible for people living with substance use disorders.  House Bill 1768 removes stigmatizing language from the statute surrounding substance use disorder. It also addresses the behavioral health workforce shortage in a couple of ways. It removes barriers that hold people in recovery with criminal histories back from becoming substance use disorder professionals. It also ensures more trained professionals skilled in addressing the needs of people with living with both mental illness and substance use disorder by creating a new "co-occurring disorder professional" credential.
I am also pleased that it aims for the first time to put an inclusive definition of recovery into statute that acknowledges the importance of 'harm reduction' approaches to substance use disorder:  "Recovery" means a process of change through which individuals improve their health and wellness, live self-directed lives, and strive to reach their full potential. Recovery often involves achieving remission from active substance use disorder.
We're also addressing behavioral health in our House Democrats' state operating budget proposal by making some of the most significant investments in a generation that will make an incredible impact on the ground in our state. We prioritize substance use disorder housing and recovery supports because the facts and research are clear: providing stable housing first is essential to health and recovery the long-term. We couple those investments with funding for diversion and alternatives to jail programs, community and inpatient treatment, support for families, and investments in educational and employment opportunities for people in recovery.
Supporting LGBTQ Washingtonians
This year I was very proud to introduce legislation to create the Washington State LGBTQ Commission, HB 2065, which would be only the second cabinet-level commission in the nation focused solely on LGBTQ affairs.
There are so many reasons why a Commission will benefit the LGBTQ population. Often the impacts of legislation on the LGBTQ community are unknown. The Commission created under our bill would allow the LGBTQ community a seat at the table to provide input into legislation that might affect LGBTQ communities. It would also assist in coordinating programs to address the needs of LGBTQ subgroups. The membership of the Commission would be balanced, based on different criteria such as race, gender, and socioeconomic positions.
Additionally, people who identify as LGBTQ who are not married are not counted in the census, even though they are part of a protected class. When a person is not counted, it is as if that person does not exist. When they do not exist, there are no resources provided to address their needs. There is also a lack of culturally appropriate resources for LGBTQ people, so their needs go unmet. The establishment of this Commission is vital for this segment of the population, including youth and seniors, whose identity exposes them to violence and adverse treatment.
The Senate version has already passed with a bipartisan vote, and we considered the bill in a Saturday session of our House Appropriations Committee on April 6.
Thank you so much for taking the time to read this update. Stay tuned for my next e-newsletter, where I'll provide an update on education, student safety, and firearms legislation. As always, I encourage you to send me your feedback.
---