Dear Friends and Neighbors,
Advancing racial equity. Addressing the global climate crisis. Responding to the COVID-19 pandemic. Economic recovery.
These are the values-based priorities my House Democratic colleagues and I declared we will center the 2021 legislative session around.
I am fully committed to doing all I can to push forward these critical issues. We've been in session for nearly a month now, so I wanted to reflect on our progress.
Thanks for taking the time to read this update,


---
Step One for Washington's Community and Economic Recovery
House Democrats passed legislation for the first step in the House and Senate plan for Washington's community and economic recovery, starting with the allocation of $2.2 billion in federal funds to provide assistance to Washington families and businesses who have been most impacted by the COVID-19 pandemic. The proposal will ease the financial hardship of struggling renters and landlords, small restaurants and other neighborhood businesses, school districts, uninsured and underinsured individuals, and Black and Brown communities, which have been disproportionately hurt during the pandemic.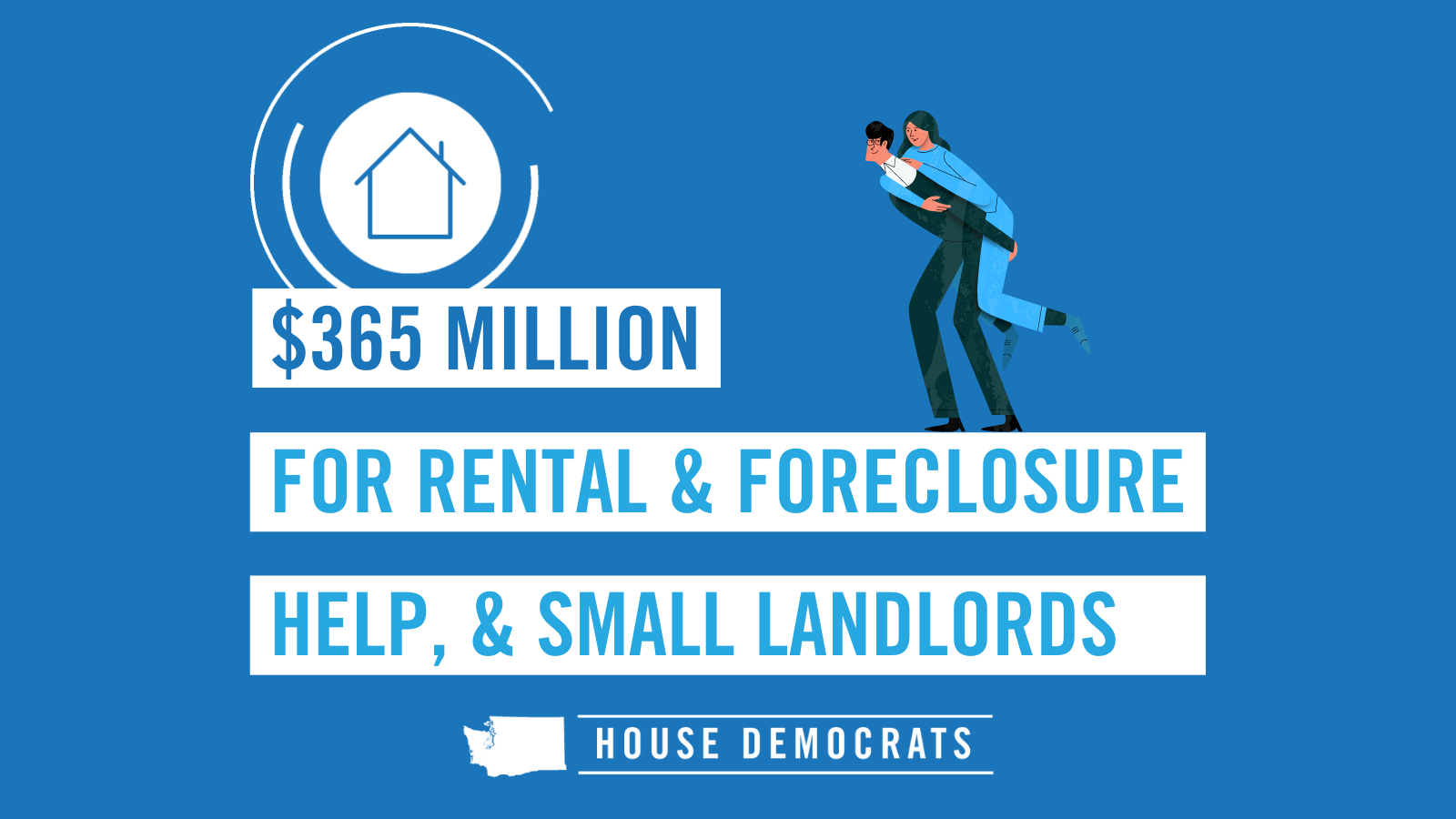 BOOSTING PUBLIC HEALTH: $618 million for a state Department of Health fund for vaccine administration, contact tracing and testing.
KEEPING PEOPLE IN THEIR HOMES AND FED: $365 million for rental assistance and foreclosure assistance, and for small landlords to stay on top of their mortgages. The plan also includes $52 million for food and cash assistance, and TANF extension.
INVESTING IN SMALL BUSINESSES: $240 million for grants for small businesses and non-profits to maintain operations and help with reopening.
GETTING STUDENTS CAUGHT UP: $714 million for schools to address learning loss, keep teachers on the payroll and get ready to bring kids back to the classroom when it's safe to do so. The plan also includes $50 million for grants for childcare providers.
SUPPORTING ALL WASHINGTONIANS: $70 million for long-term care and developmental disabilities programs and $6 million for health care for those who are underinsured and uninsured. The plan also includes $65 million for immigrant relief assistance and $5 million for grants to provide emergency financial aid for undocumented college students.
This is just the first step in making sure we support those most impacted by the pandemic so that we can recover, together. In the coming months, House Democrats will have bills, a supplemental budget, and an operating budget for the next biennium that continue to invest in public health, equitably address needs across the state in struggling communities, and help families and small businesses.
I spoke about our early action pandemic relief legislation, plus another bill we passed to help struggling small businesses and workers facing the greatest need in this video update. Check it out!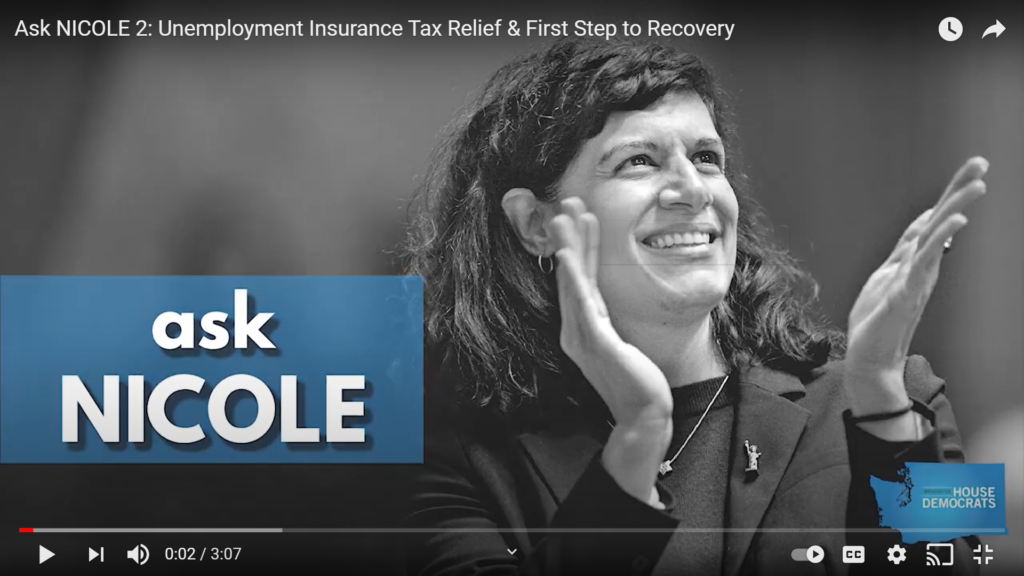 ---
Clean cars by 2030—it's within our reach!
Clean Cars 2030 is a bill I reintroduced this year to ensure that our policy goals and actions move us rapidly toward a 100 percent clean energy environment and keep pace with what is now a global trend toward vehicle electrification. Our proposal requires that all new vehicles sold in Washington, starting with model year 2030, run on electricity or hydrogen fuel cell—our existing vehicles are not affected. We're already behind the times on clean vehicles, as dozens of models will be available much earlier than 2030, and much or Europe will phase our gas cars earlier than our bill calls for. This bill is not only good for the environment, but it will also bring important equity to low-income households by significantly lowering fuel costs and car repairs, while stimulating the economy by hastening a boom in charging infrastructure construction and EV manufacturing. The bill had a hearing in the Transportation Committee this week, and I'm working hard to advance the legislation.
---
Black History Month
This Black History Month, I'm reflecting on the words of Ms. Amanda Gorman.
The Legislature is working to create a Washington that is inclusive, fair, and representative for Black Americans. We're considering bills to ensure safer police tactics, to restore voting rights to people who have served their time in prison, and to provide law enforcement with stronger tools to address hate crimes. And we are finally considering a bill to give Juneteenth the recognition it deserves as a state holiday.
I am proud of the work we've done to write laws that are racially just. But we can't move forward in progress unless we honor the untold history of Black America. Our work here as lawmakers is only possible because of the tireless labor and courageous activism of our predecessors. And while that work is unfinished, Ms. Gorman's words bring me hope for our future with each step forward.
Because a future that is fair and inclusive for Black Washingtonians is a future that is fair and inclusive for everyone.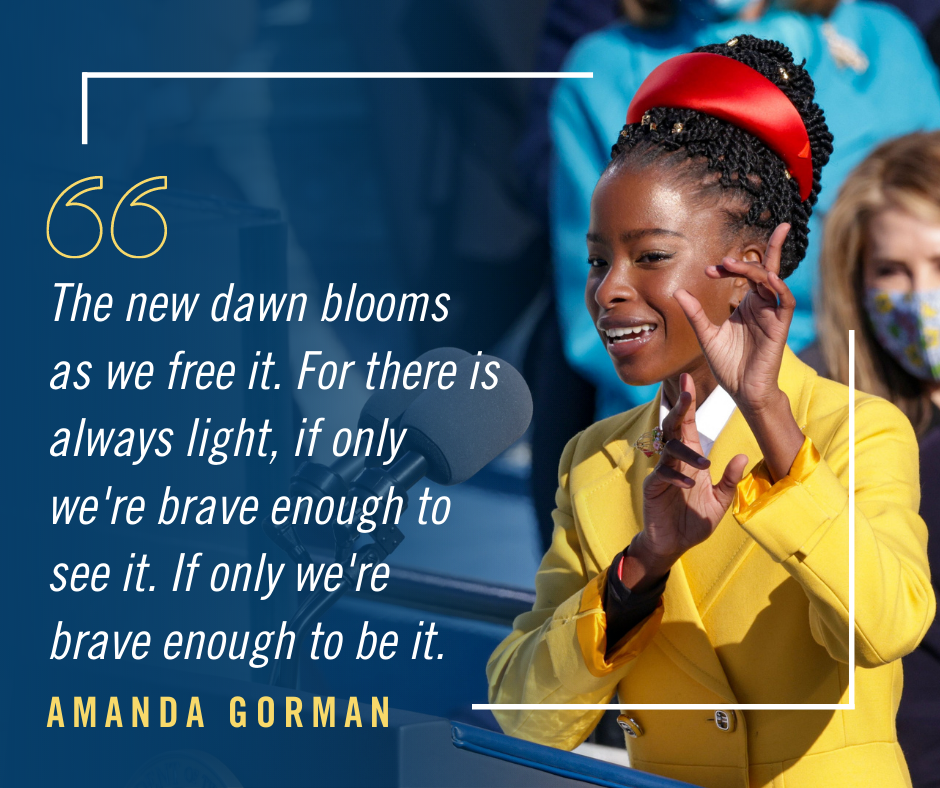 ---