Dear Friends and Neighbors,
On Saturday, March 13 from 1-2pm, I am hosting a virtual town hall with my 43rd Legislative District seatmates, Rep. Frank Chopp and Sen. Jamie Pedersen. I hope you can join us to hear an update on the legislative session, and so we can hear your questions, thoughts, concerns and hopes for this session and our state.
Here are just a few of the many issues the legislature is working on this year:
COVID-19 public health response
Economic recovery from the pandemic
Vaccine availability
Unemployment insurance & Employment Security Department
Racial justice
Police accountability
Climate justice
Housing security
Balancing our upside down tax code
Click here or on the image below to RSVP. The event will stream live on Facebook (you do not need a Facebook account to watch) and on YouTube and Twitter @WaHouseDems. You can submit questions and comments live during the event in the chat box, or beforehand here.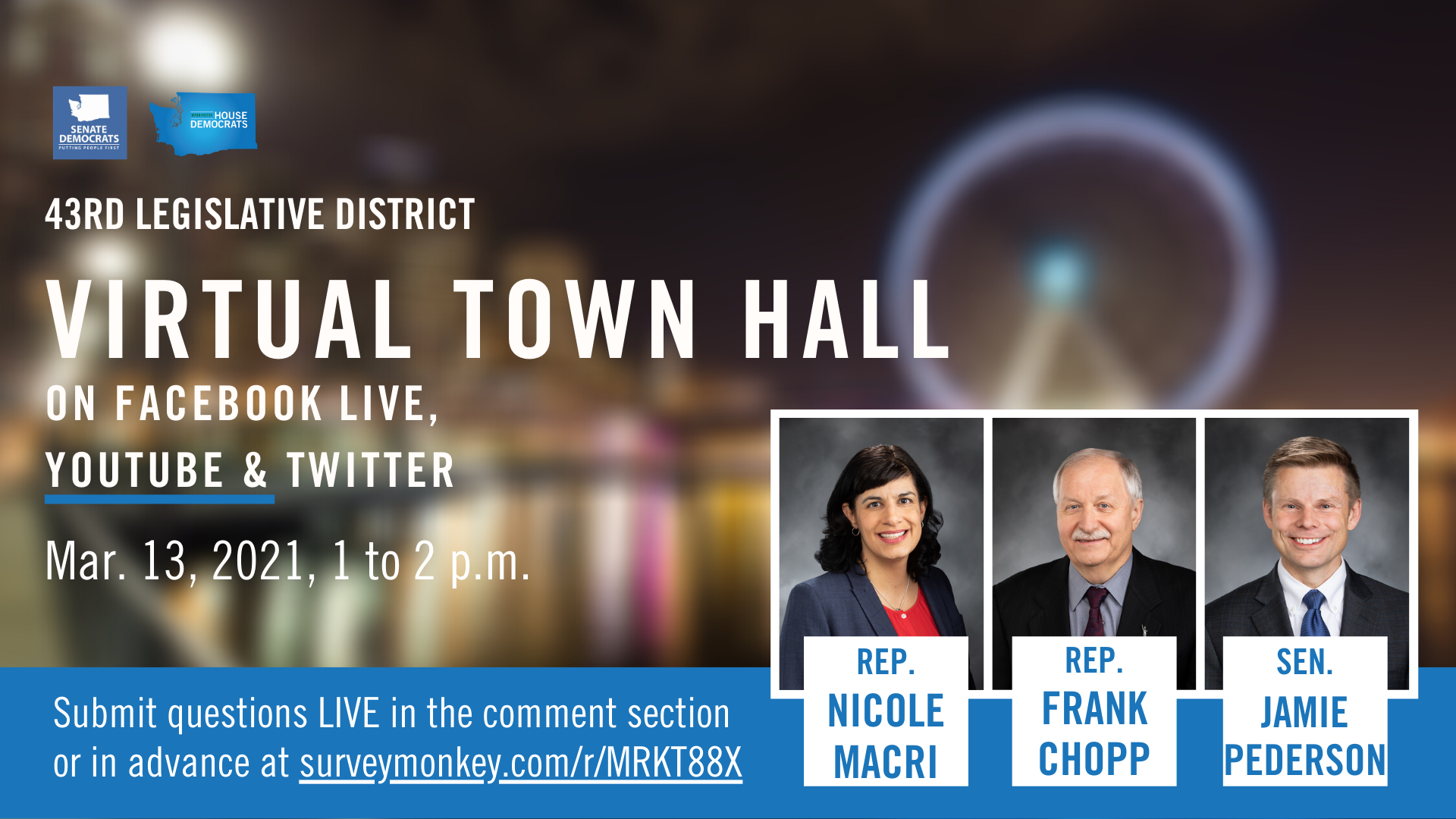 Hearing directly from you is the best way to ensure we are best serving the needs of our community.
I hope you can join us!


---
Special health care enrollment period

The Washington Health Benefit Exchange (Exchange) opened a special enrollment period on Feb. 15 for Washingtonians. This aligns with President Biden's executive order to re-open the federal health insurance marketplace, giving additional time to Americans still seeking health coverage during the pandemic.
The special enrollment will run for 90 days, ending May 15, 2021. During this time those currently uninsured, seeking coverage, or enrolled in off-Exchange health insurance (such as health sharing ministries, short-term limited duration plans or COBRA) can enroll. Current Exchange enrollees will not be eligible for this special enrollment. Visit the Washington Healthplanfinder here for more information.
---