March 4, 2020:
Coronavirus Update
Friends and neighbors —
The House of Representatives was briefed on Tuesday by Dr. John Wiesman, Director of the State Department of Health, regarding the status of the coronavirus and the state response.  I was especially interested in the update given that the epicenter of the outbreak is in Kirkland.
First, my sincere appreciation to the selfless first responders from the Kirkland Fire Department.  They have made us all proud and unfortunately many are now suffering the consequences of exposure, requiring more than two dozen firefighters to be quarantined.  We should all say
THANK YOU!
Here is an outline of what I have learned:
The State Department of Health was notified of the outbreak on January 20.
The national Center for Disease Control was on the ground in King County within 24 hours to set up a response strategy.
A chain of command was quickly established: State Emergency Management—State Department of Health—local departments of health
State Emergency Management handles logistics such as public messaging, large event management, mitigation of impacts if large events must be cancelled, and ensuring supply lines for food and supplies remain in place for the general public.
State Department of Health is primarily responsible for support to local health departments, virus testing and necessary laboratory backup.  The Department also receives daily emergency room census reports showing the number of suspected coronavirus admissions.  Those reports are then shared with the appropriate local jurisdiction(s).
The overall initial strategy is to slow down the spread as opposed to eradication.  It is critical to buy time in the early days in order to deploy detection techniques (screening, testing, isolation).  Slowing the spread now may help get us to warmer weather which generally helps end a flu-like virus.
Once we have succeeded in slowing the outbreak, longer-range actions can evolve including the development of medical interventions that could include a possible vaccination.
My primary takeaway was we are in good hands, as Dr. Wiesman stated: "We know how to do this, we have done it before."
It is safe to say there will be more victims of the virus before we turn the corner, but we should take comfort knowing that we have a nationally recognized public health system in King County and Washington state that will keep us safe.  These people are working around the clock to control the outbreak.
Hang in there and please follow the common sense instructions from state and local authorities…..wash your hands A LOT!
Sincerely,
45th District Tour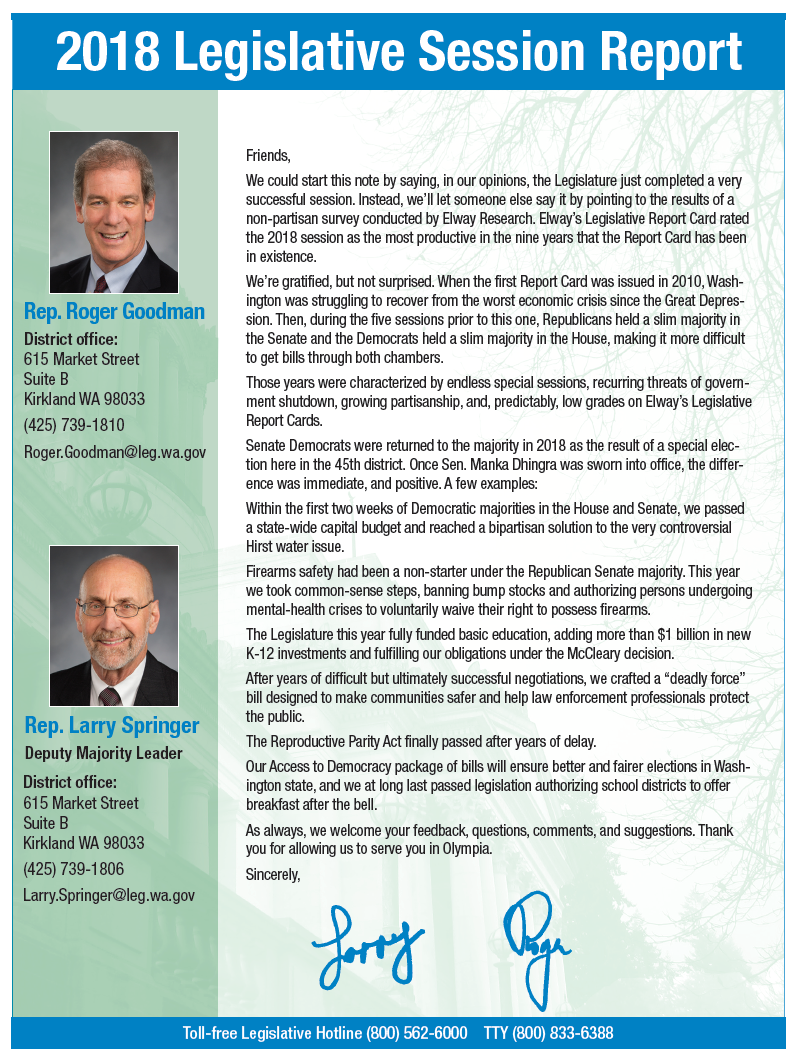 Click here to read the 45th LD state representatives' end of session newsletter for the 2018 legislative session.
Legislative Update Video
Legislative Update Video
Legislative Update Video

———————————————————————————————–
Legislative Update Video
———————————————————————————————–
Legislative Update Video

———————————————————————————————–
Education-funding op-ed in Redmond Reporter
Fully funded education: Time to finish the job | Guest Column
Legislative Update Video