February 25, 2019
The Arlington Times: Arlington schools bond falls again; can't clear super majority hurdle; a look at how precincts voted 
---
February 23, 2019
The Arlington Times: Arlington schools ask legislature to lower bar to pass bonds
---
February 21, 2019
Unfortunately my simple majority bill won't make it out of committee before tomorrow's cutoff, but the Senate bills (SB 5252 and SB 5066) are still moving through the Legislature. I will continue to fight for simple majority school bonds. If 50% is good enough for politicians, it should be good enough for kids!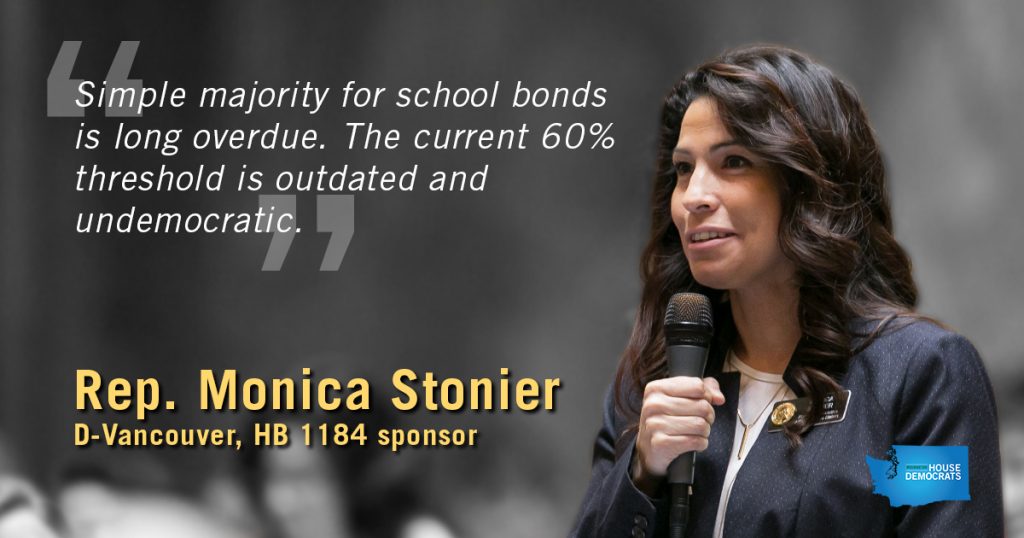 ---
February 14, 2019
HB 1184 will be heard in the House Education Committee at 1:30 p.m. today. You can watch the committee testimony below.
---
January 31, 2019
Three bond measures. Three majority votes. Three ultimate failures.
That's been the harsh reality for Battle Ground public schools since 2016. Three times they've tried to win voter approval to move forward on much-needed facilities improvements, yet each time the effort has failed.
But not because the majority of voters said no. In fact, every bond vote received over 50 percent support. The bond failed each time because the state constriction requires bond measures to receive 60 percent majority for approval.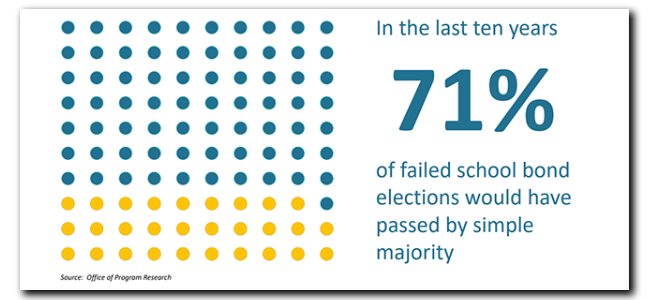 This is an outdated, archaic, and undemocratic policy imposed during the Great Depression. Passage for  school levies has since been reversed to the original simple majority threshold. It's time to do the same for bonds. Otherwise, the minority will continue to overrule the majority.
Our schools, and our kids, are suffering. How do we expect our teachers do provide a high-quality education to every student in overcrowded classrooms, in portables with no air conditioning, or using outdated lab equipment?
Last November, 59 percent of Ferndale voters approved a school bond levy. If I won my race with 59 percent, that would be considered a landslide victory. Yet the Ferndale bond vote failed. Similar bond measures failed in Bethel and South Kitsap.
This is an issue that's long overdue.
There's no justifiable reason why the same margin should be considered a failure, especially when we're talking about providing opportunities for all students to learn. The Supreme Court may have ruled the state is now fully funding education. But that will be short-lived if we allow communities like Battle Ground, Bethel, and South Kitsap to fall further behind on their facilities.
The threshold should be set at a simple majority, just like operation levies. My legislation, HJR 4203, would establish a simple majority threshold for school bonds.
I'm glad to see editorial boards from around the state like The Columbian, Yakima Herald, Everett Herald, and Seattle Times endorse this common sense change to the constitution.
If the Legislature does not pass this policy this session, lawmakers are effectively endorsing a system of continued inequities in our public schools.
---