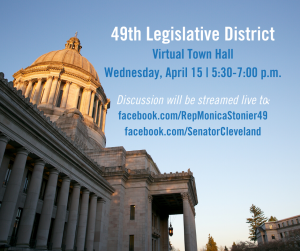 MEDIA ADVISORY
WHO: State legislators for the 49th Legislative District: Sen. Annette Cleveland, Rep. Sharon Wylie, Rep. Monica Stonier, with special guest Dr. Alan Melnick, Director of Clark County Public Health.
WHAT: 49th Legislative District Virtual Town Hall
WHERE: Streamed live on the Facebook pages of Sen. Cleveland and Rep. Stonier: facebook.com/SenatorCleveland or facebook.com/RepMonicaStonier49
WHEN: Wednesday, April 15 from 5:30 p.m. to 7:00 p.m.
The 49th District lawmakers want to get a chance to update constituents on the results of the 2020 legislative session. Attendees will have an opportunity to send in questions, get an update on the latest news on COVID-19 in Clark County from Dr. Melnick, and hear about the members' legislative accomplishments. Constituents can email monica.stonier@leg.wa.gov with questions for legislators or about the event.
---