Dear neighbors,
Because the coronavirus is such a huge issue right now, affecting all of our families, schools and businesses, I wanted to give you the latest information.
Testing and prevention are the two most important tools we have to win this fight and keep all of our families healthy.
Testing should be free. Our state insurance commissioner, Mike Kreidler, ordered health insurers to waive deductibles and copays for coronavirus testing.
That doesn't mean testing is as available as it should be. The federal government, frankly, botched how coronavirus tests were approved and handled, and they need to do a better job.
Prevention is still incredibly important. Please wash your hands, maintain social distancing and stay home if you're sick.
For more information from our experts on public health, keep reading and visit the websites listed below.
DOH recommendations & resources
As this situation continues to rapidly unfold you can track the latest developments at the Department of Health Coronavirus website, and continue protecting yourself and your family by following these recommendations: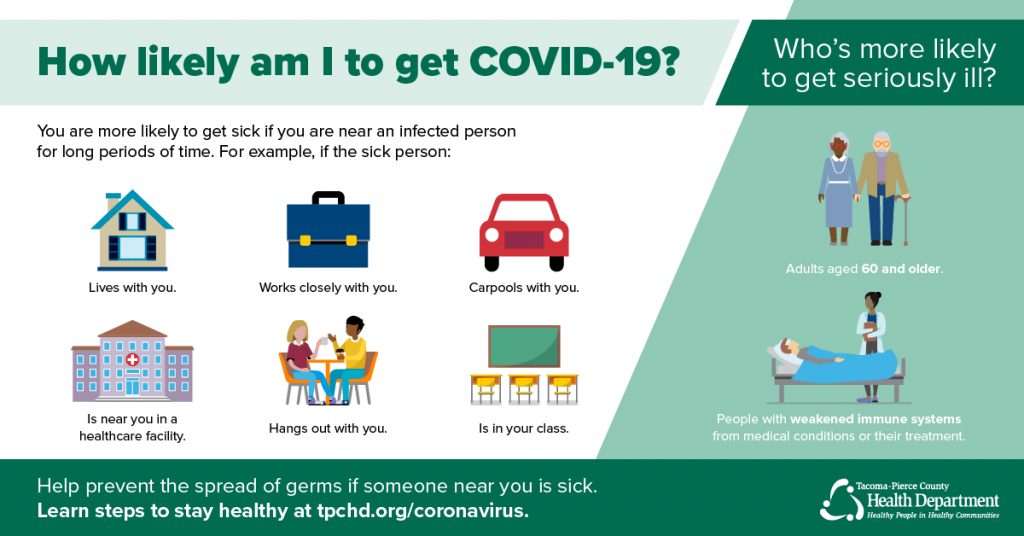 You can also check out and share this DOH fact sheet.
Additionally, you can follow the DOH links below for information on home quarantine and testing protocols:
The Department of Health also has recommendations on who should quarantine at home.
If you have a cough and a fever
Stay home and away from people for 7 days or until 72 hours after your fever and symptoms are gone, whichever is longer.
If you feel fine:
BUT you have had close contact with a sick person who has been diagnosed with COVID-19. Please monitor your health for fever, cough, and shortness of breath during the 14 days after the last day you were in close contact with the sick person with Coronavirus. You shouldn't go to work or school and should avoid public places for 14 days.
BUT your kid or someone else in your household has a cough and a fever but has NOT been tested for COVID-19. The sick person needs to stay home until their fever and symptoms have been gone for 72 hours. You and the rest of the household can continue to go to work and school as long as you feel well. There are many potential respiratory diseases that can cause cough and a fever.
BUT a friend of a friend of yours has Coronavirus. You can continue to go to work and school if you feel well. The chances that you've been infected are fairly low if you have not been around someone with COVID-19.
BUT you are worried about your older or medically fragile friends and relatives. Practice social distancing. Avoid shaking hands, high fives, and hugs, stand 6 feet or more away from others. Work from home if you can and wash your hands frequently.
Resources for businesses and workers
The Governor's office created a site with a list of resources that compiles comprehensive information on how several agencies can help those impacted by COVID-19:
Financial assistance from the Department of Revenue.
Export assistance from the Department of Commerce and the Small Business Administration.
Employer and worker assistance from the Employment Security Department
Insurance assistance from the Office of the Insurance Commissioner.
We encourage you to take a look at that site if you, someone in your household or in your place of work is sick, or just to be prepared in case you need to access any of these resources in the near future.
Knowing what steps to take ahead of time to help your own circumstances can save you hours of frustration trying to figure out what you're supposed to do at the last minute.
I hope you find this information helpful to protect yourself and your family, and I'll send updates about this crisis as I learn more. Thank you for taking the time to read this.
Sincerely,

---