Kristine Reeves
During an election year, there are certain restrictions on my communications to prevent the use of state resources for election purposes. One of these restrictions is a freeze on this website, meaning no new content can be added beginning May 14, 2018, until after the general election in November. If you have questions or comments about legislative issues, please feel free to continue to contact me.
Welcome to my legislative homepage!
Thank you for visiting my legislative information center. During the legislative session, I strive to frequently update our neighbors and our communities on the issues that matter most to you and your families. Some of those issues include:
Working with business leaders, parents, children advocates, and childcare providers to find solutions to improve accessibility and lower the cost of childcare;
Ensuring our military service members, veterans, and their families are treated properly and with the recognition they deserve for their sacrifice;
Fighting for a South Sound economy that works for everyone, not just the wealthy few; and
Putting our children first by fully funding K-12 education and looking to the future needs of our students, schools, classrooms, and teachers.
If you need information or have a legislative issue, always feel free to contact me with your requests and concerns and either my legislative assistant, Breann Pugnetti, or I will return your call, email, or letter. This information might be helpful:
Thank you for allowing me to serve you!
Sincerely,


Biography
Kristine Reeves is a working mom who understands the balance between working hard to succeed and raising a family. That's why she is a strong advocate for working families, raising the middle class, and providing opportunities for those who sacrifice for their communities.
A Moses Lake native, Kristine received her bachelor's degree in Political Science from Washington State University (Go Cougs!) and went on to pursue a master's degree in Organizational Leadership at Gonzaga University in Spokane.
From there, she went on to serve a variety of roles, include Statewide Veterans Constituency Coordinator for U.S. Senator Patty Murray. Her role in Senator Murray's office included increasing and developing relationships to help improve military transition, workforce development, and veteran healthcare. She also served as the South Sound Regional Director, as well the Kitsap & Olympic Peninsula Director for Senator Murray.
Currently, Kristine is the Director of Economic Development for the Military and Defense sector for the state of Washington. Her role focuses on promoting public and private economic development that supports military bases; defense industry suppliers, contractors and small businesses, as well as working with community advocacy support organizations in their engagement with the U.S. Military in Washington State. That includes helping to secure federal grants to improve private sector job growth, supporting military personnel transitioning to private sector jobs, and supporting small businesses.
Kristine lives with her husband and two children in Federal Way.
Committee Assignments
As your state representative in Olympia, I serve on three standing committees: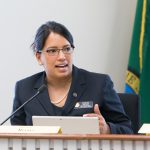 In this committee, my focus is on protecting consumers. I recently questioned a credit company industry lobbyist about how the industry is providing accountability to consumers. I strongly believe we need to hold companies accountable when their poor security standards result in your private financial information being exposed to criminals and hackers who steal identities.
This is the committee that writes the construction budget for the state. Billions are spent across Washington to improve local communities, including a $1 billion investment in new school construction in 2018. I've worked hard on the Capital Budget Committee to secure millions in South King County, including:
$23 million to Highline Community College;
$2.8 million in Federal Way School STEM facilities;
$750,000 for Weyerhaeuser Campus Land Preservation;
$250,000 in funding for the Federal Way Safe City Camera replacement project;
$175,000 for the Federal Way Senior Center;
$250,000 for the Federal Way Chamber Economic Development Project;
$1 million for the Performing Arts & Events Center;
$900,000 for Healthpoint Federal Way dental clinic capacity grants;
$763,000 for the Auburn Valley YMCA;
$500,000 to the FUSION Transitional Housing Program;
$250,000 for Habitat for Humanity Homeless Veterans Housing; and
$2 million for the Regional Conservation Partnership Program to improve water quality and habitats for at-risk species.
CDHTA handles issues involving community development projects, housing projects, and tribal affairs, as well as many policies related to military service members and veterans. Several of my bills started in CDHTA, including a new law that creates a new shared leave pool for military service members, veterans, and their spouses who enter state government service but can't accrue leave during the standard six-month probation period. I also passed a new law originating in CDHTA that clarified the way military leave is deducted from first responders, like firefighters, so that they aren't double-charged when working a late shift. I'm very proud of the good work we do to serve our veterans and military families in this committee.
Housing and homelessness are two major areas we addressed in CDHTA in 2017-2018. The committee moved forward a law to expand a vital source of funding for counties and cities to combat homelessness and required updated plans to address homelessness every five years. Recognizing religious communities have played a strong role in working to address the homelessness crisis across our communities, I was proud to join my colleagues on the committee in supporting legislation that would allow religious organizations better opportunities to build affordable housing on their property. In order to address the homelessness and cost of housing problems in our region, we need to work every possible angle to make sure there's enough homes for everyone.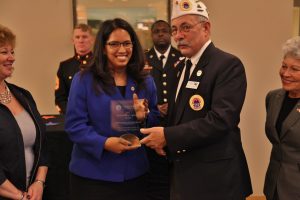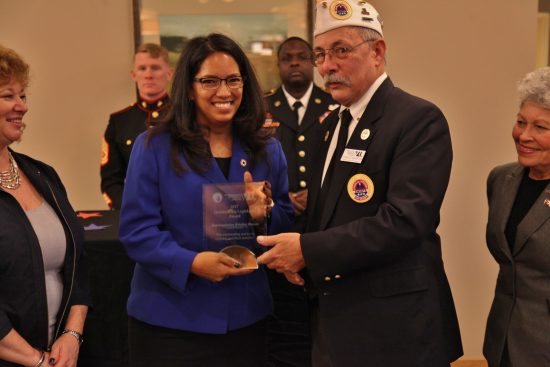 ---
I also serve on two other bodies separate from my standing committee assignments:
The Joint Committee for Veterans' and Military Affairs (co-chair)
and the Child Care Collaborative Task Force, a group created by passage of my bill, HB 2367.
Videos
Contact
Olympia Address:
LEG 132D
PO Box 40600
Olympia, WA
98504-0600
(360) 786-7830
Federal Way Address:
33919 9th Ave S
Suite 204
Federal Way, WA 98003
(253) 252-2995
Email Kristine
Legislative Assistant:
Breann Pugnetti
Email: Breann.Pugnetti@leg.wa.gov
Toll-free Hotline:
1-800-562-6000
1-800-635-9993 (TTY)
Committees:
Business & Financial Services (Vice Chair)
Capital Budget
Community Development, Housing & Tribal Affairs
For Press Inquiries:
Travis Shofner, Digital Media Coordinator
(360) 786-7224
Travis.Shofner@leg.wa.gov
For broadcast-quality audio or TV/radio interviews:
Dan Frizzell, Broadcast Coordinator
(360) 786-7208
Dan.Frizzell@leg.wa.gov