Dear Friends and Neighbors,
It's an honor to serve as your newly elected State Representative from the 36th legislative district! I want to extend my heartfelt thanks and appreciation to outgoing Representative Gael Tarleton who served our community with distinction for eight years. Gael has been an immense help getting me up to speed and I look forward to being able to turn to her for counsel and wisdom in the years ahead.
Yesterday was the first day of the 2021 legislative session and I traveled to Olympia to vote on the rules package for the coming session. Due to COVID-19, the House of Representatives will meet almost entirely remotely, and I was sworn in virtually last Friday with my new colleagues by Chief Justice Debra Stephens.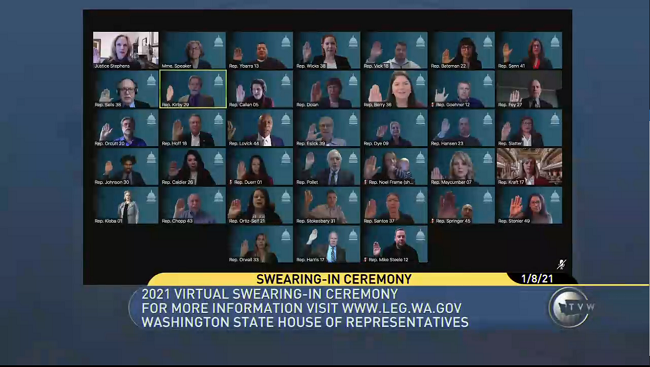 While a remote session will have its challenges, it will make it easier for YOU to participate in the legislative process. For the first time ever, all committee testimony will be conducted virtually, and written testimony will also be accepted. Now you don't have to go to Olympia to make your voice heard on the bills that matter the most to you.
Here are some ways you can participate:
Watch—TVW.org broadcasts all of the debates and votes that happen in the House or Senate, along with committee meetings and other events in the public interest.
Research—Visit app.leg.wa.gov/billinfo/ to look up legislation by lawmaker or topic.
Learn—The whole legislative process, from start to finish, is explained at leg.wa.gov/legislature/Pages/Overview.aspx
Testify—Visit leg.wa.gov/legislature/Pages/Testify.aspx for an overview of the process. Written testimony is also an option, and you can also email me your story.
Stay informed—Sign up for my legislative e-memo here.
Get in touch—You can reach my office by telephone (206-709-5260) or email me at Liz.Berry@leg.wa.gov
---
Legislative Committees
Committee assignments for the new legislature were made in December, and I am thrilled to announce that I have been chosen as Vice Chair of the Labor & Workplace Standards Committee. I will also be serving on the Environment & Energy and Transportation committees.
Labor & Workplace Standards Committee – This committee considers a wide range of issues relating to employment including unemployment compensation, collective bargaining, family leave, safety and heath standards, wage laws, and employment discrimination.
In the wake of this pandemic I look forward to ensuring that our laws truly protect workers in Washington. We cannot go back to the way things were before, but instead we can use this opportunity to improve conditions and wages for working families.
Environment & Energy Committee – This committee considers issues relating to air quality, aquatic lands, oil spill prevention, recycling, and climate change as well as energy standards, production, and conservation.
Fighting the climate change crisis is one of our most urgent priorities. I look forward to working with the Governor to find ways to curb greenhouse gas emissions in our state and ensure that we leave behind a clean and healthy state for our children and grandchildren.
Transportation Committee – This committee considers the transportation budget, revenue sources for transportation funding, and transportation policy.
A key to a clean and healthy future is developing a sustainable and efficient transportation system. We can build a clean, safe, and equitable transportation system if we act now.
---
Legislation
I have introduced my first bills!
House Bill 1073 will make the Paid Family & Medical Leave program more equitable and accessible to working families by expanding job protection and continuation of health benefits to employees who have been on the job for 90 days, lowering the qualifying threshold to $1,000 in earning during the previous year, and changing the definition of family to include those with a close association equivalent to family. You shouldn't ever have to choose between your job and getting sick or caring for a loved one.
House Bill 1075 will regulate greenhouse gas emissions from on demand transportation services like Uber and Lyft.
---
Follow Me on Facebook!
Please follow my legislative Facebook page, RepLizBerry, for the latest updates about what is happening at the Legislature.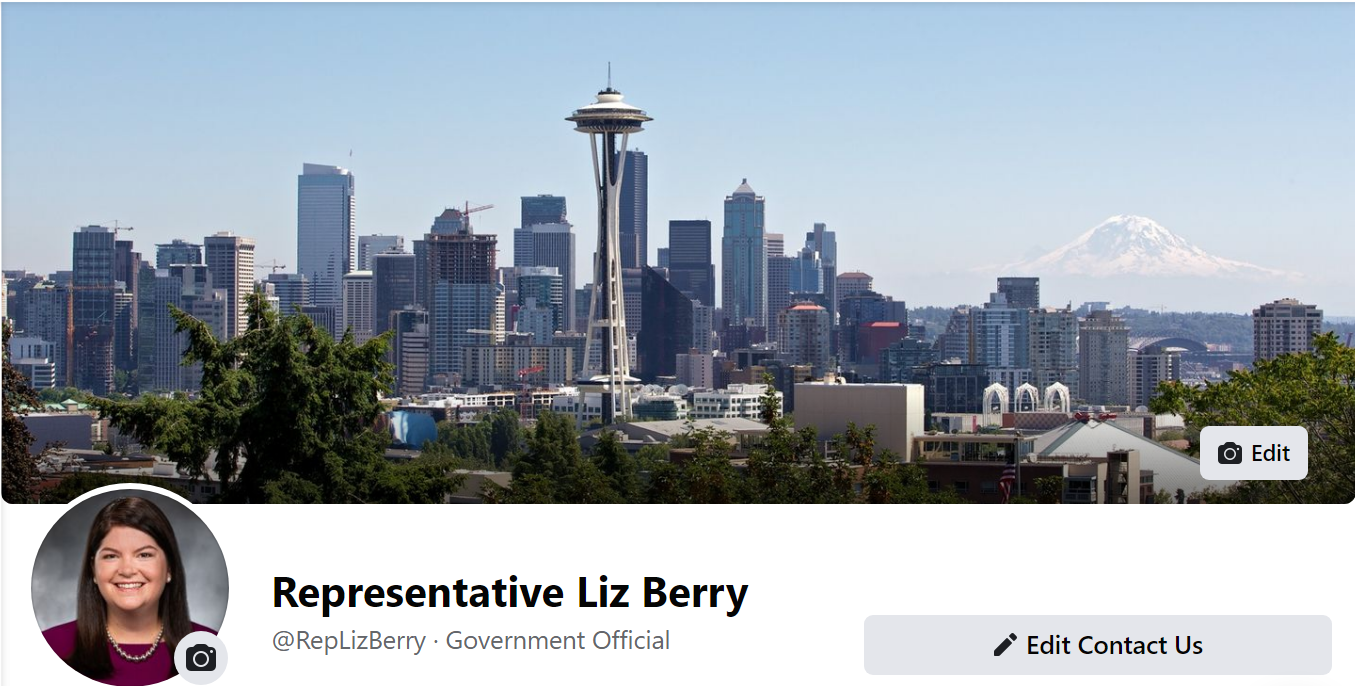 You can also visit my legislative website for more information. If you are receiving this email, you have been added to my list to receive legislative updates. I'll be sending them out regularly to keep you informed. If you do not want to receive these emails, you can unsubscribe at the bottom of this email.
I look forward to serving you in Olympia.
Thank you,

Rep. Liz Berry, 36th Legislative District
---