Olympia – Sen. Reuven Carlyle, Rep. Gael Tarleton, and Rep. Noel Frame celebrated the passage of a measure on the floor of the House that will name a new capitol campus building after beloved former 36th District Rep. Helen Sommers.
"It is a profound honor to have directly succeeded Helen's 36 years of service in Olympia and I could not be more proud of this effort to name a major state government building in recognition of her unparalleled accomplishments in the Legislature," Sen. Carlyle said.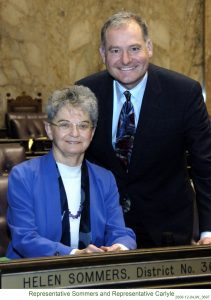 The new capitol campus building, set to open later this year, is located at 1063 Capitol Way in Olympia. The Washington State Patrol, the Office of Financial Management, and several legislative agencies will move into the building this August.
"Representative Helen Sommers served the 36th District in the State House of Representatives for 36 years," Rep. Tarleton said. "She was my representative for 18 years. She was an early champion for state funding of early learning research, which has transformed the way our state supports early childhood education.  I am so proud that her name will grace the first building on the Capitol grounds to be named for a woman."
Sommers, first elected in 1972, served across four decades before announcing her retirement in March 2008. Only one legislator (John O'Brien) served more years in the Legislature.
"Helen inspired so many with her decades of service to the people of the 36th Legislative District," Rep. Frame said. "I hope Helen Sommers' name on the new building will serve as both acknowledgement of her important and enduring contributions to the people of Washington, and also as inspiration for young women across the state who may be considering a career in public service."
Sommers earned a master's degree in economics from the University of Washington and served the last 15 years of her career putting that degree to use as the chair or ranking member of the House Appropriations Committee.
The measure will now move to the Senate, where it is expected to pass and be sent to the Governor for his signature.
---