House Bill 1843 fully funds schools and addresses requirements of McCleary decision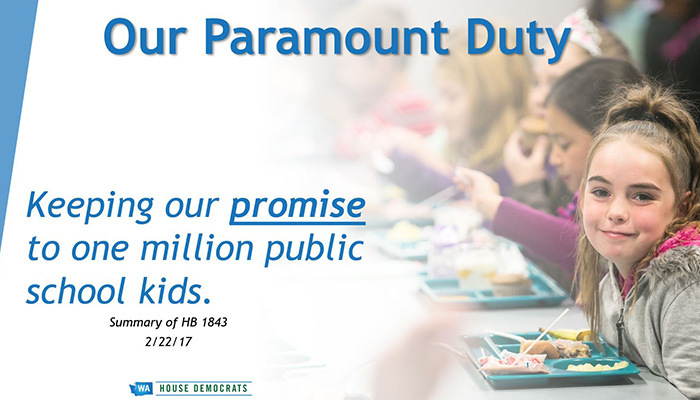 OLYMPIA – Washington state voted to invest an additional $3,100 per student and end the state's reliance on local levies to pay teachers with the approval of HB 1843 on Wednesday. Approval of this measure puts the state one step closer to ensuring public schools are fully funded, a goal lawmakers have been working toward for nearly a decade.
"What this bill is really about – it's about our students," said House Majority Leader Pat Sullivan (D-Covington).
The Democratic education funding plan would make significant new investments in:
Learning assistance to help close the opportunity gap
Transitional programs to help bilingual students
Class-size reductions for career and technical education and skill centers
Parent-involvement coordinators and guidance counselors
The bill also addresses the teacher-shortage crisis through educator recruitment and retention investments. The bill makes a serious commitment to the state's educator workforce by paying new teachers a fair salary, providing additional professional learning opportunities, and ensuring their compensation keeps up with market rates.
"Now is our time for this legislature to move forward with an education system that provides opportunity for all students in this state," said House Finance Committee chair Kris Lytton (D-Anacortes). "I'm proud to vote yes for 1.1 million students in our state."
Lytton and Sullivan represented House Democrats on the Education Funding Task Force.
HB 1843 also strengthens school district accountability, transparency, and reporting requirements to help ensure schools remain fully funded for future generations.
Each chamber has now approved education funding plans. House and Senate Democrats will continue to call on Republicans to meet and negotiate a bipartisan solution to the education funding problem.
---