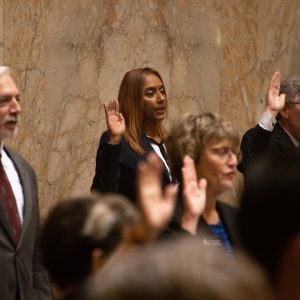 OLYMPIA – The legislative office of Rep. Melanie Morgan, D-Parkland, is ready to be a strong voice for underrepresented communities. The former Franklin Pierce School Board Director was sworn in on Monday as the newest member of the State House of Representatives from the 29th Legislative District.
A US Army veteran and longtime community advocate, Rep. Morgan brings an equity, diversity, and inclusion lens to her legislative work.
"My approach when looking at policies before the Legislature is to consider how those policies may impact the entire community I represent," says Rep. Morgan. "For example, people of color have been underrepresented in the legislative decision-making process, but are nonetheless impacted by those decisions. I'm here to ensure their voices are heard.
"My office is open and ready to serve the district."
In addition to her previous school board experience, Rep. Morgan has served as a mortgage banker, a safe housing coordinator, and as a commissioner on the board of the Pierce County Housing Authority. Additionally, she has served on the board of Community Healthcare. She is also a Domestic Violence and Sexual Assault Advocate.
During the 105-day legislative session, which runs through April 28, Rep. Morgan will be mainly in Olympia for her legislative duties. Constituents are encouraged to email her directly at melanie.morgan@leg.wa.gov, or call her office directly at 360-786-7906 with their feedback, questions, or concerns. Appointments can be scheduled through her legislative assistant, Leslie Harbaugh.
---