OLYMPIA – On Martin Luther King Jr. Day, the five black members of the House of Representatives established the Black Caucus, recognizing black leadership within the state legislature.
"Standing on the floor today, sharing my story I am reminded of the words of Dr. Martin Luther King Jr., 'The arc of the moral universe is long, but it bends towards justice.'  As a member of the Black Caucus my goal is to review, support and vote on legislation that is moral and just," stated Rep. Debra Entenman (D-Kent).
"I'm here to stand up for all underrepresented communities, but as a black woman I can also ensure that black people's concerns don't get diluted or relegated to the bottom of the list in the legislature. Representation really does matter," said Rep. Melanie Morgan, (D-Parkland).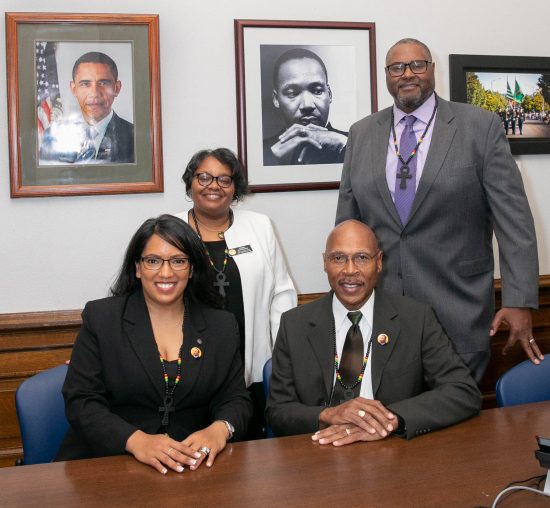 Newly elected Reps. Morgan and Entenman will join Reps. Kristine Reeves, (D-Federal Way), Eric Pettigrew, (D-Seattle) and John Lovick, (D-Mill Creek).
"Two years ago I was the first black woman elected to the State House in 18 years – almost two decades. This year I am thrilled to say that we have tripled the number of black women serving in the House," Reeves said. "This is the most black women we have ever had in the House, and I am so honored to serve with them." Just last week Reeves was named deputy majority whip, now one of three black members in House Leadership.
Throughout Washington's history, only 19 black members – including the most recent cohort of legislators – have served in the House. Only four black members have served in the Senate.
"I'm proud to have a House of Representatives that looks like Washington state, one with a record number of women and a record number of people of color," said Lovick. "We all share the same dream of equality and opportunity not for some, but for all the people of this great state."
Lovick is the longest serving member of the Black Caucus serving from 1999 – 2007, and re-elected in 2016. He is the current Speaker Pro Tempore.
"Since joining the legislature, I have advocated for reforms to our criminal justice system, more support for struggling families, and better educational opportunities for students," Pettigrew stated. "When these systems are broken, black people and black communities disproportionately feel the impacts. I am excited to work with the growing number of black legislators to remain centered on ensuring that legislative fixes are actually serving our communities."
Pettigrew has served as the House Democratic Caucus Chair since 2010 – the third highest ranking position in the House.
---