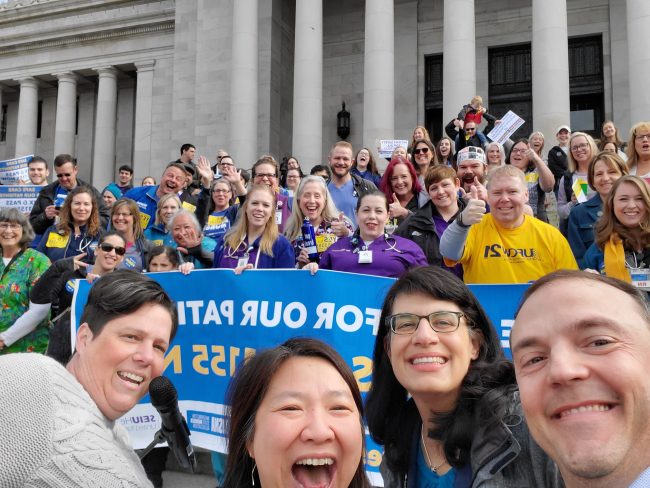 OLYMPIA – By a vote of 70-24, the state House sent a key patient safety and worker fairness measure to the governor's desk for signature today.
House Bill 1155, sponsored by Rep. Marcus Riccelli (D-Spokane), provides for uninterrupted meal and rest breaks for nurses and certain other health care employees, and prohibits the use of prescheduled on-call time to fill foreseeable staff shortages.
"Our loved ones deserve the best care, no matter what hospital they step in, and our nurses deserve the same important worker protections so they can provide the best possible care," Riccelli said. "After five years in a row of this measure passing off the House floor, nurses are finally getting commonsense breaks so they can recharge and be able to focus on the critical work they do."
The original version of the bill, which passed the House back in March, was amended in the Senate to limit the list of protected health care occupations, exempt certain facilities from the bill's requirements, and limit all shifts to only eight hours of work in 24 hours. The changes would have significantly undermined the bill's goal of ensuring all health care workers in Washington state have basic breaks and overtime protections.
When the House refused to concur with the Senate amendments, a conference committee formed to resolve the issue. The final bill eliminates the eight-hour maximum shift limit, keeps techs in the overtime protections, and includes all hospitals but with a two-year delay for critical access hospitals, solo community hospitals, and hospitals with under 25 beds.
"This legislation addresses the challenges health care workers face in providing safe patient care and the shortage of nurses that we're facing statewide," said Rep. Mike Sells (D-Everett), one of the bill's cosponsors and chair of the House Labor and Workplace Standards Committee. "The protections in this bill will improve job-retention by helping reduce chronic fatigue, which will enable nurses to provide better and more focused care for their patients."
The 2019 legislative session concludes this Sunday, April 28.
---