Inslee extends Washington's moratorium on evictions through Dec. 31
Gov. Jay Inslee announced Thursday he would extend the existing moratorium on evictions in light of the economic downturn sparked by the new coronavirus. The extension will keep the moratorium in place through Dec. 31. Continue reading at Seattle Times. (Ted S. Warren / The Associated Press)
---
FBI charges six who it says plotted to kidnap Michigan Gov. Gretchen Whitmer, as seven more who wanted to ignite civil war face state charges
Federal and state officials revealed Thursday that they had thwarted a plot to kidnap Michigan Gov. Gretchen Whitmer, unsealing charges against 13 people who they say were involved in various plans to attack law enforcement, overthrow the government and ignite a civil war. Officials said the conspiracy — which was supposed to come to fruition before the election — seemed to be an ominous indication of how America's civil unrest has energized violent extremists. Continue reading at Washington Post. (Associated Press)
---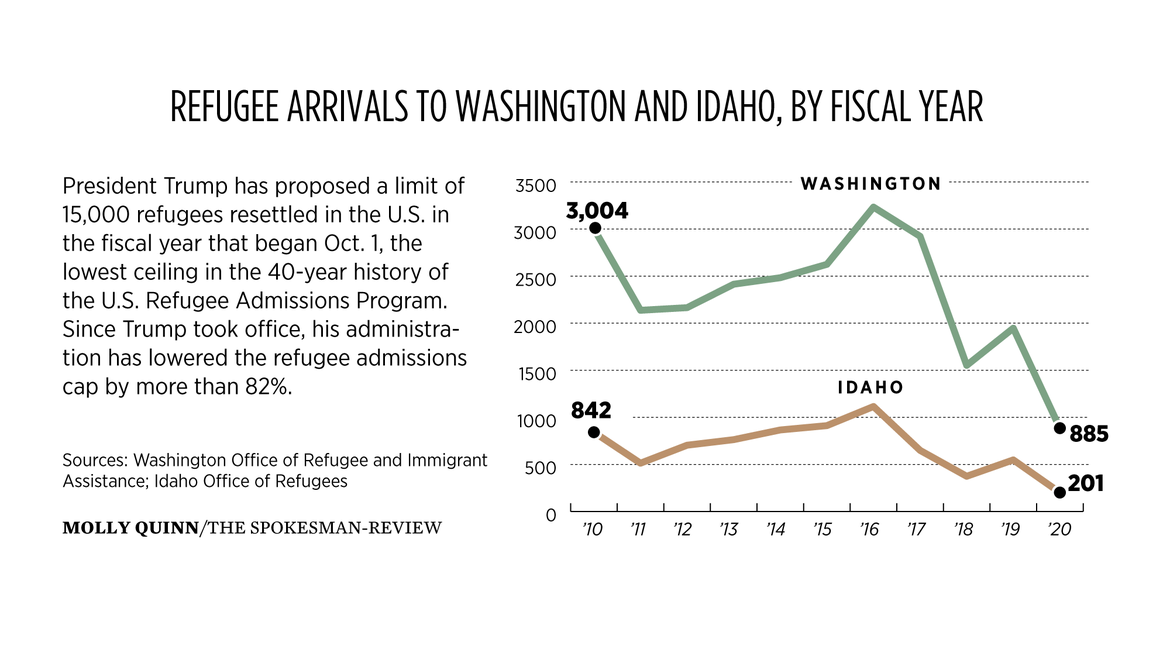 Washington, Idaho refugee advocates decry Trump administration's historically low resettlement limit
Advocates for refugees in Eastern Washington and Idaho are crying foul after the Trump administration on Sept. 30 proposed a historically low cap on the number of people to be given refuge in the United States. In a notification to Congress less than an hour before a statutory deadline, the administration proposed limiting refugee admissions to 15,000 in the fiscal year that began Oct. 1, down more than 82% since Trump took office and the lowest cap since the U.S. Refugee Admissions Program was established in 1980. Continue reading at The Spokesman-Review. (Molly Quinn)
---
Print
Associated Press
Decision pending on whether to replace West Seattle Bridge
Washington state AG office fires chief investigator
State has fined 11 businesses over COVID-19 mask mandate
Washington eviction moratorium extended through Dec. 31
What do loosened restrictions mean for youth sports in Washington?
US layoffs remain elevated as 840,000 seek jobless aid
State Supreme Court rejects effort to recall Seattle mayor
Air quality advisory again issued for much of Oregon
Auburn Reporter
Latest COVID numbers for Auburn and King County
Bellingham Herald (subscription required)
Inslee: Washington state to extend eviction halt, use $15M federal grant to aid businesses
Here are the new COVID-19 cases and deaths confirmed Thursday for Washington state
Whatcom County sees largest single-day increase in new COVID-19 cases since June
As some Whatcom students return next week, another district reveals its in-person plans
Enrollment is down at schools during COVID-19. Here's what that means to Whatcom districts
Everett Herald (subscription required)
Boeing Future of Flight at Paine Field reopens — without tours
What we know: Washington coronavirus outbreak at a glance
Washington eviction moratorium extended through Dec. 31
Issaquah Reporter
State extends moratorium on some electric, gas shutoffs
Mayor presents the 2021 City of Issaquah budget
Peninsula Daily News
One new COVID-19 case in Clallam County
Clallam County to disperse more COVID-19 relief funds
Puget Sound Business Journal
'Bankruptcy will be the answer for many retailers,' analyst says
The feds won't tax PPP loan forgiveness — but some states might
New forgiveness application for PPP borrowers with smaller loans
Workers with health insurance face rising out-of-pocket costs
While millions lost jobs, some executives made millions in company stock
Seattle Times (subscription required)
Coronavirus daily news updates, October 9: What to know today about COVID-19 in the Seattle area, Washington state and the world
Inslee extends Washington's moratorium on evictions through Dec. 31
What do Gov. Inslee's loosened COVID-19 restrictions mean for youth sports in Washington?
Skagit Valley Herald
Mount Vernon council reviews CARES funding, 2021 budget
Skagit County COVID-19 cases spiking again
Hunting, fishing seasons in full swing
Snoqualmie Valley Record
North Bend news: Water conservation and city projects
State still sifting through thousands of unemployment claims
Spokesman Review
Inslee extends rent moratorium through end of December
Governor warns college students spreading the virus: 'There will be consequences'
Washington, Idaho refugee advocates decry Trump administration's historically low resettlement limit
New jobless claims still declining in state, Spokane County
Opinion: Dawn Sidell, RN: Balancing the budget: Thinking about the who along with the how
Tri-City Herald
Despite Tri-Cities 'high risk' COVID rate, school reopening can be OK, says doctor
Longtime Kennewick School Board leader sickened with COVID
Hanford has had 175 cases of COVID-19, but no known site outbreak
Walla Walla Union Bulletin (subscription required)
Oregon sees highest COVID-19 daily case count yet
Yakima to be part of Microsoft pilot project to preserve smaller newsrooms
Editorial: Cuts coming to balance the city of Walla Walla's budget
Washington Post
FBI charges six who it says plotted to kidnap Michigan Gov. Gretchen Whitmer, as seven more who wanted to ignite civil war face state charges
Yakima Herald Republic
Voting 101: How Yakima County voters can submit their ballot
Firefighting gear, police vehicle replacements among Yakima city budget needs
Yakima County reports 29 new COVID-19 cases; no additional deaths
Broadcast
KING5 TV (NBC)
Report: Alaska Airlines, Boeing in talks for 737 MAX order
WSDOT warns about closures on 1st Ave. S. bridge, a detour for the closed West Seattle Bridge
Non-tribal cardroom worries Washington winter could make them fold
Inslee announces $15 million in federal funding for small businesses
KIRO7 TV (CBS)
Antibody cocktail given to President Trump to be tested on patients in Seattle
Peninsula School District pauses return to classrooms
Physician says Trump can return to public engagements Saturday: Live updates
Amazon responds to accusations about warehouse worker safety, shows COVID-19 changes
Despite eased rules, many movie theaters will remain closed
'Forgotten': Bothell family says remote learning plan failing special needs child
Tents extend outdoor dining in Kent
KOMO4 TV (ABC)
'This is very disturbing:' What is being done to protect Gov. Inslee from threats?
'Black Lives Matter' mural with anti-police messaging causes controversy in Seattle
COVID-19: Inslee extends eviction moratorium, announces grant for aid to businesses
Seattle researchers recruit volunteers for Regeneron antibody drug used to treat President
KNKX FM
Enrollment in public schools across the state has dropped amid shift to remote learning
Seattle customers react with sadness to news of $95 million sale of Bartell Drugs to Rite Aid
New whale watch licensing system will reduce noise, disturbance of endangered orcas
KUOW FM
'Everything's Gone': Rural Washington Struggles After 'Blow Torch' Of A Wildfire
Contact Tracing Still Taking Place For Recent Trump Fundraiser
Michigan Lieutenant Governor Discusses Plot To Overthrow State's Government
Smoky Skies Are The New Normal. Are They Making Us Sick?
Trump Calls Harris A 'Monster,' Reviving A Pattern Of Attacking Women Of Color
Michigan AG Says White Supremacist Groups Behind Plot To Kidnap Gov. Whitmer
Supreme Court Refuses To Block Lower Court Order On Abortion Pills
Puget Sound doctors picket, threaten to strike against MultiCare amid Covid-19 safety concerns
'The day I was reduced to a Black birthing body.' A doctor reflects on pregnancy
Trump Says Gold Star Families May Have Infected Him With COVID-19
White House Physician Expects Trump's 'Safe Return To Public Engagements' Saturday
Past CDC Director Urges Current One To Stand Up To Trump
How Have American Billionaires Gotten Richer Despite Pandemic Recession?
Q13 TV (Fox)
Pelosi announces bill under 25th Amendment after questioning Trump's fitness to serve
University of Washington researchers starting clinical trial on Regeneron COVID treatment
Renters, property owners say Inslee's extension of eviction moratorium falls short
UW Medical: 1 in 3 COVID survivors experiencing long-term symptoms post virus
SPD launches new community response team, reports immediate success and faster response times to 911 calls
---