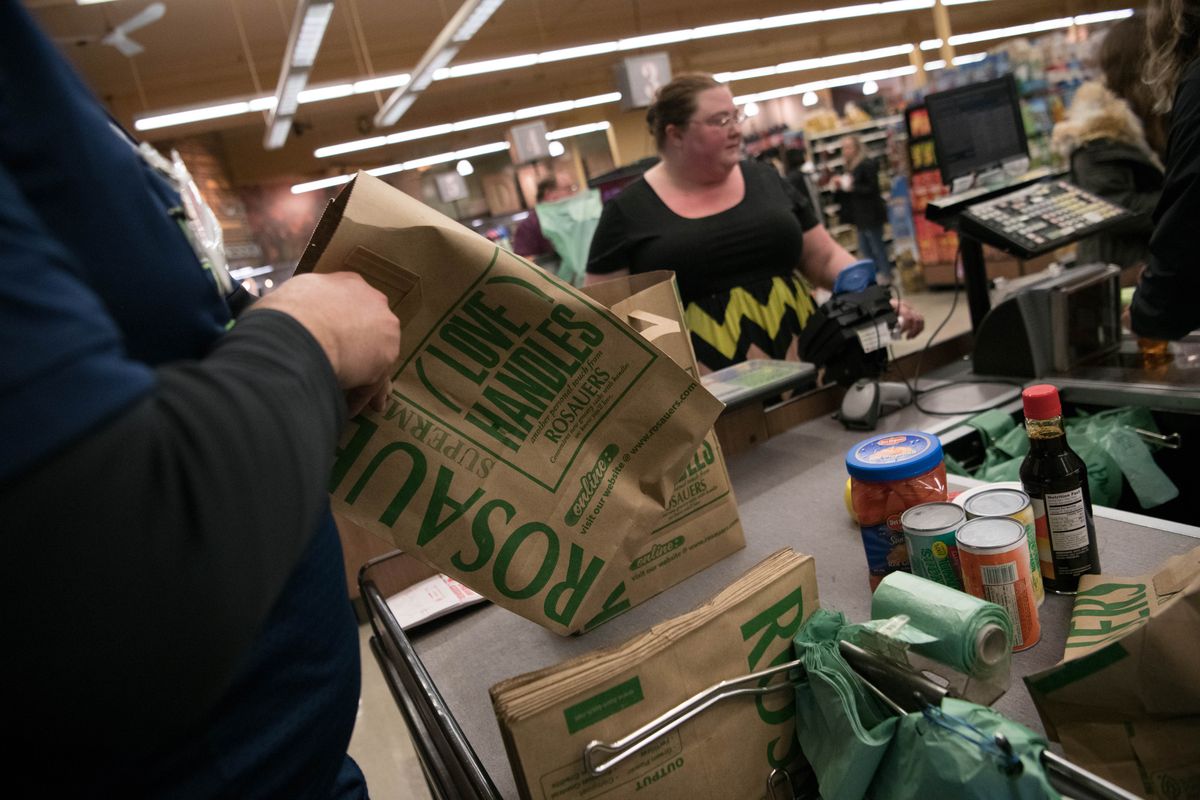 Washington's plastic bag ban goes into effect Friday – here's what you should know
Plastic bags are about to be out. Now shoppers have to choose: bring your own or pay extra. Single-use plastics are the "most littered" in Washington, which prompted a new state law banning the ubiquitous bags at grocery and retail stores, said Dave Bennett, a spokesman for the state Department of Ecology. The ban begins Friday. Continue reading at The Spokesman-Review. (Scott Mares)
---
Video: Here's how the redistricting process works in WA
Redistricting is the process of redrawing election districts (school districts, city council districts, supervisorial districts, congressional districts, etc). Here's how it works in Washington. Continue reading at The Bellingham Herald. (Cameron Clark)
---
ICE arrests in Washington tell stories of suffering that goes unseen
In recent days, images of Border Patrol agents on horseback whipping Haitian asylum seekers at the Texas-Mexico border have reminded Americans of the racist origins — and current practices — of our nation's immigration enforcement agencies. While Washingtonians are right to recoil from these images, the practice of unlawfully expelling asylum-seekers happens in our state, too, we just haven't seen pictures. Continue reading at The Seattle Times. (Dario Lopez-Mills)
---
Print
Associated Press
WA worker vaccination increases ahead of mandate deadline
Seattle Council OKs Rule for 6 Months' Notice of Rent Hikes
In Idaho, health care workers face anger, threats over COVID
Aberdeen Daily World
Wild Olympics plan attached to defense bill, passes House
Auburn Reporter
A better plan for Washington, that takes the burden off those we love
Bellevue Reporter
Sound Transit decides on upcoming bus routes and stations
Bellingham Herald
Pollution is washing from boatyards into Puget Sound. Who's responsible?       
Bellingham City Council takes this step as its 'duty to repair' racial injustice       
Here's how the redistricting process works in WA       
Fraternity members get probation after Washington freshman dies of alcohol poisoning       
The CDC now recommends booster shots. Who needs one?       
Medical regulators take stand against COVID-19 misinformation, threaten to take action       
CDC continues to see high COVID-19 transmission level in Whatcom County, state       
Columbian
In Our View: Rethink wildfire prevention, suppression
The Daily News
PeaceHealth St. John nurses, supporters, picket for fair contract Tuesday
County commissioners approve agreement with state reimburse for Blake-related costs
The utility moratorium ends Thursday. Here's what providers plan to do next.
Everett Herald
Somers lays out how he wants to spend $1.25 billion in 2022
A redistricted Snohomish County might have one less U.S. rep
What we know: Washington coronavirus outbreak at a glance
Marysville teacher told to take Thin Blue Line flag off wall
Oak Harbor preschool closed after COVID-19 outbreak reported
Column: Harrop: Washington dealing with Idaho's covid consequences
Comment: Vaccination mandates aren't causing a worker exodus
Kent Reporter
Work continues in Kent on $9m Green River salmon restoration project
News Tribune
Buddhist nun attacked outside temple in Tacoma. Police investigation continues
Puyallup police vehicle involved in traffic collision while driving through intersection
Gig Harbor imposes moratorium on Airbnb-style rentals. Here's what that means
Gig Harbor revises code to allow homeless shelters; here's where they'd be allowed
Arbitrator says Point Ruston must pay $11.5 million to lender that sued in Superior Court
Op-ed: Physicians face a high risk of suicide. A Mary Bridge pediatric oncologist can relate. 
Tacoma woman pleads guilty to burning 5 Seattle police cars during George Floyd protest
New York Times
Biden Struggles to Unite His Own Party Behind His Economic Agenda
Republicans at Odds Over Infrastructure Bill as Vote Approaches
Protected Too Late: U.S. Officials Report More Than 20 Extinctions
How to Build a Paid Family Leave Plan That Doesn't Backfire
Olympian
Medical regulators take stand against COVID-19 misinformation, threaten to take action
VA medical centers, other federal agencies to offer voter registration under Biden order
Peninsula Daily News
Coronavirus update
WHAT WE KNOW: Coronavirus outbreak at a glance
Clallam County plans active role in affordable housing
Puget Sound Business Journal
Opinion: How the business community can lead us out of the pandemic
SBA denied your PPP loan forgiveness? Here's a step-by-step guide on how to appeal.
AWS launches fund to back employees' community engagement projects
Small businesses are grappling with a severe labor shortage. The holiday season could make it worse.
93% of general contractors faced material shortages in Q3. How construction firms are managing through the challenges.
Seattle Times
Homicides in Washington increased by 21% in 2020, new statewide data shows
New U District light-rail station reorders how people move through the neighborhood
'He was my miracle child': Family of Des Moines shooting victim recounts his life, waits for answers
Constance Rice, SAM's new board chair, believed to be first Black woman chair of a major U.S. art museum
Washington's moratorium on utility shut-offs is ending. Here are some assistance programs
Opinion: ICE arrests in Washington tell stories of suffering that goes unseen
Opinion: Goodbye, and good riddance
Opinion: Forget the Wazzu football coach and the other spectacles — the vaccine mandates are working
Skagit Valley Herald
The harvest: Hot, dry summer brings mixed results for Skagit County crops
Skagit County-run vaccine site requiring appointments for Pfizer boosters
Commission to look into increasing pay of Sedro-Woolley City Council members
Concrete council briefed on changes for law enforcement
Sol de Yakima
Hospitalizaciones por COVID siguen bajando en Washington, pero el invierno es incierto
Habrá módulo de vacunación general, de COVID en Yakima
South Whidbey Record
South Whidbey students strike for climate justice
Spokesman Review
Only one of four proposals for Washington's congressional boundaries would significantly change Eastern Washington districts
Washington's plastic bag ban goes into effect Friday – here's what you should know
Exemption alone won't save state workers' jobs
Spokane police plead for 'PepperBall' launchers, but council questions request
'I felt everyone's safety was at issue': Caution drove decision to cancel meeting, CdA school board chair says
Number of COVID-19 hospitalizations continues to set records in Idaho
Opinion: Liz Pray and Michael Barsotti: Keeping kids safe this fall takes community effort
Tri-City Herald
Update: Benton County gets a new sheriff, 2 months after his former boss was ousted
What Tri-Cities schools are doing to make buses safer after deadly attack
Million-dollar makeover starts at former Pier One store for new Kennewick retail outlet
Two 15-year-olds accused of stealing guns in Ranch & Home store break-in
Vashon-Maury Island Beachcomber
New cases in schools include first classroom outbreaks
Walla Walla Union Bulletin
College Place Schools to address mental health of its students
Columbia County commissioners move work sessions to Tuesdays
Walla Walla stores expect plastic bag ban confusion to be short-lived
Large cyber attack leads to local phone outages in Walla Walla
Washington Post
YouTube is banning prominent anti-vaccine activists and blocking all anti-vaccine content
Federal agencies are still dealing with pandemic backlogs. A shutdown could make delays worse.
Ivory-billed woodpecker officially declared extinct, along with 22 other species
The cold truth about hot lunch: School meal programs are running out of food and workers
Oregon school board bans Pride and Black Lives Matter symbols in the classroom
A tribe has not hunted whales in decades. Now, it might have a chance — and animal rights groups aren't happy.
The expanded child tax credit is working. Let's make it permanent.
Opinion: The Pentagon begins a very American process of postwar accountability and rebuilding
Whidbey News-Times
COVID outbreak reported at Oak Harbor preschool
Yakima Herald Republic
Yakama Nation leader, Native Vote advocate Mathew Tomaskin dies at age 58
Draft maps would reduce county splits in Washington state congressional districts
Yakama Nation returns to Phase 3 of its COVID-19 reopening plan
Broadcast
KING5 TV (NBC)
Mom-and-pop landlords worry new rental rules will force them out of Seattle
Proposed changes to Washington state's Congressional districts released
Sauk-Suiattle Indian Tribe demands city stop using Chief Seattle on its logo
Utility disconnections can resume this week in Washington state
KIRO7 TV (CBS)
SPOG president says mayor's budget for more officers falls short
VIDEO: Washington State Fair ends with 816,000 attendees and record-breaking spending
VIDEO: New study finds link between bad air and respiratory problems like allergies, sinus disease
VIDEO: Reaction from SPOG to Mayor Durkan's call for more police officers in budget
KOMO4 TV (ABC)
Teachers, staff say district prioritizes homeless camp outside school over them, students 
Does banning single-use plastic bags help the environment?
Yakima hospital tells most people with COVID to go somewhere else
Idaho doctor threatened after refusing to prescribe controversial drugs to treat COVID-19
KNKX FM
A Gene-Editing Experiment Let These Patients With Vision Loss See Color Again
After 25 Years In The Dark, The CDC Wants To Study The True Toll Of Guns In America
Nursing and war require alert personnel. These researchers are studying fatigue countermeasures
Listen: How is vaccination going as state workers near mandate deadline?
KUOW FM
Pandemic blog: Updates for Seattle and the NW
Nursing and war require alert personnel. These researchers are studying fatigue countermeasures
KXLY (ABC)
Spokane County Sheriff Ozzie Knezovich calls for Gov. Inslee to stop vaccine mandate
What you need to know about Washington's plastic bag ban
Gov. Jay Inslee plans trip to Spokane, Okanogan Counties
Governors Inslee, Little to make stops in Inland Northwest Wednesday
'I believe in it': Pfizer COVID-19 booster shots now available in Inland Northwest
NW Public Radio
More Renewable Energy, Less Energy Efficiency In New Power Plan
Washington State Patrol's Hiring Under Fire As Agency Failed To Diversify Over Decades
Q13 TV (Fox)
Tacoma invests $25K toward Afghan refugee effort
Tacoma-Pierce County Health Dept. says 27% of new COVID cases are ages 20 and under
State employee vaccination increases ahead of mandate deadline
Single-use plastic bag ban begins Oct. 1 for Washington state
Web
Crosscut
Opinion: Inaccuracies undermine Seattle's debate over eviction ban
MyNorthwest
Both directions of SR 18 closed at C Street in Auburn after fatal crash
As situation in Point Roberts grows 'dire,' Gov. Inslee pushes for Biden to open border
Tacoma woman pleads guilty to setting 5 Seattle police vehicles on fire during 2020 protest
State commission warns of discipline for doctors who grant vaccine exemptions without 'legitimate' reason
Tornado touches down in Southern Washington on Monday evening
Robocalls 'are not going to go away' even as new US law kicks in
Deputies: Murder suspect shot in Snohomish County after multi agency investigation
Slog
GOP Draws Sloppy-Ass Map Proposals, Attempts to Grab More Power in Washington
Contractor Bosses Should Fully Pay for Construction Worker Parking
Durkan Proposes $2.4 Million SPD Refund Despite Continued Calls to Defund
West Seattle Blog
WEST SEATTLE BRIDGE: Port agrees to contribute $9 million – here's what it gets in return
---