PLEASE NOTE: For the most up-to-date information on the COVID-19 crisis
in Washington, please visit the state's official COVID-19 website.
UPDATE: Reps. Leavitt and Bronoske coffee and conversation tour moved to virtual format
Reps. Leavitt and Bronoske are hosting a series of informal coffee and conversation events throughout the 28th Legislative District. Due to rising COVID-19 cases, the remainder of these events will be held online in order to help keep our community healthy and safe.
Please visit the links below to register to attend. After registering, you will get an email with information about joining the meeting.
Residents are invited to drop in and share questions, concerns and thoughts about issues facing the district, lawmakers' work in the Legislature, help with state agencies or accessing services, and more.
Feel free to attend the event that fits your schedule if you cannot join the event in your area. Your legislators look forward to hearing from you!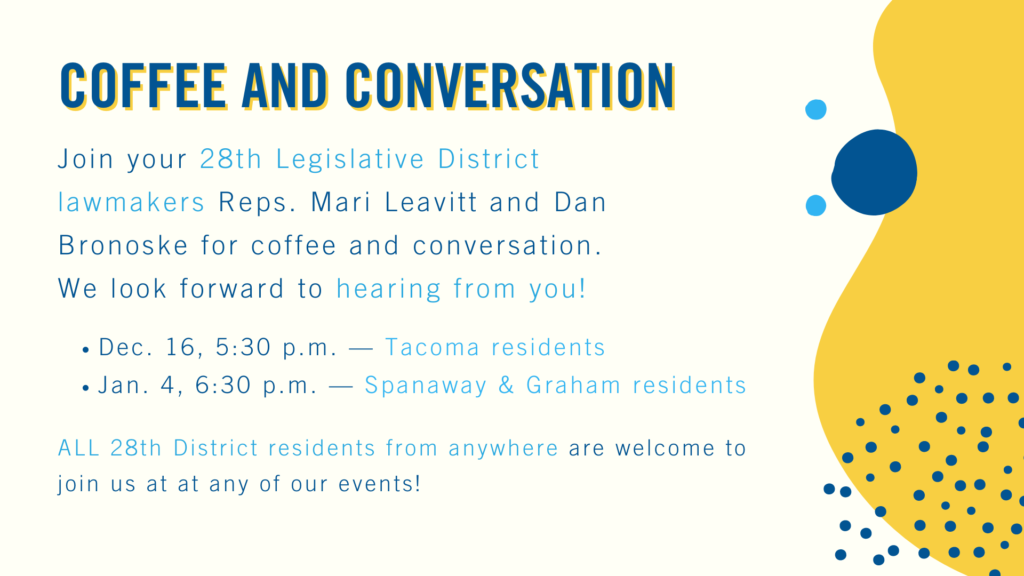 ---
2021 Legislative Update
After the 2021 session, I sent out an update highlighting the budgets and bills I voted for to address the pandemic, support small businesses, help struggling families, and reduce tax burdens for those who need it most.
Visit this link or click on the preview below to read more.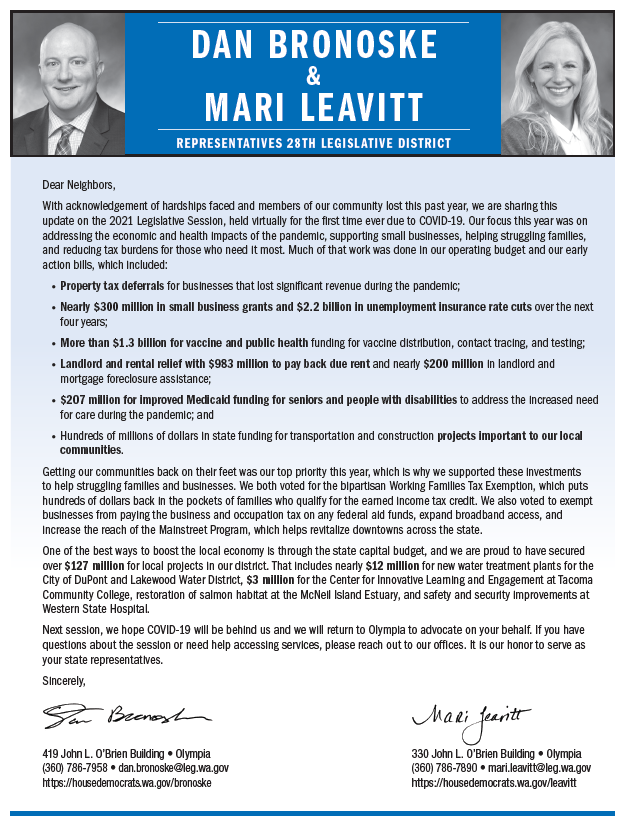 ---
Watch my latest video updates on YouTube
---
As your state representative, my goal is to make sure I keep you informed about the work I'm doing for you down here in Olympia. I will update this site frequently with the latest news from my office and the floor of the House of Representatives.
You can always contact my office if you need information or have a legislative or state government issue, request, or concern and either I or my legislative aide will respond promptly. This information might be helpful:
It is an honor and a privilege to serve you, so please do not hesitate to get in touch.
Sincerely,

Rep. Dan Bronoske, 28th Legislative District