Dear Friends and Neighbors,
We are entering the final stretch of the 2021 legislative session, and that means my colleagues and I are focused on one of our most important duties as legislators: writing and passing budgets that balance fiscal responsibility and serving the needs of our state and the people who live here.
The 2021-23 capital budget—sometimes called the construction budget—would makes historic investments in communities across our state and put tens of thousands of people to work rebuilding the economy. We are investing in our future by building broadband internet infrastructure in rural and underserved communities, constructing a behavioral health teaching facility, and building desperately needed affordable housing.
In 2020, transportation funding took a huge hit due to the COVID-19 pandemic, this is in addition to our moral and legal obligation to replace road culverts that block fish passage, especially salmon. As a result, Gov. Jay Inslee put many construction projects on hold, which are critical to the growth of our local economy. The 2021-23 transportation budget restores paused projects and continues the work of building a transportation system for the future, with investments in reducing congestion, green transportation, mass transit, fish passages, and critical projects such as the I-5 bridge between Washington and Oregon.
Both the capital and transportation budgets passed the House Friday afternoon with bipartisan votes, and now House and Senate leaders will work out the differences between each chambers' proposal.
These budgets also fund critical investments here in the 28th Legislative District that will clean up contamination in our environment, namely our drinking water, and help people get around quicker and more safely. I recorded this video to share details about how these budgets will serve our local needs. Click here or on the image below to watch.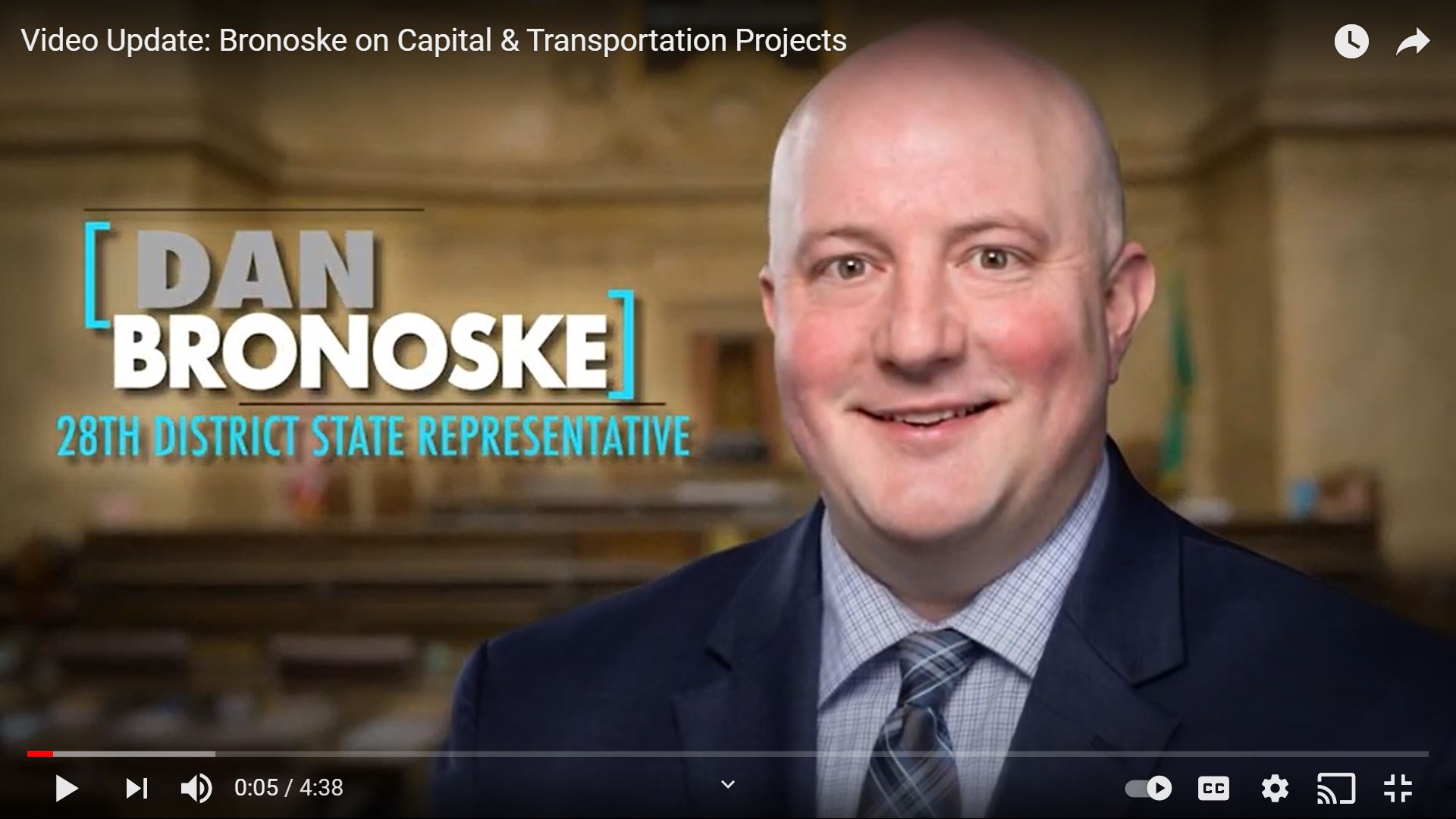 In my next e-newsletter update, we will provide information on the Washington Recovery Budget which funds state services that will help make our communities successful. Getting through the pandemic together begins with investing in one another. This budget proposal will help all of Washington state recover, and with more support than was remotely possible during the past year. As we all see hope on the horizon, we must double down on the work we all have done to pull together during this pandemic and not leave any behind so we may have a stronger, better Washington.
---
Capital budget investments for the 28th District
PFAS Treatment at City of DuPont and Lakewood Water District Wells—Water scrubbers to remove harmful chemicals (PFAS) that were formerly used in firefighting foam at JBLM during training.
American Lake Park ADA Waterfront Access Upgrades—ADA waterfront access upgrades at American Lake Park. It's time we made our treasure of a park accessible to all in our community, regardless of mobility.
City of Fircrest Water Meter Replacement—Replaces analog water meters with electronic water meters. Saves overall costs to the city because it no longer requires one person to visit every meter and read it manually. This full-time employee will be able to work on other critical projects in Fircrest.
McNeil Island Estuary Restoration Project—McNeil island offers a unique opportunity to protect and restore habitat in a large setting within South Puget Sound. Much of the island's 12 miles of marine shoreline is in a natural state due to no public access. Project will reconnect former tidal wetlands with full tidal exchange, benefitting Chinook and other estuarine fish and wildlife.

The Steilacoom Cultural Center and Museum Restoration—

This project consists of reroofing, residing, painting, and performing other repairs to support the aging building that was formerly the Oberlin Congregational Church of 1903 and placed on the

National Register of Historical sites in 1975

.

Curran House Museum—

The Curran House in University Place is listed on both

state and national heritage registers

and is an example of mid-century modern architecture. Funding is allocated towards completing, the museum that will primarily showcase the 20th century and will educate visitors about that important post-WWII era when local development greatly expanded.

Spanaway School Based Health—The Bethel School District Spanaway Middle School community health clinic would provide medical services to some of our neediest students in an area that has 70%-75% free and reduced lunch rates. Full-spectrum family medical, dental and behavioral health services can be provided to students who can avoid missing school when sick and get support to succeed in their classroom by having quick and consistent access to health care.
---
Transportation budget investments for the 28th District
Adding a new lane to Steilacoom-Dupont Road from Wharf Road to Interstate 5. This will help relieve congestion from both JBLM and increased commercial traffic.
Interstate 5 congestion relief through the JBLM corridor. This project will add lanes where they are needed, reconstruct interchanges, and divert local traffic off the interstate. When complete, this corridor will benefit from reduced congestion, enhanced freight mobility, improved safety and will support economic growth.
---
Virtual visit with Charles Wright Academy 5th classes
I was glad to be invited to attend a virtual visit to one of our local classrooms where I had a conversation with students about civic education and engagement. We also discussed the role of state government in our lives, the reasons people seek public office, and current events. Thank you, Mrs. Ward, Mr. Clark, and to each of your students.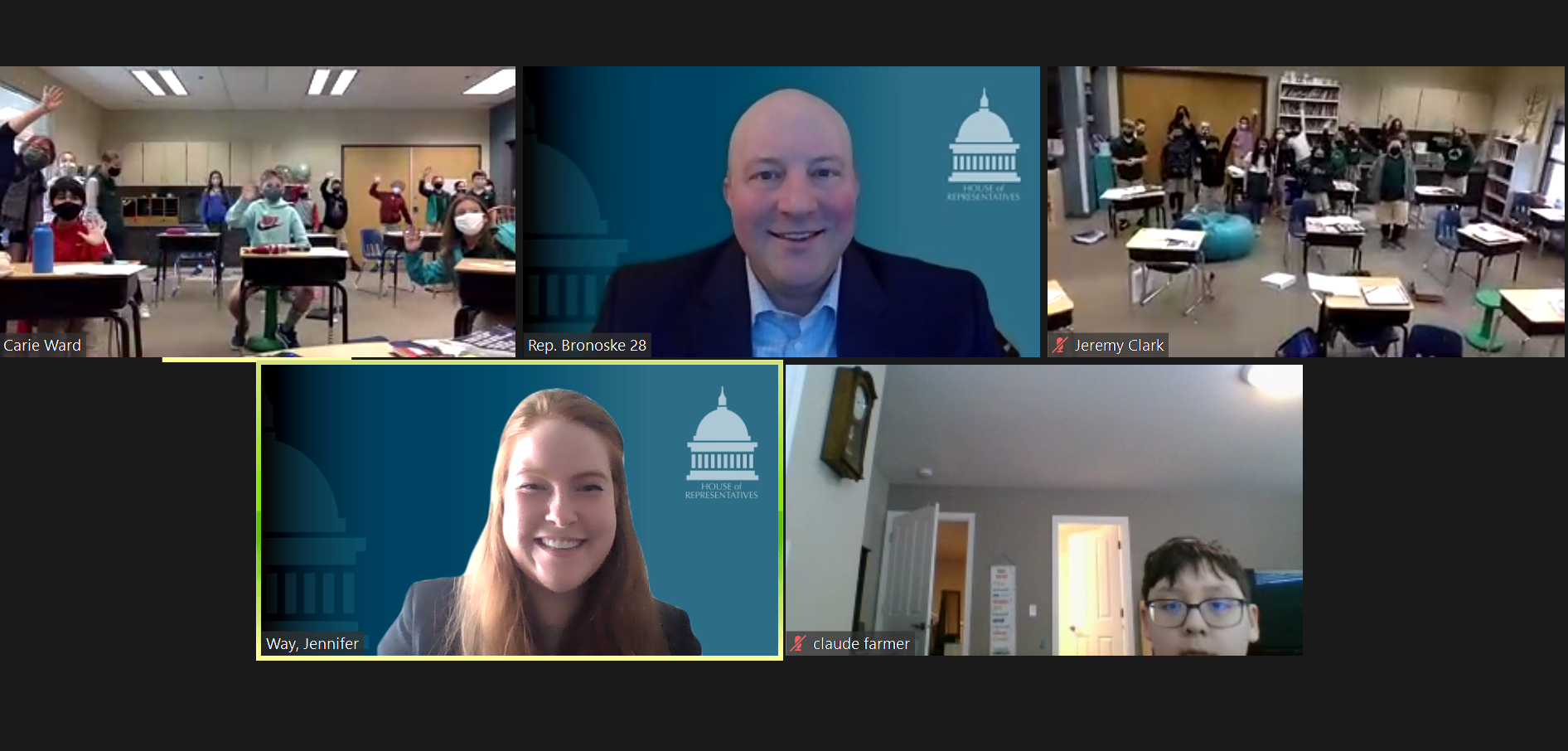 ---
Vaccine eligibility expands to all adults on April 15
The Governor's Office recently announced that all adults over 16 will be eligible to receive the vaccine starting April 15th. So far, the phased approach has helped to ensure that the most vulnerable among us were the first to receive doses. Now, thanks to the heroic work of healthcare professionals and the expanded supply from the federal government, eligibility can expand even more quickly than expected.
The accelerated timeline comes, in part, as a response to a recent increase in COVID cases. New variants are highly transmissible, and we must continue to wear masks, keep our distance, and wash our hands to avoid overwhelming our healthcare system's capacity to care for people who become sick.
I know this year has at a minimum, been extremely difficult. But now is the time to each of us to remain diligent and continue to protect each other. Even though multiple vaccines have been developed and nearly four million doses given in Washington State.
Use the Vaccine Locator, now available in multiple languages,  to find a vaccination appointment. And if you can't get online, call the state COVID-19 Assistance Hotline at 1-800-525-0127.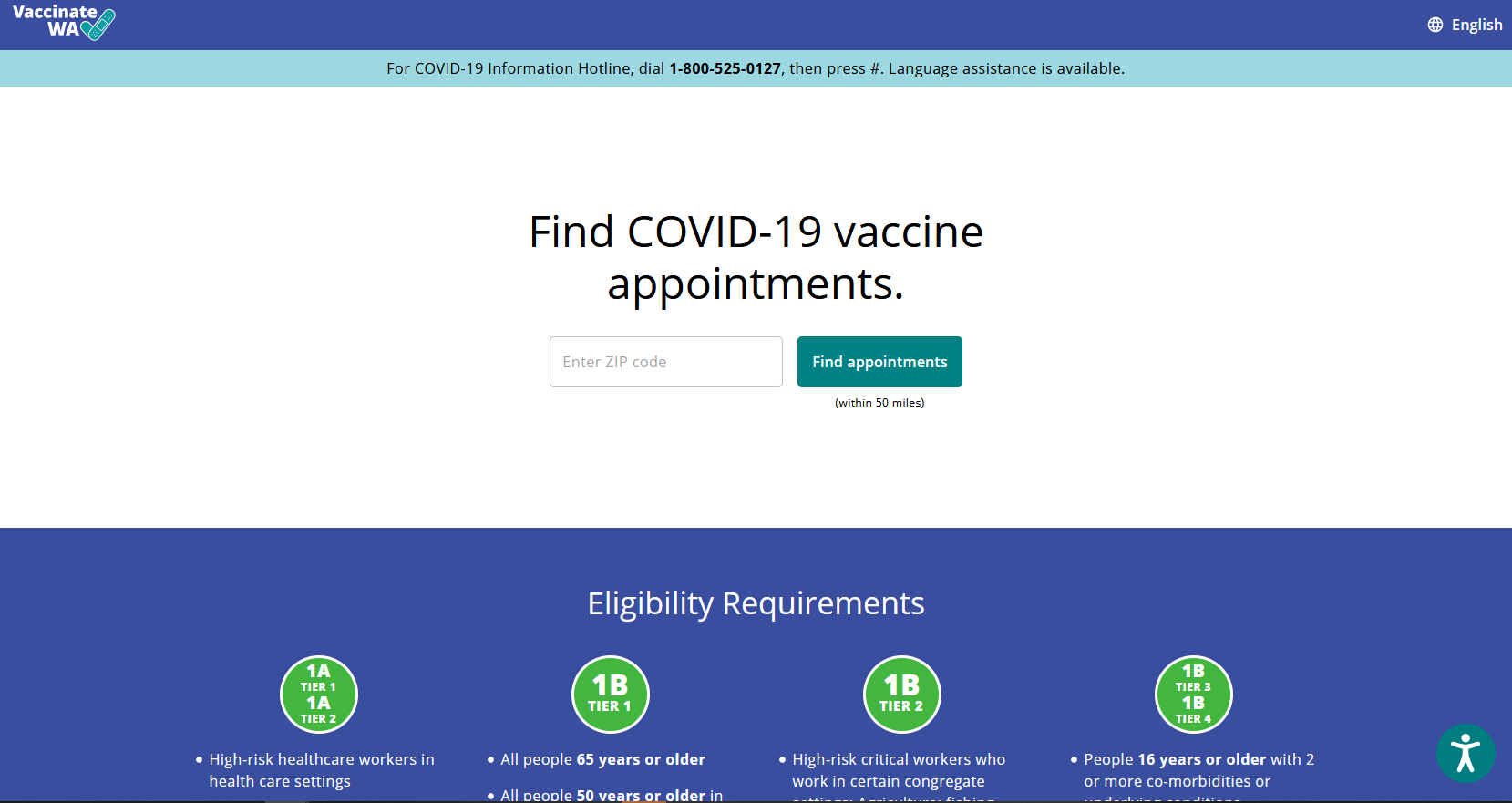 ---
Small business grant applications now open
The Department of Commerce launched a fourth round of Working Washington small business grants on Monday, March 29th. This new round of grants is focused on brick-and-mortar businesses that have been most directly impacted by public health measures. To see if your business may be eligible, please go to commercegrants.com.
Commerce's technical support center is currently open to answer any questions and starting on March 29th they will be providing assistance in multiple languages. You can contact them by calling (855) 602-2722 or emailing commercegrants@submittable.com. Trusted community organizations are also providing translation and individualized guidance and their contact information is available through this directory.
The Working Washington Round 4 Small Business Grant program application portal is open until 5 p.m., April 9. To receive an email notification when the portal opens again, sign up for the state's COVID-19 Business & Worker email newsletter here.
This round of Working Washington grants is possible because we approved $240 million in January as part of an early action bill. That bill also included hundreds of millions of dollars to boost public health, keep people in their homes, get students caught up, keep food on the table, and a whole host of other things. It was step one in our plan for community and economic recovery and we are now focused on the next steps in our plan to ensure we recover together.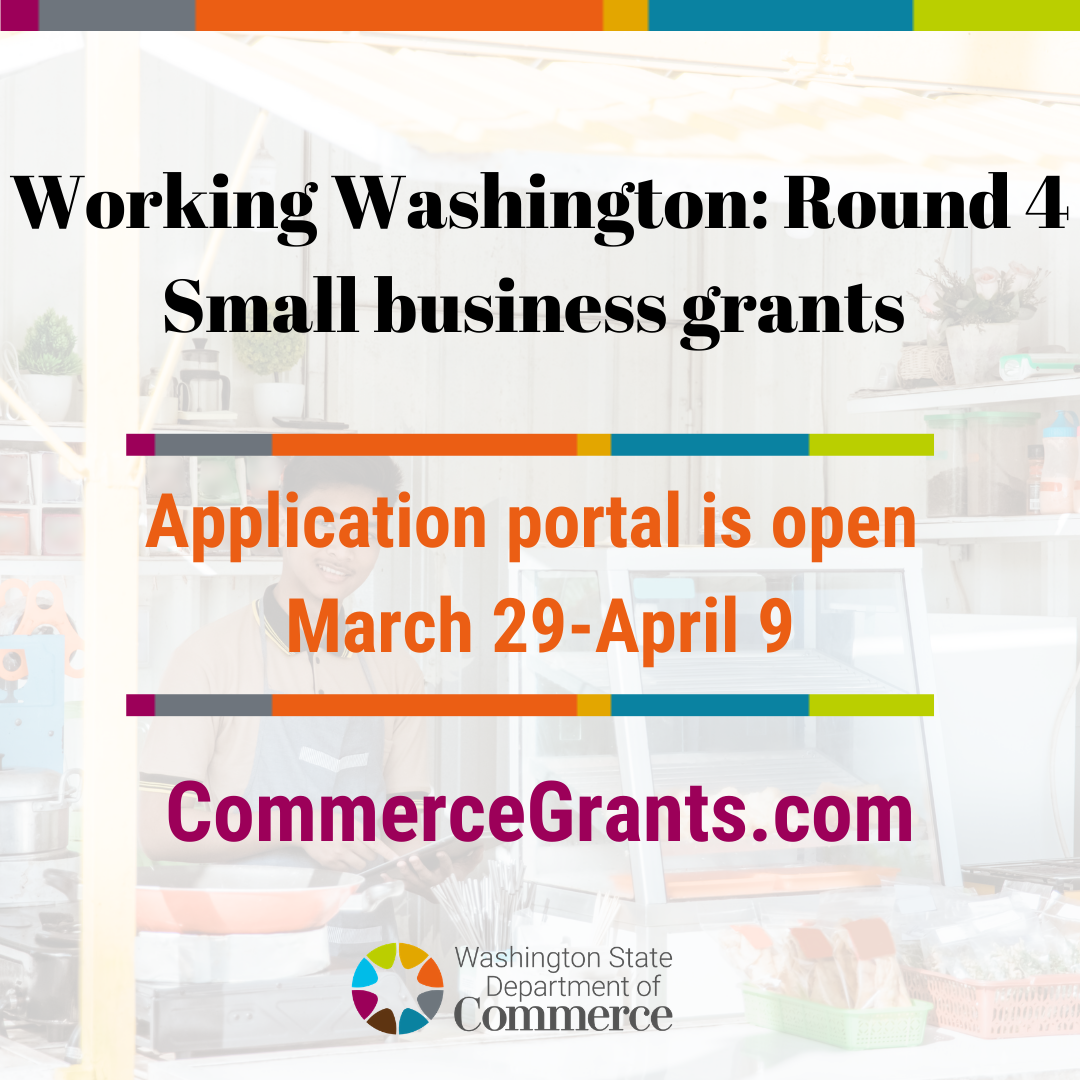 ---
Getting more assistance to families in need
A bill introduced by my seatmate, Rep. Mari Leavitt, to bolster economic recovery and provide food and cash assistance to families in need was signed into law this week by Gov. Jay Inslee. We all have a friend or neighbor who is struggling right now to make ends meet or worrying about where their next meal will come from. That's why HB 1151 expands a cash assistance program for families, allows for five additional months of food assistance and requires the Washington State Department of Social and Health Services to update the standards of need for cash assistance programs — last updated three decades ago.
Food insecurity has skyrocketed during the pandemic. This bill will update existing programs to help ensure families have options beyond food banks to put food on the table. We also know that families' needs have changed over the past 30 years, so HB 1151 will update or modernize standards of need to include expenses like cell phones, internet, childcare and health care.
---
Latest video updates
In my latest "Ask Dan" video update I respond to constituent emails on how to use Dept. of Transportation toll penalty forgiveness program, confirm that May 17 is tax day as announced by the Internal Revenue Service, and share information on a consumer protections service by the Attorney General's Office. I also recorded my floor remarks on final passage of a Senate bill to expedite unemployment insurance claim resolution. Click on the images below to watch.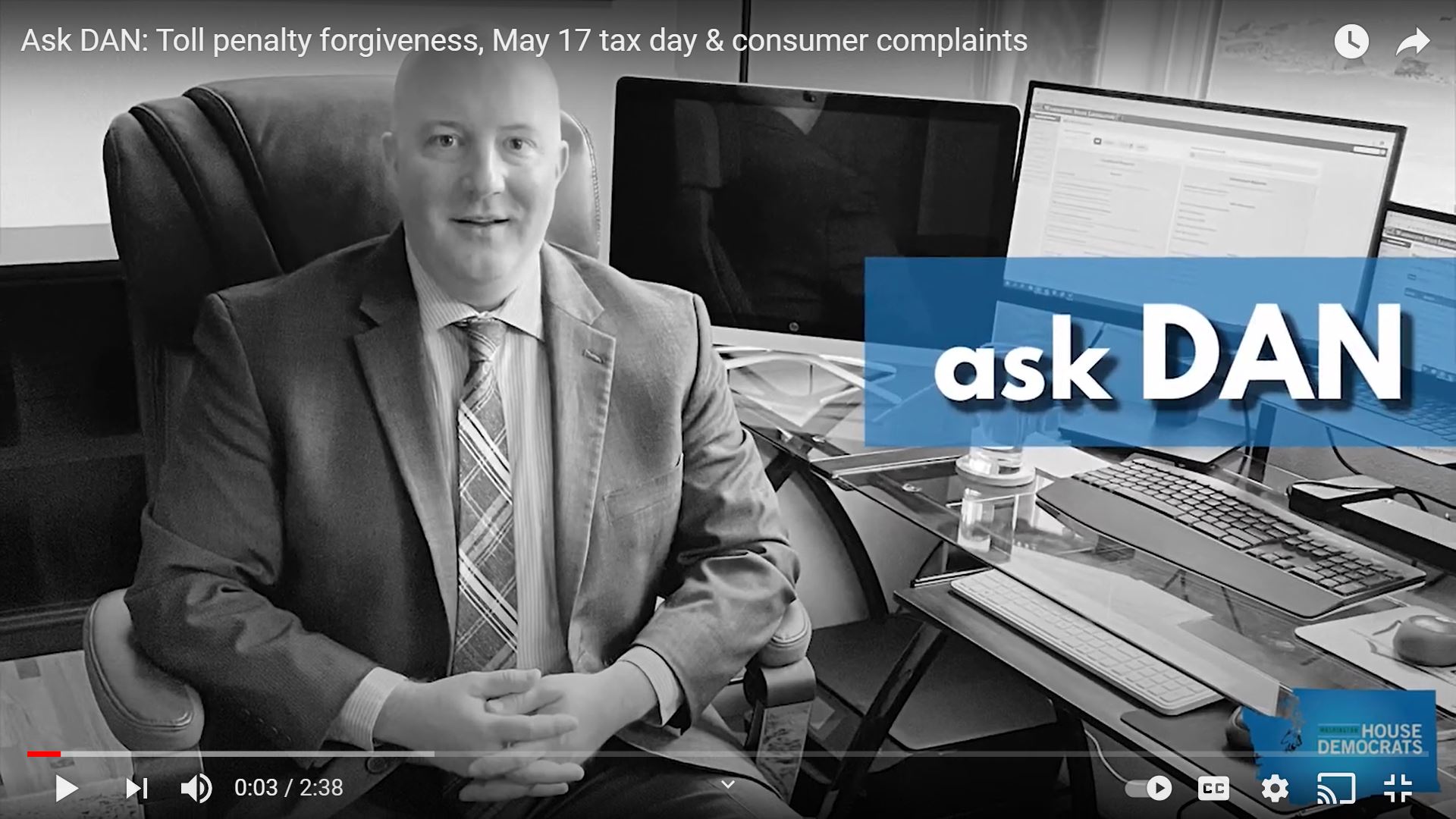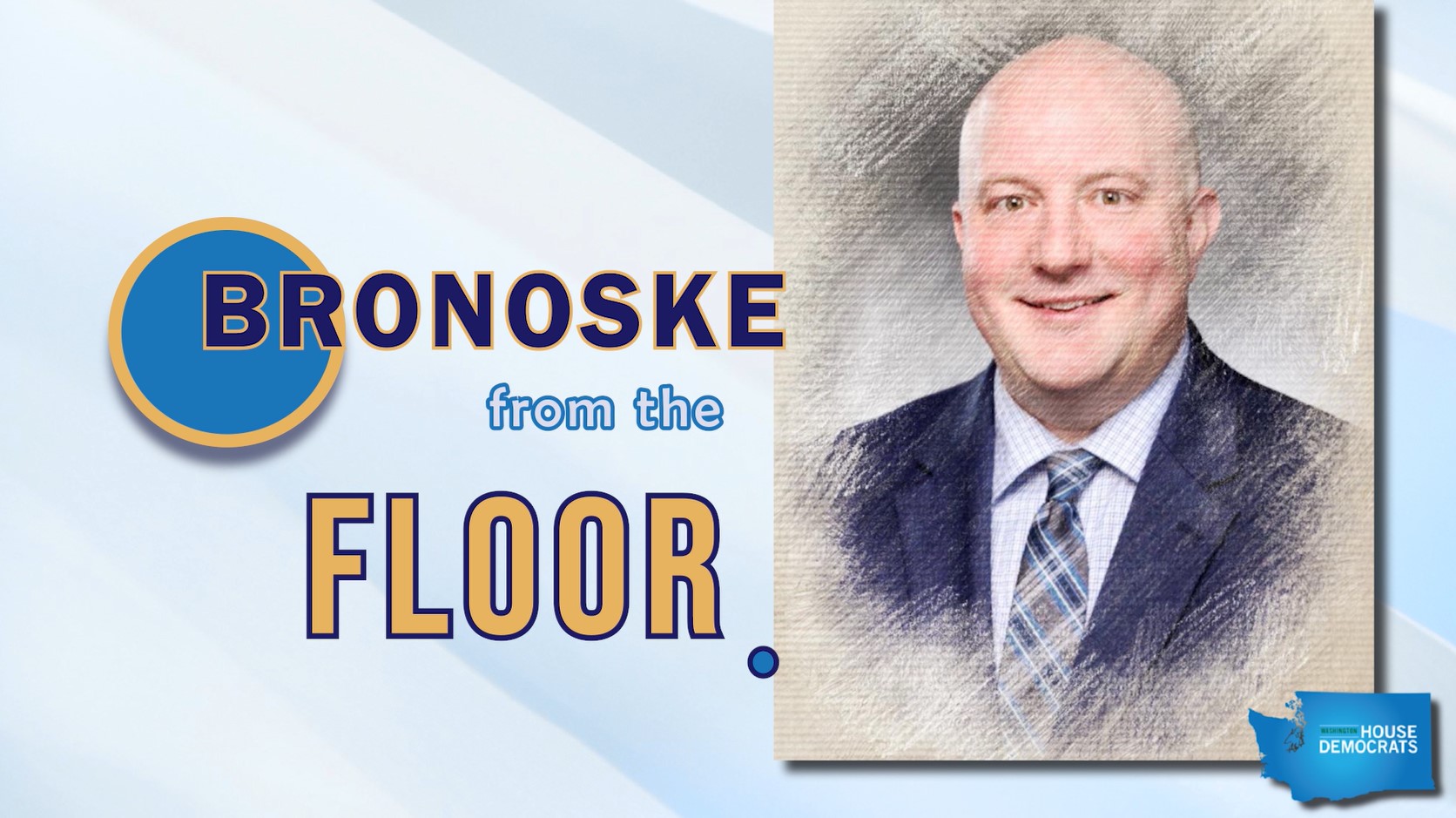 Sincerely,