Dear neighbors, 
With Sen. Marko Liias, chair of the Senate Transportation Committee, I am proud to unveil Move Ahead Washington (House Bills 2118 and 2119), our transportation package that creates a brighter future for our environment and for communities across the state. 
Move Ahead Washington delivers historic investments to preserve our roads, reduce carbon emissions, and provide safe, accessible, and affordable options to get around.  
House Democrats hosted over 90 listening sessions to hear the top transportation priorities from communities across the state. This proposal addresses the concerns we heard and reflects our focus on meeting the needs of every community in WA.  
Here's an update on this transformational 16-year package and how it will serve Washington for years to come. 
---
Today's challenges in transportation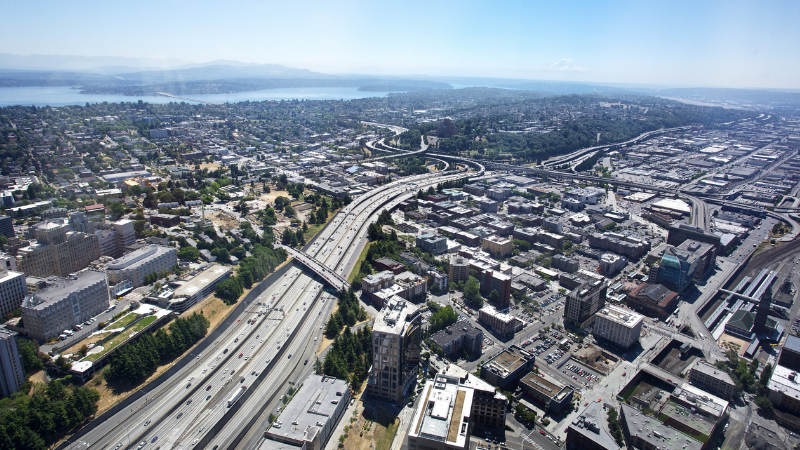 Inadequate funding for aging infrastructure means local maintenance projects have stalled.  As a result, people are spending more to fix the wear and tear on their cars caused by deteriorating roads. Meanwhile, commuters sit in traffic because they don't have other options to reach their destinations.  
Tomorrow's generations are counting on us to take meaningful action to address climate change. Today, communities of color, low-income, and rural communities bear the brunt of traffic, pollution, and displacement caused by previous transportation policies. Communities of color have also been historically excluded from the family-wage jobs associated with transportation construction. 
---
What our package does differently to serve Washingtonians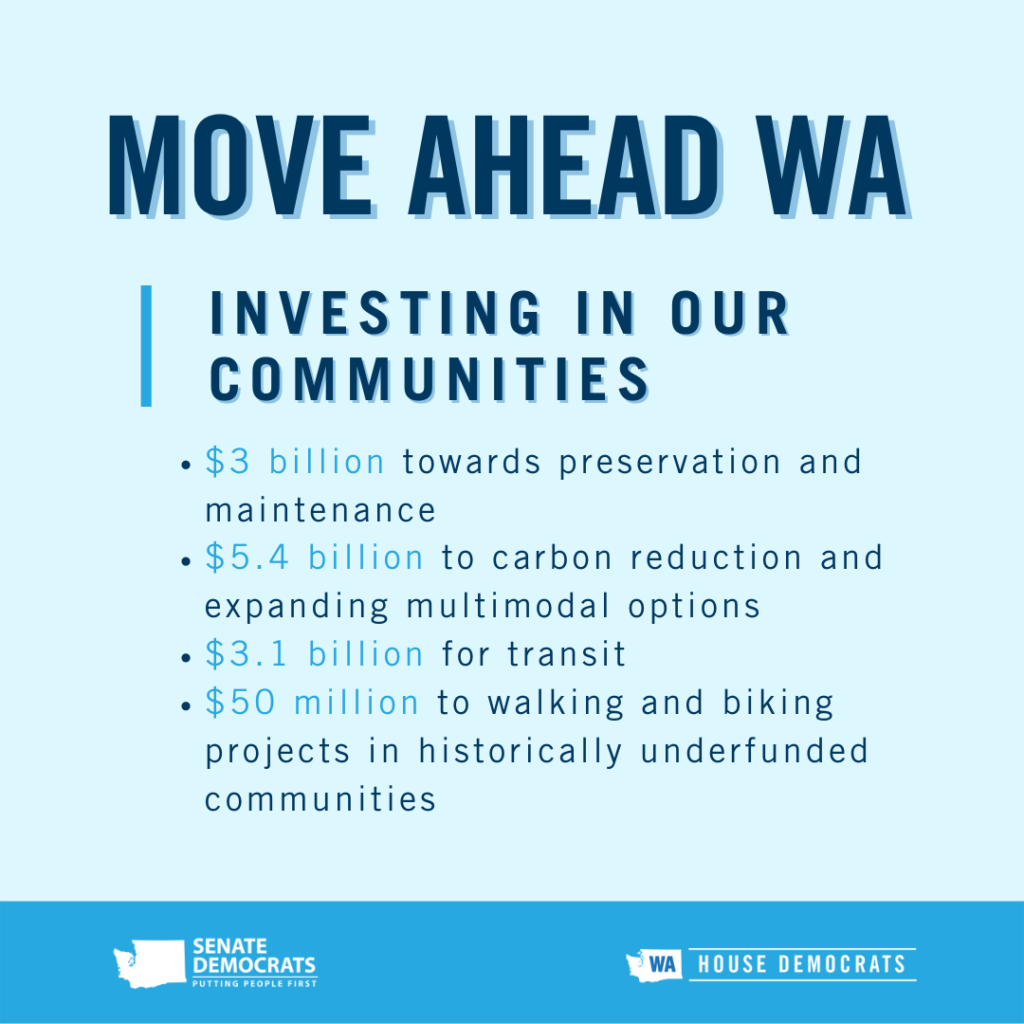 Preserving existing infrastructure
Move Ahead Washington invests an unprecedented $3 billion to fix our existing infrastructure and honor commitments we made in our 2015 package, Connecting Washington. By upholding our responsibility to complete projects we've started, we're also creating good, family-wage construction jobs to make repairs across the state. 
Taking bold action to reduce carbon emissions
Our package takes decisive action against climate change by putting $5.4 billion toward electrification and the expansion of affordable, accessible options to get around. Washingtonians deserve diverse choices so they can use what works for them—whether walking, rolling, driving, or riding—while reducing our carbon footprint. 
Addressing harm caused by past transportation decisions
Move Ahead Washington re-prioritizes disinvested neighborhoods and renews our moral obligation to do better for BIPOC, rural, and low-income communities. We're funding projects that expand reliable transit service, create bike and pedestrian routes, and increase opportunities for good jobs in the transportation sector. Our package also directs 35% of funds from the Climate Commitment Act into projects serving disinvested neighborhoods and communities often left out of the policymaking process. 
Funding our investments 
This proposal does not include a gas tax. This is a people-oriented proposal that doesn't pass costs onto working families. Especially after the economic hardships of the pandemic, it was important that we fund these investments without an immediate gas tax. Instead, we are meeting our state's needs with a one-time transfer from the state's general fund, federal dollars from the Infrastructure and Jobs Act, and investments from the Climate Commitment Act. 
---
Next steps
Move Ahead Washington is a commitment to our values and a promise to put the people of Washington first. This package is a reflection of what people across the state told us they wanted to see in this package. It's a future-oriented proposal that still deals with the needs and realities people face today. 
I'm looking forward to hearing your thoughts on how this package can be improved as it moves through the legislative process. 
Read the press release on Move Ahead WA here. 
View the full list of investments and revenue sources here.