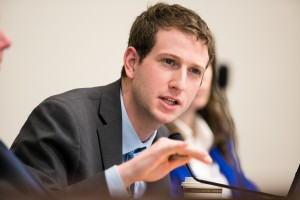 State Rep. Joe Fitzgibbon of Burien will play a key role in protecting the quality of the water, land and air in Washington state as the new chair of the House Environment Committee, with the announcement Tuesday that he would move into that position in the 2014 legislative session.
"My goal is to make sure Washington's environmental protections remain strong and are improved so they function as best as possible for Washington's families and businesses," Fitzgibbon said.
The majority House Democrats announced the lineup of committee chairs for the upcoming session, which starts Jan. 13. Fitzgibbon will take over leadership of the Environment Committee from Rep. Dave Upthegrove of Des Moines, who is leaving the Legislature after his election in November to the King County Council.
The House Environment Committee considers issues affecting climate change, air quality, water quality, recycling and solid waste, toxic materials and the State Environmental Policy Act.
"The future of Washington's economy and livability are dependent on decisions we make today about conservation, stewardship and growth," Fitzgibbon said.
Fitzgibbon, a Democrat who represents the 34th Legislative District, was first elected to the House in 2010.
---