Happy Friday!
At the end of the first week, the 2014 session is in full swing.  Yesterday the Capitol was abuzz with the annual visit from Snohomish High School seniors, who were submitting their research and bill proposals to representatives from every district. These students bussed over at 5 AM, but their energy said otherwise. With invigorating spirit and remarkable ingenuity, they delivered their proposals ranging from mandatory screening of Critical Congenital Heart Disease for newborns to plastic bag use reduction. How lucky we are that these bright minds are the future of Washington!
Yesterday we were reminded of the importance of empowering each and every student to continue their education, to keep generating new possibilities, and to better learn how to implement their ideas. We are thrilled to report that the House of Representatives started the session off strong with a shining example of bipartisan support by overwhelmingly passing the Washington State DREAM Act in a landmark first-day vote. This bill extends eligibility for state tuition assistance to students with undocumented status, promoting equality in this Land of Opportunity.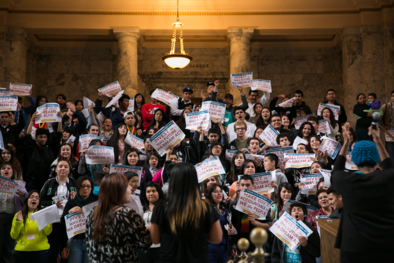 In his opening remarks, Speaker Frank Chopp told the story of his family who emigrated from Croatia to take advantage of all that our state and nation has to offer. He also shared the inspiring stories of young Washingtonians who have been advocating for this legislation for years. These dedicated students are leaders in their communities, classrooms and our Armed Forces. They graduate from high schools and are accepted to colleges and universities around our state. Yet their undocumented status makes it difficult, and sometimes impossible, for them to realize their dreams of a college education.
In his State of the State on Tuesday, Governor Inslee urged Washington state legislators to prioritize education, and this week we began by doing just that. We are so excited for a session that reflects the possibilities for our future that students like the Snohomish High School seniors believe in, that levels the playing field and brings us closer toward true equal opportunity for all.
All the best,
Eileen and Joe
---