It's been a busy week in Olympia! We've spent every day on the House floor considering bills that have passed out of the Senate as well as the 2014 House supplemental budget proposals.
On Tuesday we took a short break from our work on the House floor to meet with students from Madison Middle School in West Seattle. The students have spent the last several months completing service-learning projects related to bills coming through the State Legislature. The students conducted research on a bill that interested them, and then reached out to members of their community to garner support for the legislation. They came to Olympia on Tuesday to share their projects with us.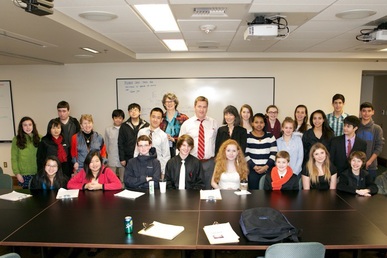 Little did they know (or maybe they planned it that way!), the students had perfect timing. On Tuesday afternoon the House passed our supplemental operating and capital budgets, which make significant investments in education.
The Washington State Supreme court has mandated that we adequately fund K-12 education and we have been making strong investments toward meeting this mandate.  But we don't need the Supreme Court to tell us how important education is to our state — we have students, parents, and teachers, like those from Madison Middle School, to remind us every day  how important it is that Washington fully funds our state's education system. We believe that a robust education system should include high-quality early learning programs, a student-centered K-12 system, and expanded access to higher education.
The House Supplemental Operating Budget makes targeted investments in areas like K-12 education, social services and mental health treatment. It is a responsible proposal that makes progress towards our basic education obligation and is balanced over the next four years.
In addition to our operating budget, we also passed a number of bills that make up the 2014 Education Investment Package, which invests $100 million in our kids by repealing four costly tax exemptions. That money will go toward restoring cost-of-living adjustments for our hard-working teachers and improving our state's early learning programs through the Early Start Act.
These investments will go a long way toward supporting our children's education, but we still have work to do. In 2009, the Legislature laid out clear goals to reduce class size and provide all-day kindergarten across the state by 2018. We are taking steps to meet this deadline, but a more immediate problem is emerging. School districts from across the state, east and west, have said that they simply don't have classroom space to lower class size; in some cases these schools don't even have adequate space for the students they already have.
We have proposed a bipartisan School Construction Plan that will invest $700 million in lottery revenue in classroom construction throughout our state. The plan passed out of the House on Tuesday with a 90-7 vote. It now heads to the Senate where we hope to see it garner the same level of bipartisan support.
We're proud of the House budget proposals, which make responsible investments in the programs that Washingtonians rely on. There is just one week left before session ends. The House and the Senate have begun negotiations and we appear to be on track to pass a final budget by March 13th.
Thank you for taking the time to read this legislative update. As always, please do not hesitate to contact us with questions or feedback.
Best,

Eileen and Joe
/—/
Contact

Representative Cody
303 John L O'Brien Building
PO Box 40600
Olympia, WA 98504-0600
eileen.cody@leg.wa.gov
(360) 786-7978
Representative Fitzgibbon
305 John L O'Brien Building
PO Box 40600
Olympia, WA 98504-0600
joe.fitzgibbon@leg.wa.gov
(360) 786-7952
Toll-free Hotline
(800) 562-6000
(800) 635-9993 (TTY)
---