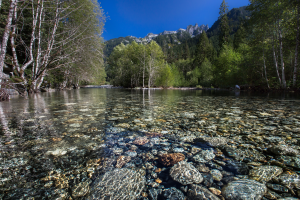 OLYMPIA – A proposal aimed at reducing carbon pollution while investing in Washington's clean energy future has been introduced by state Rep. Joe Fitzgibbon (D – Burien).
HB 1646 addresses the growing threat posed by carbon pollution and climate change, and helps speed up the transition to an economy that doesn't rely on burning fossil fuels to thrive. It would implement a performance-based carbon tax of $15 per ton, and reinvest the proceeds into clean energy and clean water projects, healthy forests, and support for workers, families, businesses and communities most directly impacted by climate change but least able to switch to low-carbon options.
"Washington is already seeing the consequences of a changing climate as we experience more extreme weather events, more frequent and destructive wildfires and droughts, and ocean acidification impacting shellfish and other marine life," Fitzgibbon said. "Fortunately, we can do something about it. This bill positions us as a national leader in the fight to reduce pollution and build a clean energy economy."
Compared with most other states, Washington has cleaner electricity and a lower per-capita carbon footprint due to its abundance of hydropower. But in order to effectively tackle the harmful effects of climate change on human health, communities, and the economy, further reductions are critical. And time is of the essence.
"We're now living in an age of climate consequences, underscoring the need for meaningful and effective leadership to get us around the roadblocks of inaction," said Vlad Gutman-Britten, Washington State director of Climate Solutions. "Rep. Fitzgibbon's bill is the right tool to help Washington accelerate the transition to a clean energy economy and broadly-shared prosperity."
Investments funded by HB 1646 would include electrifying transportation, supporting forestry practices that sequester carbon, and pursuing low-cost energy efficiency design standards and retrofits for buildings.
Additionally, HB 1646 would provide much-needed resources for projects that protect clean water, provide for more reliable water supplies, and reduce wildfire risk.
By making these investments, the state would reduce emissions, improve local air quality, and save dollars currently spent on out-of-state fossil fuels.
"In 2017, our state has the potential to finally break through climate change gridlock and make significant progress on addressing this critical threat to our future," Fitzgibbon said. "I look forward to hearing from all interested parties on improving this proposal further and getting it all the way through the Legislature."
---