We heard you on legislative transparency
Since our vote earlier this week in favor of SB 6617, our inboxes and voicemails have been flooded with messages from constituents deeply disappointed in our support of this bill. We want you to know we heard you loud and clear. When it comes to an issue as important as legislative transparency, a more thorough public process is necessary than what happened this week. That's why both of us signed a letter asking the governor to veto 6617, which he did. It's very unusual for lawmakers to ask for a veto on something we supported, but on an issue of this magnitude we felt it was important to listen to you, our constituents. Simply put: we got it wrong, and we need another shot at getting it right.
During the 2018 interim and the 2019 legislative session, a robust public process will be undertaken to open up legislative public records. Both of us continue to believe legislators' calendars and correspondence with lobbyists should be made public, as well as final decisions of investigations and disciplinary proceedings. SB 6617 did these things, and we will listen carefully to our constituents as we determine what additional legislative records should also be made subject to public disclosure.
Legislature bans bump stocks, protects domestic violence victims and people in crisis
Three bills that take meaningful action to help curb gun violence and keep our communities safer have passed the Legislature and are headed to the governor's desk:
ESB 5992 bans the manufacture and sale of bump stocks. These devices enable a semi-automatic firearm to replicate a fully-automatic one, effectively creating a "machine gun loophole" in our firearms laws. This law closes that loophole. Beginning July 1, it will be illegal to manufacture or sell bump stocks in our state, and beginning July 1, 2019, it will be illegal to own them.
SB 6298 makes it illegal for a person to possess a firearm if they have been convicted or found not guilty by reason of insanity when committed against a family or household member. This closes a hole in our state law that enabled those convicted of domestic violence harassment to keep their firearms, while those convicted of other domestic violence crimes lose their firearm rights.
Finally, SSB 5553 authorizes a person to voluntarily waive their firearm rights. This will reduce the risk of harm for people in crisis who are struggling with suicidal thoughts.
Reproductive Parity Act finally passes Legislature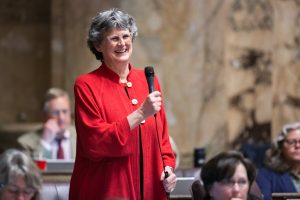 Seven years after the House originally passed it, the Legislature has finally passed the Reproductive Parity Act. Women should be in control of their health care decisions, not the government and not their employer. With this law in place, employers will not be able to deny their employees reproductive care choices in health care plans.
A student loan bill of rights for Washington borrowers
As of 2016, Washingtonians collectively owe more than $24 billion in student loans. Nationwide, 1 in 4 student loan borrowers is behind on payments. As the increasing cost of higher education means more students are borrowing money to pay for college, it's important to have protections in place against deceptive or predatory lending practices. SB 6029 provides those protections, expanding consumer protections for Washington student loan borrowers and requiring that student loan servicers obtain licenses to operate in the state. It passed with overwhelming bipartisan support this week in the House, after already passing the Senate last month.
Same-day voter registration
Civic engagement is critical to a healthy democracy. We saw that this week when the people of Washington urged the governor to veto the legislative transparency bill. Efforts to increase engagement need to include increasing voter turnout – an area where our state can do better. That's why we were pleased to support SB 6021 this week, which allows citizens to register to vote on election day. States with same-day voter registration see much higher participation rates than states where registration deadlines are further from election day. We also passed automatic voter registration (HB 2595), an idea our neighbors in Oregon are already doing. To encourage our youth to stay engaged – and we've seen inspiring stories from around the country lately about youth making their voices heard in the public policy realm – we passed HB 1513, which allows 16- and 17-year-olds to pre-register to vote when getting their driving permit or license. At age 18, their ballot would automatically start showing up in the mail.
Thanks for reading!
---