Telephone Town Hall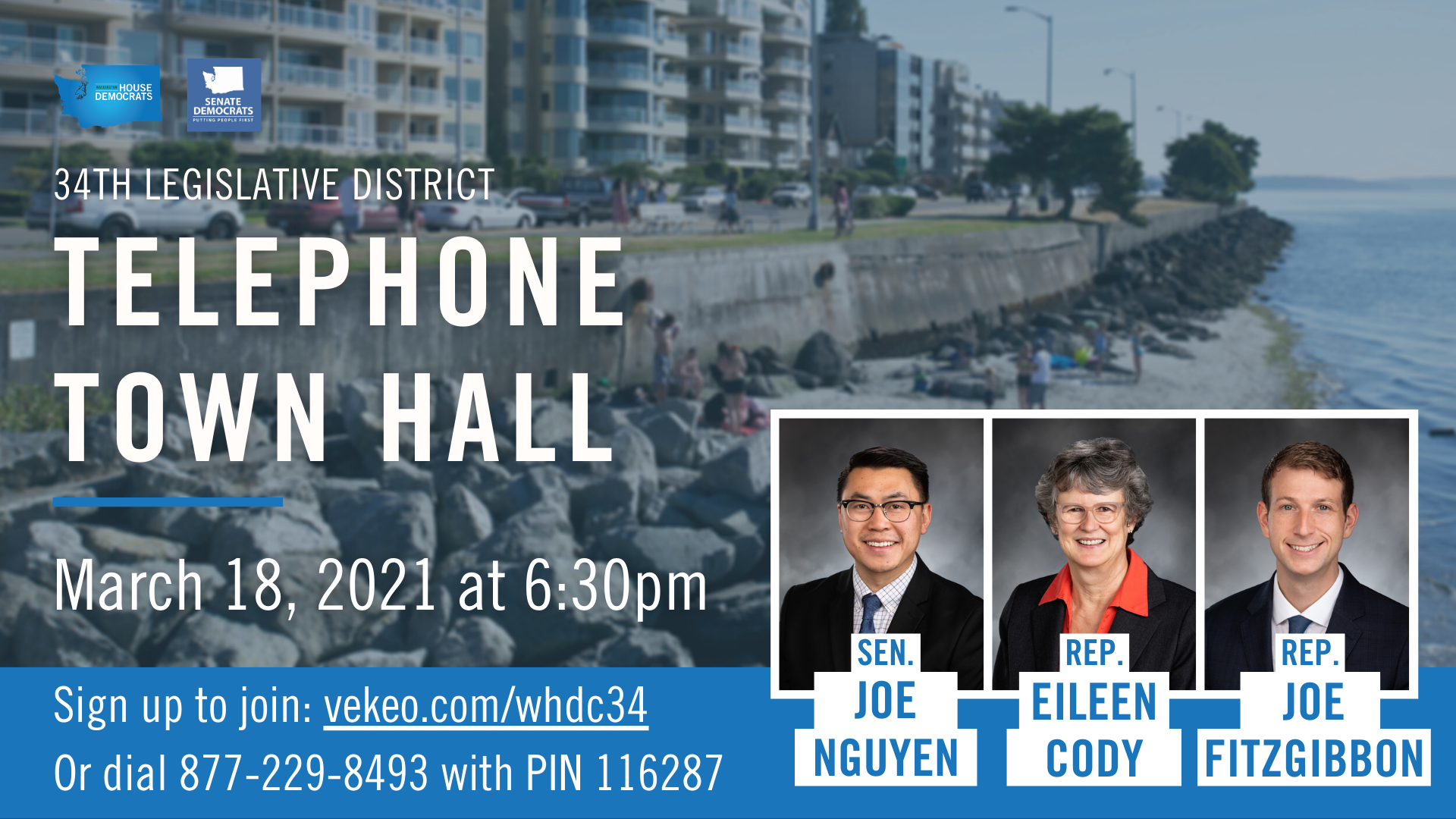 We're excited to announce our upcoming telephone town hall this coming Thursday, March 18 at 6:30 pm. Sen Joe Nguyen will be joining Reps. Cody and Fitzgibbon to update you on the work we're doing on your behalf in virtual Olympia, the status of bills in the Legislature, and hearing what your priorities are for us as we enter the final stretch of the legislative session. 
What: 34th Legislative District Telephone Town Hall
When: Thursday, March 18 at 6:30 PM
Call In: (877) 229-8493 PIN: 116287
You can sign up to join the telephone town hall or ask questions and listen live by clicking here. 
---
Note from Eileen:
An Update from the CDC and Washington's Vaccine Distribution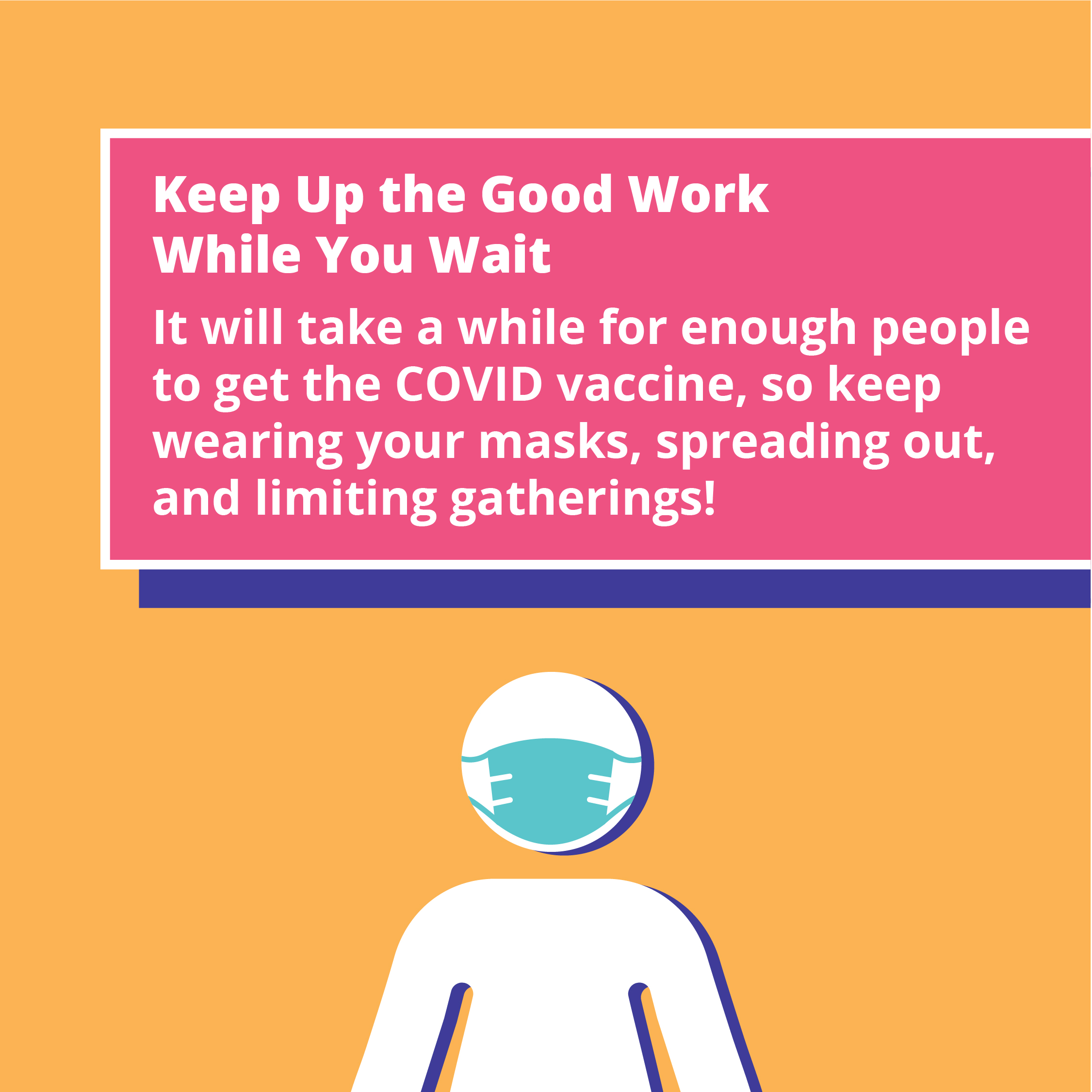 We have new guidance from the Centers for Disease Control (CDC) for people who are fully vaccinated against COVID-19. Here's what you should know: 
If you have been 

fully vaccinated

 (

meaning it has been 

two weeks after receiving the second dose of the Pfizer or 

Moderna

 vaccina or two weeks after receive the single dose of the Johnson & Johnson vaccine), you 

can gather indoors with other FULLY VACCINATED PEOPLE without wearing a mask.

 
You can 

also gather with unvaccinated people from ONE other household without masks as long as they are not at high risk from serious illness.

 
Even fully vaccinated, you should take precautions in public and keep doing what we are doing now. Wear a mask, stay at least 6 feet apart from others, and avoid crows or poorly ventilated areas.

 
The governor has announced updates to the vaccine distribution plan, including adding teachers into the current phase. With President Biden's announcement of more vaccine acquisition and the American Rescue Plan providing billions to states for vaccine distribution, we expect more people will be able to access vaccines through March and April. We have started meeting the governor's goal of 45,000 vaccinations each day, and the mass vaccination site at Lumen Field will serve up to 150,000 people every week when fully operating and vaccine availability increases. The City of Seattle has also opened a vaccination site at the Southwest Athletic Complex at 2600 SW Thistle St across from Chief Sealth International High School.  
Make sure to use the Phase Finder tool to see if you're eligible for the vaccine. You can also find a list of vaccine locations across Washington state by clicking here. More information about the next vaccine phases is also available in English at this link and in Spanish (para español) at this link. 
I also wanted to update you on a bill that is going to strengthen and improve our foundational public health system. HB 1152 will create regional shared service centers that will coordinate public health between local health jurisdictions. This is especially important for rural areas that lack certain services or staff that are needed during an outbreak or a pandemic, such as an epidemiologist. The bill also would double the state's investment in public health funding and removes politics from local public health boards through the requirement that non-elected members balance out the number of elected officials. 
The COVID-19 pandemic has strained us all but as more people get vaccinated and focus on the end goal, the sooner we will be back to a version of normal that allows us to spend time with friends and family, visit our favorite restaurants, and travel again. We're on the right track and we just need to keep at it a little longer.  
House Passes the Working Families Tax Exemption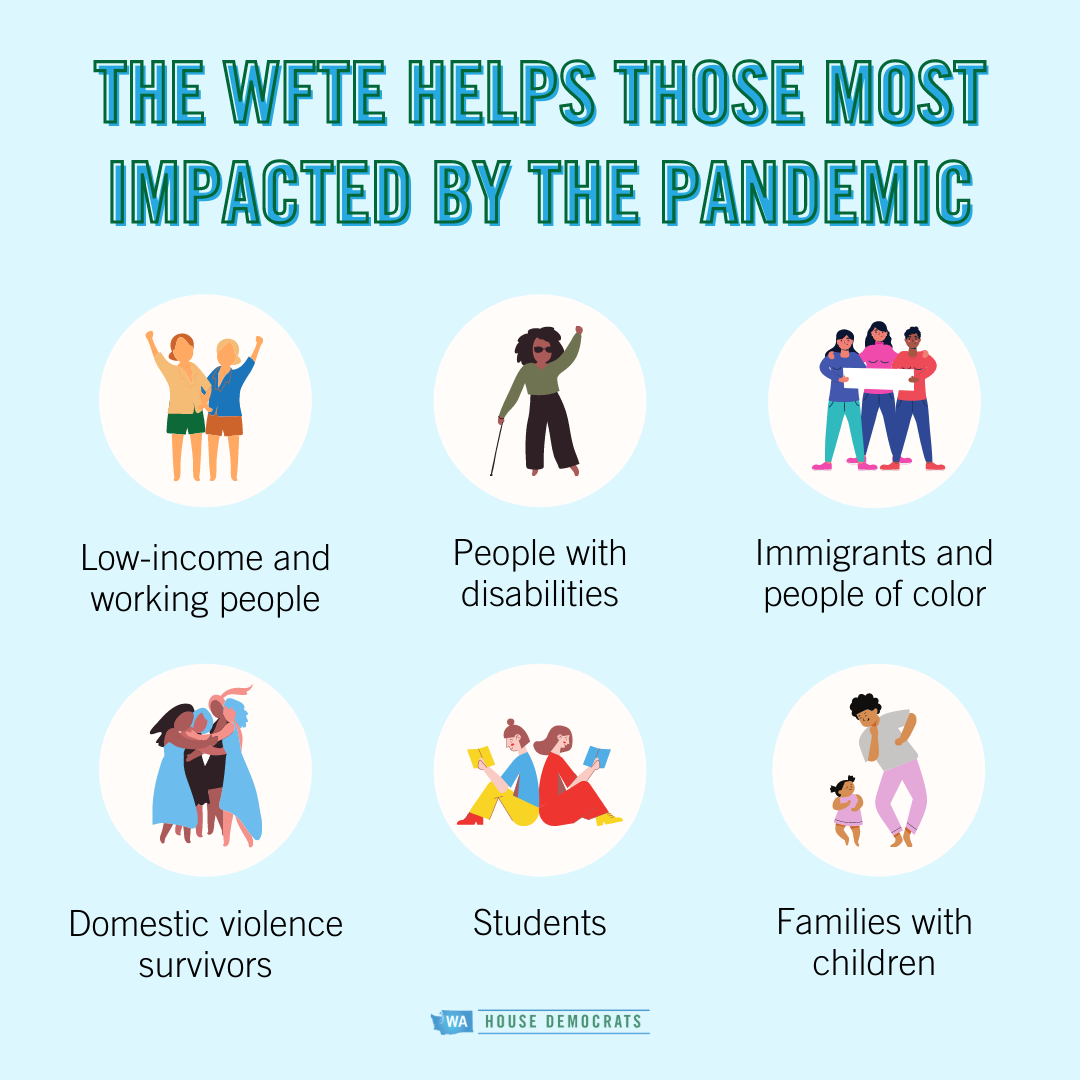 For years, we've had the Working Families Tax Exemption in state law, but never funded it. While we always wanted to, the Great Recession, the various court cases around behavioral health and school funding, along with a Republican State Senate majority for many years kept us from funding all of our priorities. This year, that could change. 
Despite the pandemic, the House voted to update and improve the working Families Tax Exemption, and treat it like any other tax exemption—meaning, it must be implemented. If it's approved by the Senate, we will finally begin providing this important rebate program to working families who make the least and pay the most in taxes. This will be a lifeline for our low-income workers, people of color, immigrants, refugees, and families. 
---
Note from Joe:
Modernizing Sound Transit's Fare Enforcement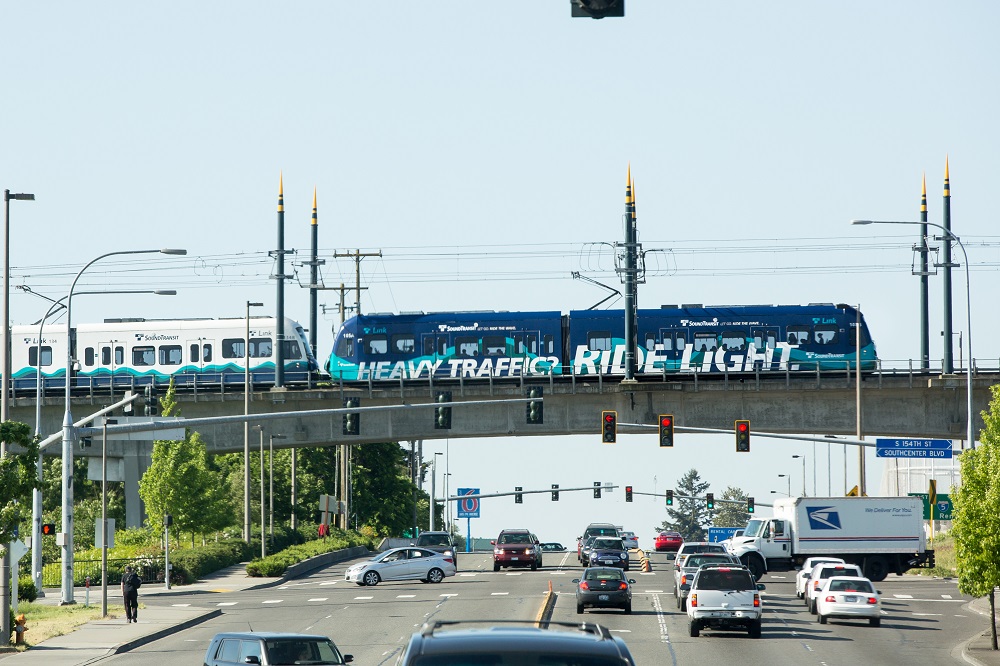 In 2019, King County Metro adopted a new system for resolving fare enforcement violations. With an eye toward racial equity, they moved their fare enforcement out of the court system and towards an administrative process. This change has led to a decline in fare evasion and increased resolution of fare evasion fines.
Sound Transit is prevented by state law from adopting this model. My bill, HB 1301, would allow Sound Transit to adopt the best practices exemplified by King County Metro. HB 1301 was passed the House on March 3rd with a 96-1 vote. I am hopeful that it will be approved by the Senate and will improve the equity and effectiveness of Sound Transit's fare enforcement.
Protecting communities with safer police tactics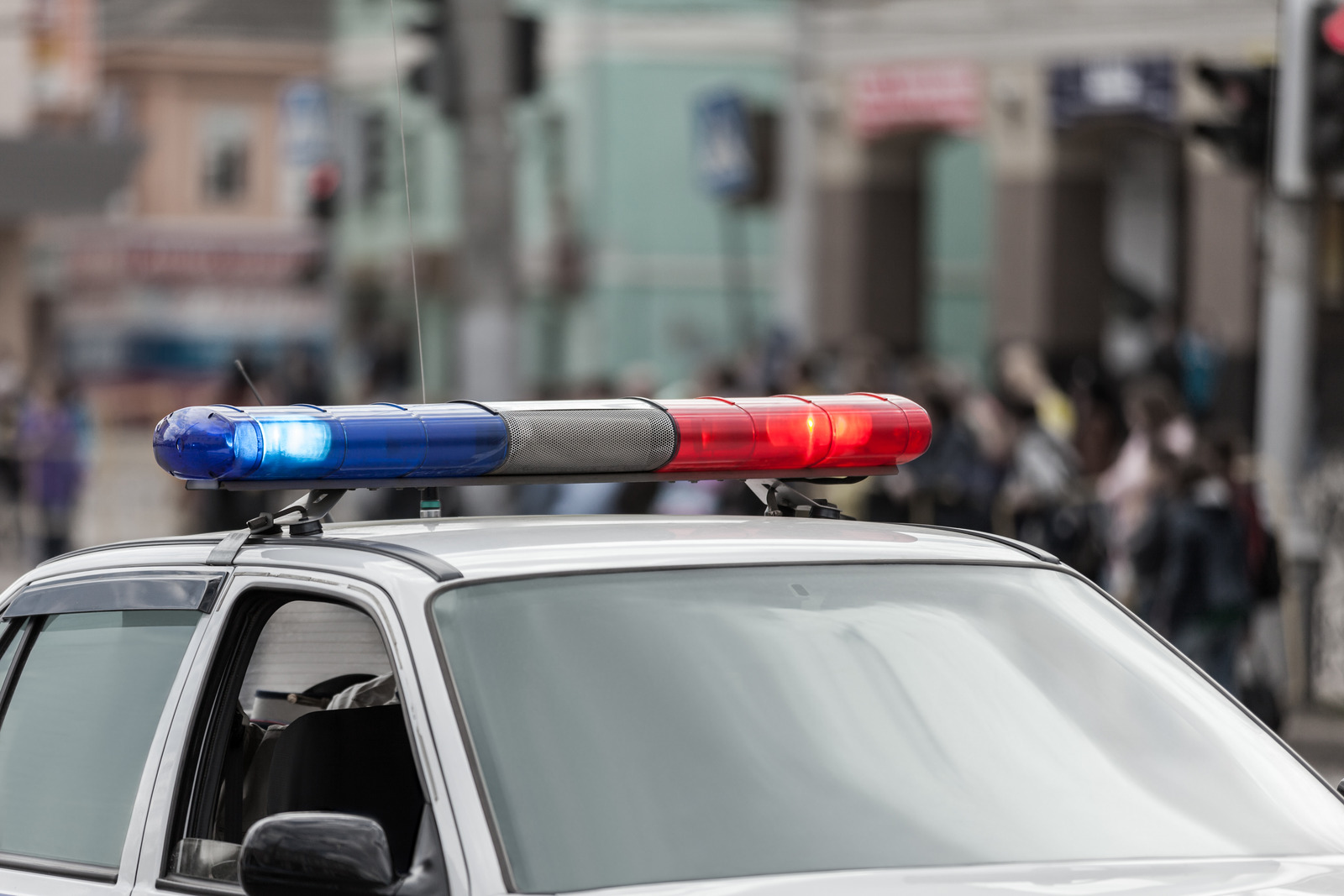 "Justice is just us coming together to make public policy for infinite impact." -Rep. Jesse Johnson (HB 1054 prime sponsor)⁠⁠
⁠⁠On February 27th, House Democrats passed legislation establishing baselines for police tactics that truly uphold just, equitable public safety.⁠⁠ ⁠⁠HB 1054 is a call to end unnecessary police violence, and it represents our commitment to stand for justice and the preservation of human life. Dangerous and unacceptable police tactics such as chokeholds, neck restraints, and no knock warrants are banned by the bill, and other risky tactics are curtailed. Shooting at a moving vehicle is banned except if the vehicle is being used as a weapon, tear gas is prohibited except for very specific circumstances, and hot pursuits which are extremely dangerous for police, the suspect, and the community are limited. This bill helps us begin the process of building trust between communities of color and law enforcement.⁠⁠
⁠⁠Too many families have suffered unimaginable loss. We're grateful for their willingness to share their stories, and we're grateful for the organizers, advocates, and law enforcement who helped craft this legislation. Together, we're shaping a Washington that is safer for Black and Brown communities.⁠⁠
Establishing the Office of Independent Investigation
On the first anniversary of the death of Manuel Ellis at the hands of the Tacoma Police, House Democrats passed HB 1267 to establish an independent agency to investigate police uses of deadly force. The Office of Independent Investigation will be a new independent agency housed within the Governor's office. It was recommended by the Governor's Task Force on Independent Investigations of Police Use of Force which was formed after the revelation that the Pierce County Sheriff's Office had failed to comply with the independent investigation requirements set out in Initiative 940.
The new agency would create regional teams that could respond to a deadly use of force within one hour to secure the scene and process evidence. Staff at the new agency will be trained in the history of racism in policing, tribal sovereignty, implicit and explicit bias, intercultural competency, a racial equity lens, anti-racism, and undoing institutional racism. The Office of Independent Investigations would also have a strong focus on communicating with the community and the family of the person killed. By ensuring truly independent investigations into police deadly uses of force we can begin to build trust between the community and law enforcement. Nothing we do will repair the loss and trauma suffered by the Ellis family, but this is one more step toward accountability, transparency, and justice.⁠⁠
---