Renewed and expanded eviction protections
Last week Governor Inslee announced he is renewing and expanding the moratorium on evictions through June 4. The order also now includes additional protections for both residential and some commercial tenants, including a freeze on rent increases – what some people call rent control. You can read the full proclamation here. From the announcement:
Just as in the original order, the new order prevents landlords from evicting in all situations that fall within the Landlord Tenant Act, and prohibits law enforcement from assisting in any evictions, but the new proclamation also:
Prohibits residential evictions in other dwelling situations, including but not limited to:

Lots/parcels (some motor home owners own the vehicle but lease the lot)
Transitional housing
Public lands – camping grounds
Prohibits enforcement of agreements to vacate.
Prohibits a landlord from requiring a non-paying tenant to move to a lesser unit, and prevents landlords from threatening to take action against tenants.
Prohibits landlords from assessing or threatening to assess late fees or other charges for non-payment.
Prohibits landlord from assessing (or threatening to assess) rent for housing/parcel where the tenants access or use was prevented as a result of COVID. Such as:

Seasonal/college housing closed;
People who planned to move in but are prevented from doing so due to COVID-19;
People who were forced to leave due to COVID needs of their own or others.
Prohibits landlords from increasing rents or deposits for residential and commercial units.

As it relates to commercial rental properties, this prohibition applies only if the commercial tenant has been materially impacted by the COVID-19, whether personally impacted and is unable to work or whether the business itself was deemed non-essential or otherwise lost staff or customers due to the COVID-19 outbreak.
This proclamation protects commercial tenants by prohibiting rent increases or threats of rent increases.
Prohibits landlords from treating unpaid rent and charges as an enforceable debt, unless the landlord demonstrates by a preponderance of the evidence to a court that the resident was offered, and refused or failed to comply with, a reasonable repayment plan that was reasonable based on the individual financial, health, and other circumstances of that resident.
Note: All rent payments delayed through this moratorium will still be owed but a landlord must offer a tenant a reasonable repayment plan to enforce any collection of that debt.
Tips for accessing unemployment benefits
The state's Employment Security Department (ESD) is experiencing historically high volumes of people seeking desperately needed unemployment benefits. ESD is working hard to improve capacity and updating technology, but their web pages are loading slowly, and call wait times are long. Here are some tips for minimizing delays and successfully applying for benefits.
First, be assured that everyone who is eligible will get their money – it is not going to run out – and will be paid retroactive to the date of eligibility.
Prepare: Carefully read the instructions, watch ESD's training videos, and use ESD's checklist to help gather all the necessary documents to avoid delays.
Try the website first: If you have a problem that can only be solved over the phone, please keep trying.
Timing: Apply during off-peak hours, generally 9:00 p.m. to 7:00 a.m. Use a Laptop or desktop if you can, and only try reloading twice in 10 minutes. If you don't get through after that, wait two hours before trying again.
Keep in touch: Subscribe to receive email updates from ESD about their COVID-19 response.
Find answers to frequently asked questions here. 
CARES Act expanded unemployment
Congress recently passed the federal CARES Act which provides additional unemployment benefits, and makes them available to more workers who previously would not be eligible for unemployment, including:
Part-time workers and others who have lost work due to COVID-19
Workers with less than 680 hours in their base year
Parents who have lost childcare due to COVID-19
People at high risk of contracting COVID-19
People sick or caring for someone with COVID-19
People who are unemployed due to COVID-19 and have run out of regular unemployment benefits
People who are unemployed due to COVID-19 and are not eligible for regular unemployment benefits
Check your eligibility and apply here.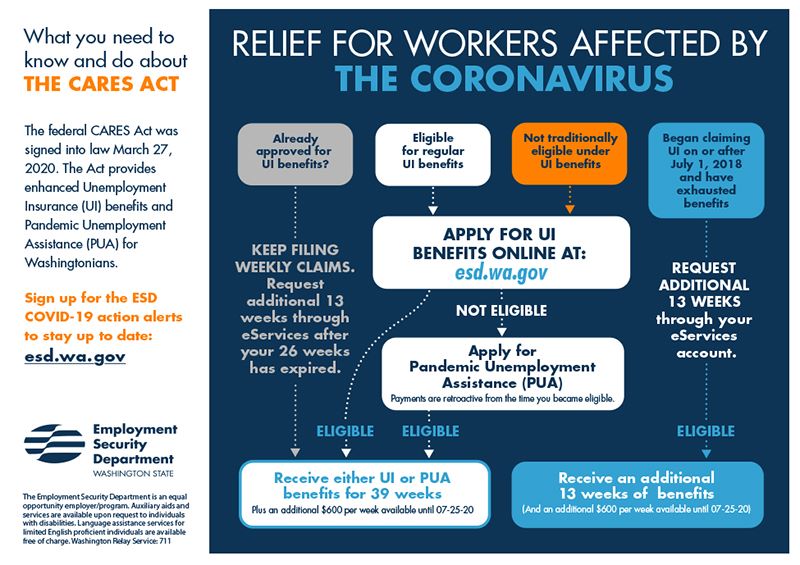 Our response must be as far-reaching as the virus itself
As COVID-19 continues spreading in our community, extreme economic measures remain necessary to protect the life and health of everyone around us. Governor Inslee's "Stay Home, Stay Healthy" order means the lives of millions of Washingtonians are upended, and more people than ever before in state history are filing for unemployment and other protections.
Leaders at all levels of government, business, and society know the impacts on Washingtonians have been severe, but we must also recognize that the lives saved are countless.
We're flattening the curve of infection in our state, but this is no time to give up. Instead, it's time for our state government to double down on efforts to keep vulnerable Washingtonians as secure as possible. 
You can find all available state resources here. 
If you can't find an answer to your question, please call or email my office and we'll figure out what we can do.
Thank you, and stay well,

---