Dear friends and neighbors,
It is difficult to believe that the 2019 legislative session is coming to a close. My freshman experience has been an amazing whirlwind and I believe my colleagues and I have accomplished some great work which will benefit all Washingtonians. Look for details of the final budget, which will be voted on this weekend, in my next e-newsletter.
One of the things I am proud of as a freshman is becoming the first Chair of the first Black Members Caucus (BMC) in our state legislature. We envision an inclusive and transparent state government environment where Black members are empowered to incorporate Black communities' issues into process, policy and community education.
(Click here for a video of the Black Members Caucus discussing Black History Month and what it means to serve as a Black representative of the people.)
With this in mind, one of the bills we supported this year is HB 1603, which rolled back the sanction and time limit policies which disproportionately cut Black and American Indian families off from basic support in our state's WorkFirst/Temporary Assistance for Needy Families program. We look forward to advancing this work during the interim and bringing new ideas to the table in 2020.
Sincerely,

First bill signing: A win for veterans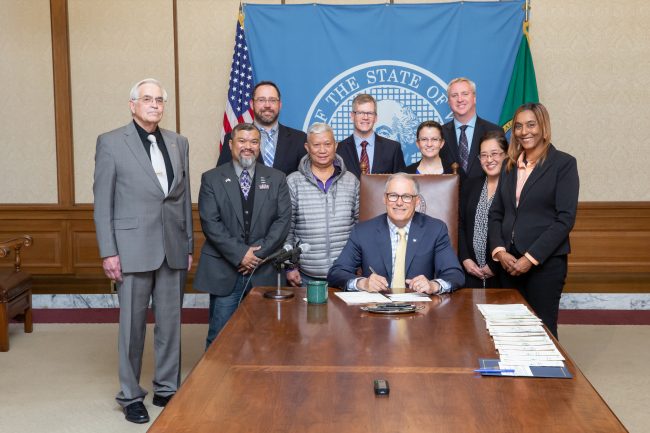 On April 24th, HB 1688 was signed by the governor. This bill will allow veterans who are eligible for Vocational Rehabilitation & Employment Services benefits to be eligible for in-state tuition at Washington's public universities, colleges, and technical schools.  As a young mother and veteran, I was affected by out-of-state tuition prices, and it was a hardship. Our disabled veterans should not face the same hardship, and I am proud to have sponsored this bill.
The "Nancy Drew Crew":  The Case of the Missing Crocs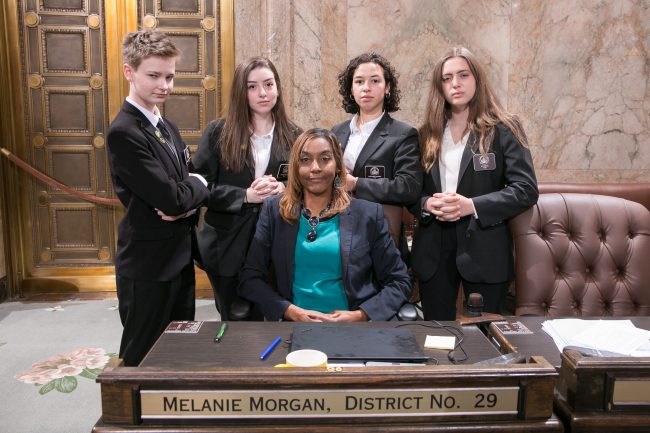 Students across our state, ages 14 to 16, may apply to become part of our Page Program. Our Pages perform a variety of tasks and one of them is delivering items and documents all over campus.
Last week, I had forgotten my beloved pink Crocs at my desk on the House floor. My legislative assistant, Leslie, called for a page to pick them up and deliver them to my office. Alas, something went awry and they were not delivered. The pages were aghast! How could this be?
A determined trio of pages, who I've nicknamed the "Nancy Drew Crew," strode into my office to find out what had happened. After thoroughly interviewing myself and Leslie, they left my office determined to solve The Case of the Missing Crocs. (A little background on the importance of the pink Crocs: When I first started working at the Legislature, my feet began to feel the impact of walking on the beautiful marble in our majestic campus buildings. By the end of the day, my feet were throbbing and aching. The only relief was wearing my pink crocs to finish my 16 hour days.)
"The Crew" searched high and low, interviewing multiple offices, and even brought in House security and most of the third floor legislative assistants to aid them in their search. Sadly, their investigative report found that the Crocs were delivered to a different building where they were mistakenly thrown away. I am sure that The Nancy Drew Crew will remember this story for years to come. I will remember their leadership, tenacity, and can-do spirit, and I thank them for their valiant efforts.
If you know a student from the 29th Legislative District who will be 14-16 years of age during the 2020 legislative session (January – March, 2020), let them know about the page program and encourage them to apply. Information can be found here, and there is even a scholarship available to help cover the costs of staying in Olympia for a week. Applications for the 2020 session will open in the fall of 2019.
---