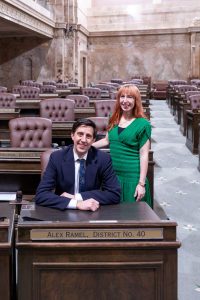 Representing the 40th District is a new responsibility for me.  After the appointment, I had one week to get ready, get moved to Olympia, and begin the fast paced, two-month long session. I still take a deep breath and feel a little surreal as I walk up the capitol steps each morning, and I am still filled with gratitude for the people who have believed in me and supported me on the way.
And I still have to ask where things are all the time.
But I'm settling in. I'm really fortunate that there are new legislators every year, and there is a well-established path and a great team to help us get caught up on the things we need to know.
I'm especially fortunate that Amanda Hubik, who worked as Legislative Assistant for Jeff Morris before, has agreed to stay on the team. Amanda is the front of the office; she manages scheduling and contacts. She'll probably be the one who answers the phone when you call, and she manages the calendar. Behind the scenes, she is also helping with communications and messaging. Amanda has lived in Anacortes since 2005 and is a familiar face to many of our constituents. She came to the legislature after spending four years as the Marketing Director for Fidalgo Island tourism through the Anacortes Chamber of Commerce.
Session is testing the number of hours I have in a day, but I'm thankful to have been trusted with this challenge, and I'm excited to work hard for the 40th district.
---