Friends and Neighbors,
The 105-day legislative session wrapped up on time on Sunday, April 25, and this year we got a ton of good work done. We made important progress on housing justice, climate change, addressing the pandemic, ensuring an equitable recovery, rebalancing our upside-down tax code, criminal justice reforms, and investing in mental and behavioral health. I'm really pleased with the work that we were able to get done almost entirely remotely, and that we were able to conduct our session with everyone -legislators, our staff, and the community of stakeholders in the legislative process—safe from COVID and able to stay healthy. We got a lot of good work done and I'm proud to share the details with you.
Post-Session Virtual Town Hall TOMORROW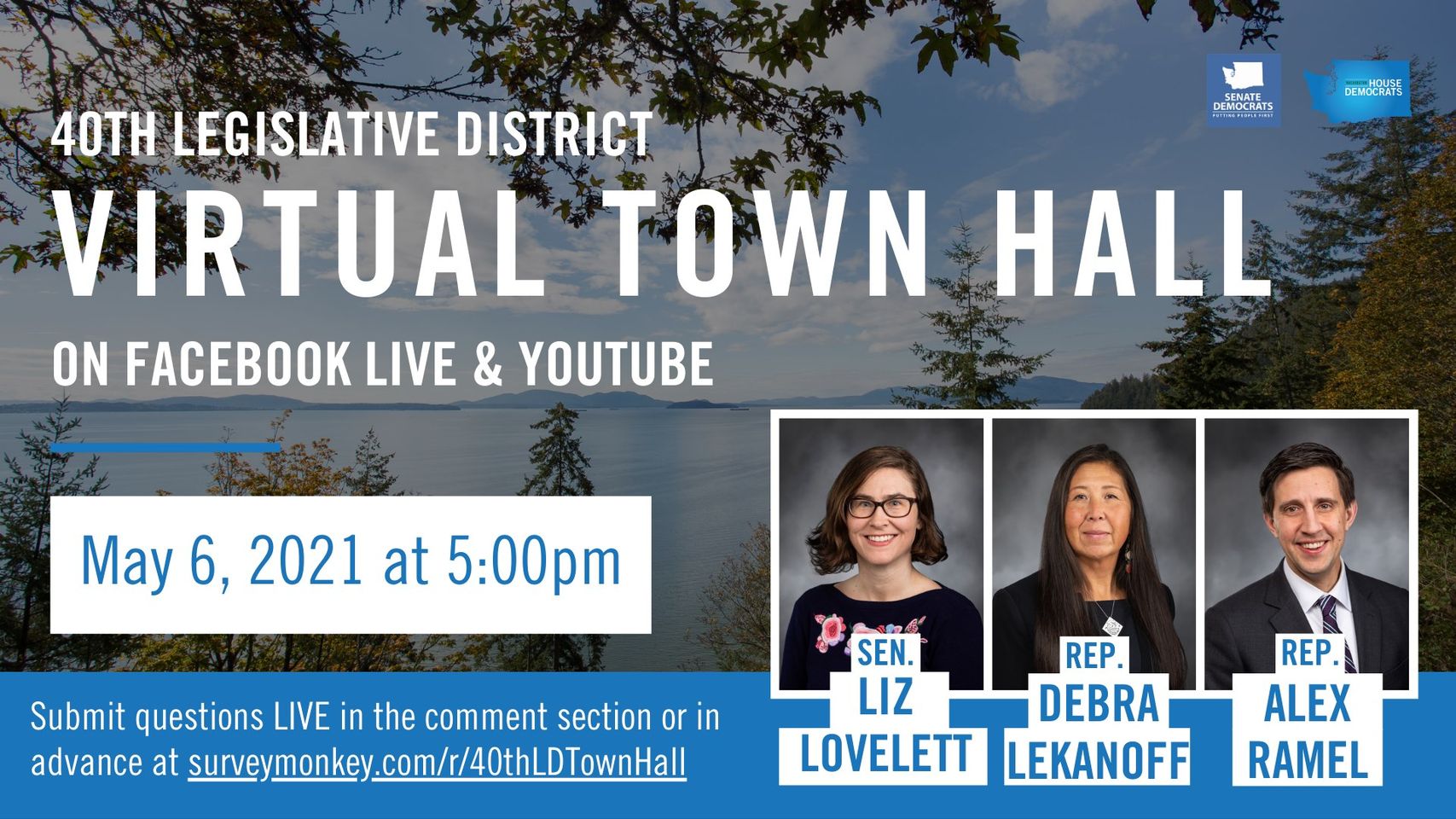 I hope you can join Senator Lovelett, Representative Lekanoff and me this Thursday at 5:00 pm as we gather on zoom for our post-legislative session townhall.
We'd love to hear your priorities: surveymonkey.com/r/40thLDTownHall. You can also ask questions live in the comment section.
HOW TO WATCH
FACEBOOK: The live video link will be posted in the discussion tab of the event.
YOUTUBE: The live video will begin on the Senate Democrats' channel as soon as the event begins at 5pm on May 6. Link to the channel: https://www.youtube.com/channel/UC3tjcbMxiGAiScFKFxHFIFA
Twitter: You video will also be streamed live on the Senate Democrats' Twitter.
Historic Budget Investments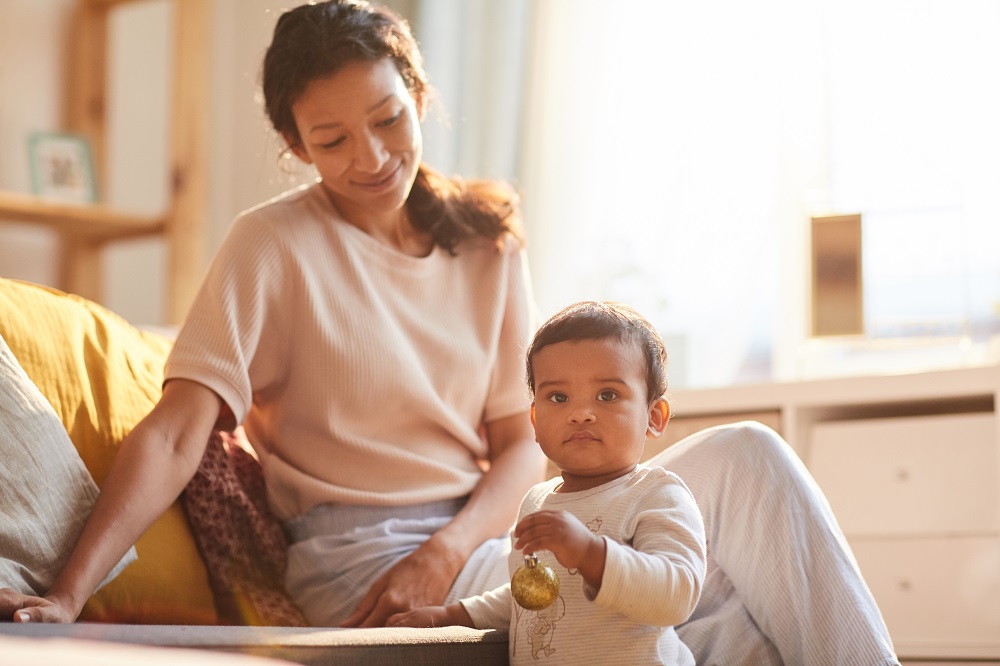 A budget is a reflection of our values, and I was proud to support the Washington Recovery Budget that makes big investments in our communities to help families and small businesses recover from the COVID-19 pandemic. Highlights of the budget include:
$1.185 billion for COVID vaccines, contact tracing and testing.
$100 million for local public health districts and regions.
$1.07 billion for rental assistance in addition to the $325 million allocated in the Step One for Community and Economic Recovery bill (HB 1368) passed by the Legislature in February.
$600 million for unemployment insurance tax rate cuts to lessen that burden on businesses.
$250 million in small business grants to help those businesses who kept their doors closed to protect others.
$166.6 million in mortgage assistance through the ARPA Homeowner Assistance Fund to help prevent foreclosures and delinquencies.
$140.8 million to food assistance programs so that families will not go hungry and to maintain our food security network.
$121.6 million in state housing/homelessness assistance.
Fully funding the Working Family Tax Credit, which provides a cash rebate to low income Washington families.
$340 million for immigrant relief funds, specifically providing unemployment-related assistance to our undocumented neighbors who have not been included in some past federal assistance.
$400 million in childcare grants and supporting providers for language access and navigators.
Working together, the 40th legislative district team was able to make sure our community's priorities were heard and included. You can see a list of local projects in this press release we sent out last week.
Addressing our Housing Crisis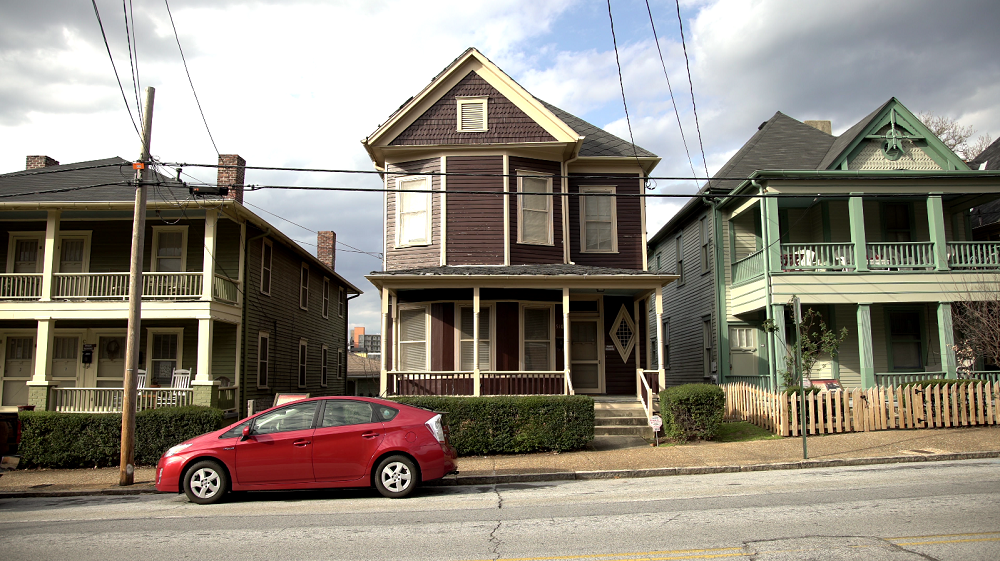 We began this year with a quarter million people in Washington behind on their rent and worried about that the end of the eviction moratorium could mean losing their home.  We passed a number of important bills to confront the housing crisis.
Rental Assistance: The investments in rental assistance and homelessness prevention noted above will help make sure that folks who have fallen behind on rent this last year are able to get caught up. That assistance will keep people in their home, help prevent the spread of COVID, and help make landlords whole, especially small landlords with a mortgage of their own to think about.  With that assistance, we will be able to end the eviction moratorium this summer.
Just Cause Eviction: Landlords should have to be clear why they are evicting a tenant, and the reason needs to be fair. The statistics are mortifying, people of color are far more likely to be evicted, and it's past time that we dealt with this problem. So this year we passed a bill to require that landlords have a just cause for evictions.
Right to Council: Evictions are really difficult to recover from. It lasts on your record and makes it difficult to get housing for years or even decades. Tenants should have legal representation if they face eviction, so that they know their rights. Washington is now the first state to ensure a right to counsel for renters facing eviction.
Multifamily tax exemption: the MFTE is an existing incentive that some cities have used to create denser and more affordable housing. But it hasn't worked as well as it should. I was proud to partner with Sen. Mona Das to pass a significant reform bill that will increase the number of cities using the program, increase the protections for the tenants in the apartments created, and deepen the affordability of the homes that are built under the program. It's a big improvement that I hope will lead to more homes being built and kept affordable for folks who need them.
Document Recording Fee: Adding this $100 surcharge for recorded documents will raise over $200 million per biennium to support critical homelessness and housing services (including permanent supportive housing operations and maintenance, Landlord Mitigation Program, and Home Security Fund for nonprofit housing vouchers with a certain portion going to housing people currently living unhoused). This permanent, dedicated revenue source will also fund the newly created Eviction Protection Renal Assistance Program. Washington has long had a structural problem with how we fund housing and homelessness prevention programs. By creating a permanent and reliable revenue source, we can successfully transition out of the current eviction moratorium and toward a more equitable future.
In Service,

Rep. Alex Ramel
---