Friends and Neighbors,
Washington's Legislature meets for either a 60-day or 105-day session each year beginning in January. In session, there's a process for passing bills and a calendar and schedule to keep us on track. When we're not in session, a legislator's job is a bit less well defined. This is my second interim, and I'm using the opportunity to connect with communities around the region, delve even more deeply into solutions to the climate crisis, and working to support implementation of some of the policies we passed this last year. Working alongside other legislators, I've given update presentations to almost all of the city councils in the 40th district. I also brought together a group of experts and stakeholders to help plan for a cleaner energy system for Western Washington University, supported by funding we secured in the capital budget this year. I've taken a tour of the Port of Anacortes and of the Skagit River Dam system. Read on to learn about some of the other projects I am working on this interim.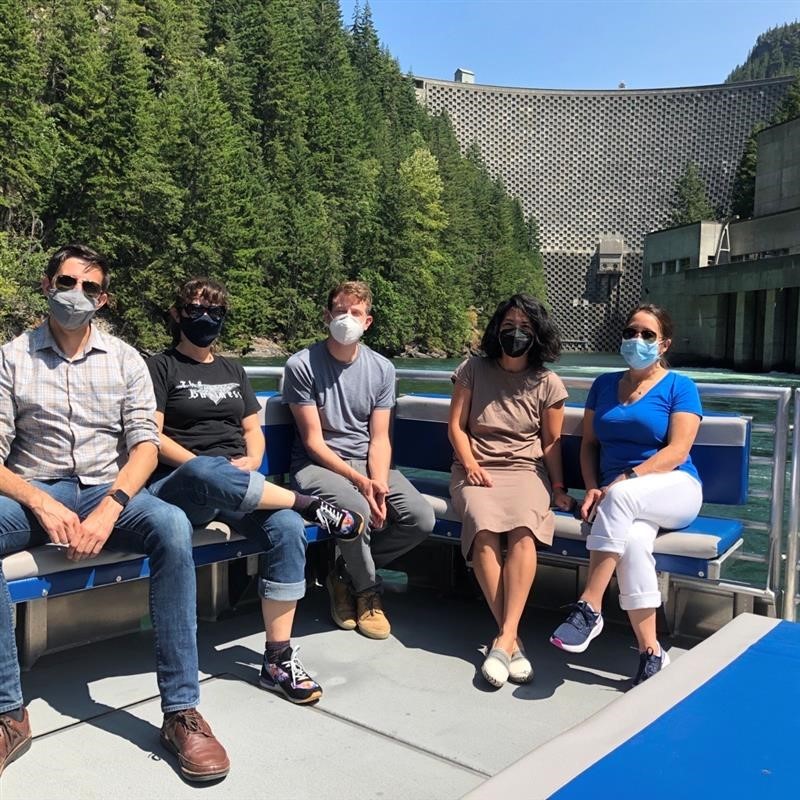 Green Building Tour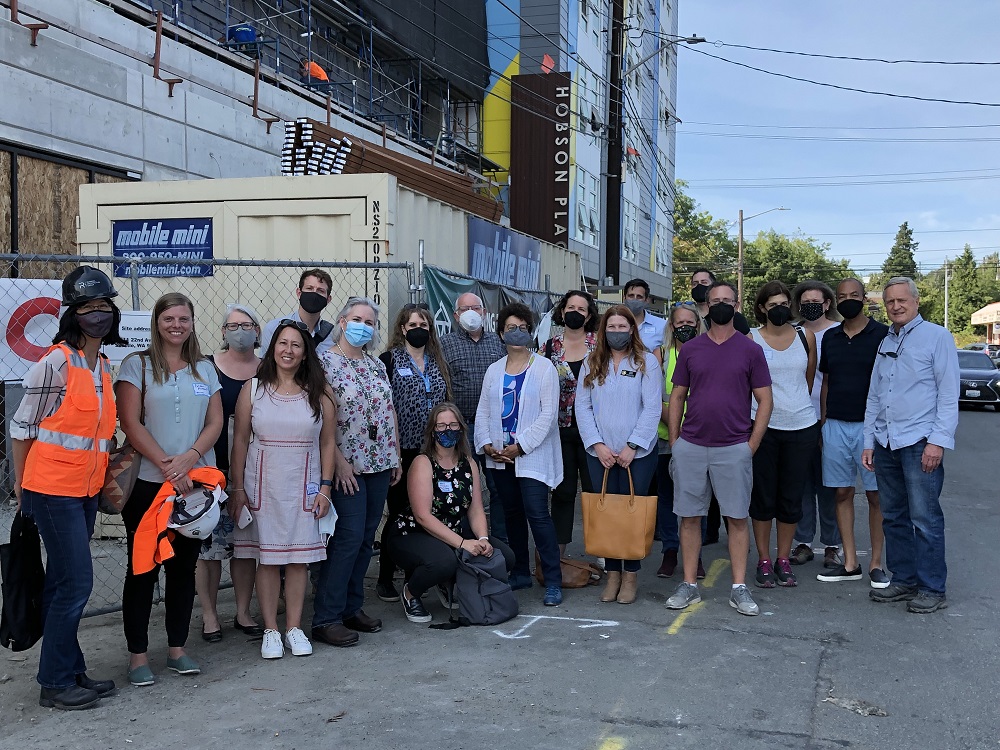 During the first week of August, I organized a tour of innovative green buildings that was attended by a dozen legislators, Utilities and Transportation Commissioners, a senior policy advisor to the Governor, and several others. We looked at the Bullitt Center, which is one of the most advanced green building designs in the world. We also visited Hobson Place, a new permanent supportive housing project that demonstrates that we can build energy efficiency, fossil fuel free projects on a budget. This was a great opportunity to connect with other leaders, trade ideas, see what's working and start to think through what legislation will make sense.
My hope in organizing this tour was to showcase that our construction industry is ready right now to make buildings that won't rely on fossil fuels for space and water heating, cooking, or any other appliances. As we were finishing the tour of Hobson Place, Rep Nicole Macri said it as well as it could be said, "if we can do it here, we can do it everywhere."
Criminal Justice Reform
Last year the Legislature passed a number of important reforms to our criminal justice system to increase police accountability in the wake of a historic civil rights movement inspired by the murders of George Floyd, Manuel Ellis, Breonna Taylor and many others. As these bills have begun to go into effect, we have heard confusing interpretations of the intent and effect of some of these rules by some law enforcement agencies.  As I mentioned, I've been in contact with city councils around the region and this has been part of that discussion. I've also had smaller meetings with a number of law enforcement leaders to understand their concerns and see where we can help improve the flow of information.
The biggest concern that I have is that some agencies have responded to the new laws with a policy not to send police in response to mental or behavioral health welfare checks (calls where someone is acting in a way that may be frightening but isn't clearly violating the law). I believe that the best option is for a mental health professional to respond to these calls, when possible. But we don't have enough of these specialists ready to take on that level of support, yet. While we work to create that system, police are often the best alternative. Nothing we passed this last year changes the police's authority to respond in these situations. We are confident that the public servants in law enforcement will be able to adapt their use of force policies to prioritize de-escalation while still providing Washingtonians with the level of public safety they expect and deserve.
In the coming weeks I'll be setting up additional discussions with local law enforcement and leadership from the House Public Safety Committee to continue to address these questions. We are committed to working with law enforcement throughout this implementation process to be sure they have the information and the direction they need to effectively do their jobs while protecting themselves and the community they serve.
I joined the rest of the 40th District delegation in penning an op-ed about the new laws. You can read it here.
Climate Policy Research
Last year I was the prime sponsor of the Healthy Homes and Clean Buildings Act that would have put into place a number of measures to reduce fossil fuel pollution in the building sector. Although the bill didn't pass last year, we did walk away with an improved understanding of the stakeholders and interests in each part of that legislation. Next year, I plan to introduce revised versions of the major pieces of that bill: encouraging public electric utilities to help their customers electrify, improving the efficiency of existing commercial buildings, pushing our energy code to increase decarbonization, and advancing the development of clean hydrogen resources. We have the technical know-how, and we can do this while improving electric grid reliability and energy affordability.
Over the last month I've sat down with dozens of stakeholders to talk through the details of these proposals. This week's release of the IPCC report on climate change only serves to underscore the urgency of this work. My goal is to be ready for the next legislative session with proposals that are well thought out and ready to advance.
I've been four months out of session, and we have about four months left in the year – we are planning even more in-depth meetings to prepare for the short, 60-day session next year.
In Service,

Rep. Alex Ramel
---