Dear friends and neighbors,
With the next major legislative cutoff coming up this evening, my colleagues and I have been working through many long days and late nights to pass as many good bills as possible to address challenges facing our communities. Although we weren't able to get through every priority we have, I want to thank my colleagues for joining me in passing two of my bills aimed at reducing fossil fuel pollution and continuing our state's transition to a clean, sustainable future.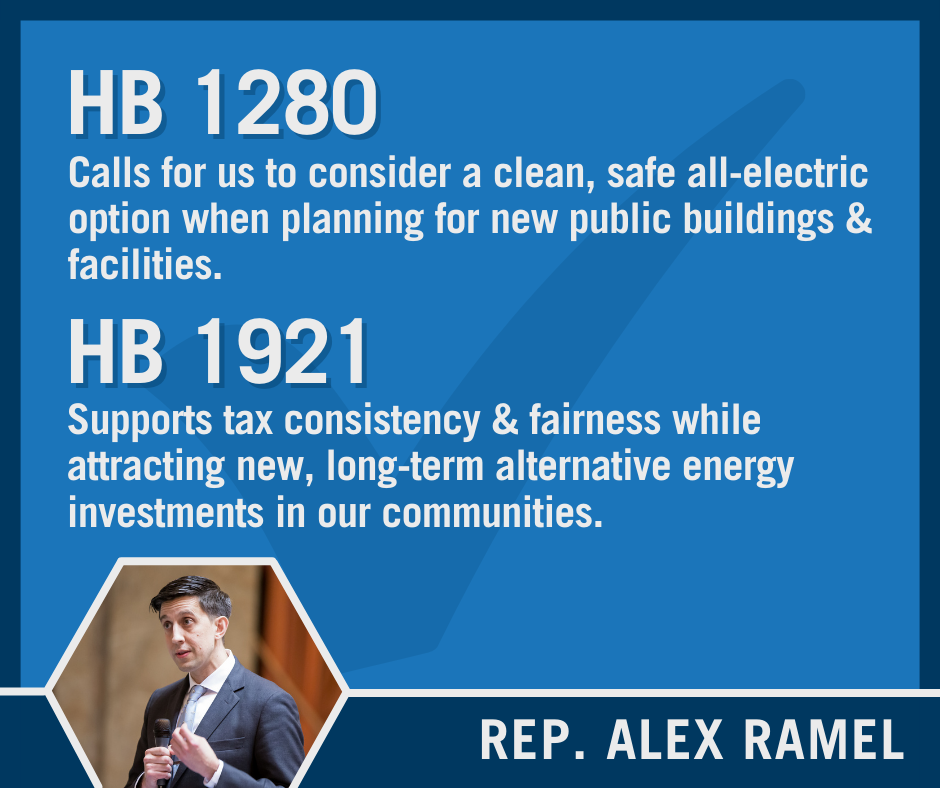 Historic Transportation & Infrastructure Investments — Move Ahead WA
As you know, I've been working tirelessly as a member of the Legislature's Ferry Caucus to secure the funding we need to restore certainty, stability, and reliability to our essential marine highways. We now have the opportunity to deliver on that commitment.
Earlier this month, my colleagues and I unveiled the Move Ahead WA transportation package to not only repair, replace, and rebuild Washington's aging roads and bridges, but to improve access to clean, sustainable multimodal transportation options throughout the state. This package aims to invest an historic $16 billion back into our communities over the 16 years—including significant investments in our ferries—without raising the gas tax.
If approved, this package will provide for the purchase and construction of 4 new hybrid-electric ferries, retrofits for several existing vessel and terminal electrification projects, and the funding we need to finally move from seasonal-based hiring practices to year-round recruitment & targeted hiring efforts.
We still have a lot of work to do over the coming weeks to get the Move Ahead WA package across the finish line, but I know these are the kind of bold investments that you, as constituents of the 40th legislative district, have been waiting for.
Community Conversations
Earlier this month, I had the privilege of meeting with ArtsWA who discussed the importance of promoting arts in our state. They urged for the support of programs such as Wellness, Arts and the Military (WAM), a program that supports veterans and military families by providing accessibility to art organizations that promote wellness. Art and cultural organizations have taken a significant hit from the pandemic, and they deserve our support during these difficult times.
We also had the opportunity to speak with the Washington chapter of the Alzheimer's Association, who spoke about their legislative priorities for 2022 — including House Bill 1646, which would continue the great work of the Dementia Action Collaborative. The Collaborative studies the impact of Alzheimer's and Dementia and revises the Washington State Alzheimer's Plan to create more accessible resources and services for those impacted by this devastating disease. I'm pleased to say the bill passed the House and now awaits consideration in the Senate. The Alzheimer's Association also urged that this year's budget include the expansion of Dementia Friend, an anti-stigma dementia awareness program. Dementia and Alzheimer's impact everyone in the family, not just individuals, and we must work on creating a better support system for both.
Please do not hesitate to reach out to speak about issues that are important to you.
In service,

Rep. Alex Ramel
Puedes ver este boletin en español haciendo clic aquí
---