OLYMPIA—Last night, the House of Representatives approved legislation to extend health care benefits for former foster youth during the transition from foster care back into the home. House Bill 2530, sponsored by Rep. Tana Senn, D-Mercer Island, passed the House on a strong, bipartisan vote of 94-4.
Family reunification is often the goal for children in the foster care system. However, the transition can be a vulnerable time for former foster youth who are readjusting to being back in the home.
In some cases, the parents or guardians may be in the process of stabilizing their own lives. In addition, the reunification may involve the child moving schools or counties.
Currently, after youth leave the foster care system, they lose their managed health care plan, which facilitates access to services such as behavioral health care, prescriptions, and preventive services. Foster youth are especially vulnerable to behavioral and physical health issues and consistent access to care is imperative.
House Bill 2530 will allow former foster children to continue coverage in the integrated managed health care plan for foster children for up to 12 months following reunification with their parents or guardian. Providing continued benefits will help increase continuity of health care services, improve the overall stability of the family, and provide a resource for parents to manage their children's health.
"When foster youth are reunited with their families, it's a really stressful time and picking a new health care plan is the last thing on their minds," said Senn. "By ensuring that these children and their families have the health care resources that they need, we can ensure that these vulnerable kids don't fall through the cracks."
The bill also implements a technical fix to align the behavioral health integration timeline for the foster care program with the rest of the Medicaid system's timeline. By extending the deadline by three months, regions will avoid having to create services solely for the foster care population.
House Bill 2530 now heads to the Senate for further consideration.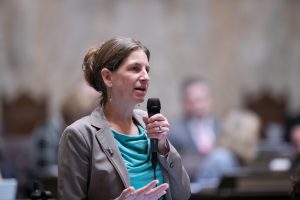 ---