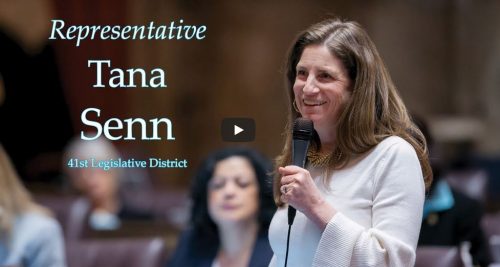 As a working mom with two kids, Tana brings an important perspective to legislative issues. She consistently advocates for busy families through policies that address education and community needs, and seeks upstream solutions to prevent crises before they occur.
As a state representative for the 41st Legislative District, Tana chairs the Children, Youth & Families Committee and sits on the Local Government Committee and the Appropriations Committee. Tana has championed legislation to make child care more affordable and accessible, keep our families safe from gun violence, close the gender pay gap, and secure access to mental health services and social emotional learning for our kids. Tana served as one of the first co-chairs of the Oversight Board for the Department of Children, Youth and Family Services.
After earning a Master's Degree in Public Policy and Administration from Columbia University, Tana worked for 15 years in government relations and communications in the private, nonprofit and philanthropic sectors before her tenure on the Mercer Island City Council.
Tana serves as Co-President of the National Association of Jewish Legislators, as well as on the board of Hopelink and the Advisory Board of the UW Masters of Applied Child and Adolescent Psychology Program. She has held previous board roles the National Breast Cancer Coalition, the Jewish Federation of Greater Seattle, Mercer Island Youth & Family Services Foundation, and the Island Park Elementary School PTA.
Tana, her husband, two children and their big black lab live on Mercer Island.
Community Involvement:
National Association of Jewish Legislators, Co-President
Hopelink, Board Member
UW Masters of Applied Child and Adolescent Psychology Program, Advisory Board Member
WA Mental Health Summit, former board member
Infant, Early Childhood and Family Mental Health Landscape Analysis Project, former advisory board member
NCSL Child Welfare Fellow, 2018-2019
NCSL Early Learning Fellow, 2016-2017
Jewish Federation of Greater Seattle, former board member
Mercer Island Youth & Family Services Foundation, former board member
Island Park Elementary School PTA, former board member
Scouts, former den leader
Coro Fellow, St. Louis '94, former Coro NY alumni board president
National Breast Cancer Coalition, former board member
Honors and Awards:
Child Care Resources, Ruth Kagi Award for Excellence in Early Learning Advocacy, 2021
Women's Commission, Marian Wright Edelman Award, 2021
Washington STEM, Legislator of the Year Award, 2021
Food Lifeline Legislative Award, 2019
Foster Parents Association of Washington State Shining Star, 2019
Reach Out and Read, Leader for Early Literacy, 2019
WA Association for Children & Families, Child Advocate of the Year, 2019
NAMI Washington, Behavioral Health Champion, 2019
Agent of Change: 20 Remarkable Jewish Women of Washington State, Jewish Historical Society, 2018
Institute for Family Development, Child & Family Advocate Award, 2018
Save the Children Action Network, Champion for Children, 2018
Association of Washington Cities, City Champion Award, 2018
Fight Crime: Invest in Kids, Champion for Children and Youth Award, 2018
Alliance of Eastside Agencies, Elected Official of the Year, 2017
American Academy of Pediatrics, Child Health Advocate Award, 2017
Community Employment Alliance, Employment First Champion, 2017
Community Residential Services Association, Supported Living Champion Award, 2017
Association of Washington Cities, City Champion Award, 2016
Community Employment Alliance, Outstanding Legislator, 2016
Early Learning Action Alliance, Crayon Award, 2016
The Arc of King County, Developmental Disabilities Advocate Award, 2016
Washington School Counselor Association, Advocacy All Star, 2016
Association of Washington Cities, City Champion Award, 2015
Community Employment Alliance, Outstanding Legislator, 2015
King County Family Coalition, Champion for Children, 2015
Children's Campaign Fund, Champion for Children Award, 2014