A good week to be a woman in Washington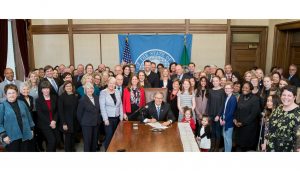 On Wednesday, Governor Inslee signed the Equal Pay Opportunity Act into law!
I am beyond proud that this historic legislation passed the Legislature with bipartisan support and that so many of the wonderful women and fellow legislators who I have been working with for years were here to celebrate the bill signing with me!
It's not just those of us who have advocated for this legislation that should be celebrating. This bill is for all the young girls, working women, and families across our state who can look forward to a brighter economic future.
Our equal pay laws here in Washington hadn't been updated since 1943, and it has always been my top priority to pass updated protections for Washington's working women. In fact, I've sponsored and successfully passed a version of this bill out of the House every year since 2015.
This long overdue legislation will empower people to talk about their wages, to address inequality when they see it, and to not be fearful of retaliation.
Specifically, the Equal Pay Opportunity Act:
Prohibits employers from imposing pay secrecy policies;
Prevents discrimination by gender in providing career advancement opportunities;
Bans employers from retaliating against employees who file complaints, discuss wages or seek advancement opportunities; and
Ensures employees are entitled to administrative and civil remedies in the event of violations.
Information is power, and with this new law we have empowered women with the information and protections they need to advocate for equal pay and opportunities!
Click here to learn more about the Equal Pay Opportunity Act.
Expanding children's mental health access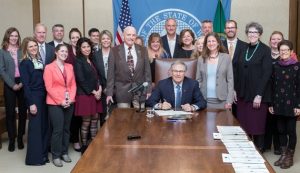 Just this week, Governor Inslee signed my bill to improve access to mental health services for children and youth.
In order to assess and address the mental health needs of our state's children, the Legislature established in 2016 the Children's Mental Health Work Group, which I chair. While the work group has been critical in identifying barriers to services and opportunities for better mental health access for children, it was set to expire this year. The new law extends the Children's Mental Health Work Group through 2020.
It also includes system-based fixes to help build provider capacity and improve mental health in schools and early learning, including:
Creating a pilot to teach the science of mental health in two high schools;
Adding Medicaid coverage for partial hospitalization and mental health supervision;
Exploring ways for home visiting to be covered by Medicaid;
Ensuring network adequacy for eating disorders; and
Exploring potential adjustments to the mental health age of consent and the definition of 'medically necessary as it relates to mental health.
The number one recommendation of the Children's Mental Health Workgroup since its inception was increasing reimbursement rates for pediatricians to ensure they can afford to see children covered by Medicaid. I am thrilled to share that we did just that in the budget this year! With pediatricians spending 50% of their time on mental health issues, this is a huge step to increasing mental (and physical) health access for low-income kids.
As always, feel free to share this update and please reach out if you have questions or comments.
Sincerely,



Rep. Tana Senn
---